'American Horror Story' Welcomes Lizzie Brochere: 5 Things You Need to Know About Her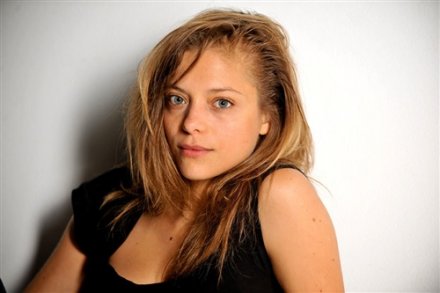 Part of what makes FX's American Horror Story such a great show is that it's full of thrills and surprises, both on and off the small screen. Plus, if there's one thing Ryan Murphy and co. aren't afraid of, it's taking chances on the shocking show.
During its popular first season, the series featured some, er, unconventional character detachment (to put it the most semi-non-spoiler terms) and the news that AHS would henceforth be an anthology-type show, with a "different haunting" each season. It was also recently announced that Adam Levine, the pop superstar/Voice judge with absolutely zero acting experience to his credit, had landed a supporting role on the upcoming second season.
Just today it was announced that the beloved horror series made another bold move by casting veteran French actress Lizzie Brochere — virtually unknown stateside, save for perhaps serious Francophiles — to play a pivotal role next season. Here are some tidbits about Brochere and the character she'll be playing.
1. In her decade-plus on the big and small screens, the 27-year-old has appeared in films like After Fall, Winter and TV series such as R.I.S. Police Scientifique. Ever of heard of 'em?!
2. She's starred in NC-17 productions before, which means she shouldn't have a problem with what is likely to be a sexy role on a show whose TV-MA rating is something of a basic cable miracle.
3. While the specifics about Brochere's mysterious character are scant, producers put out a casting call last month for an actress to play a femme fatale named Gia, purported to be loosely modeled after Angelina Jolie's Lisa in Girl, Interrupted. (There is an undeniable physical resemblance between the two, especially in the photo above.) Brochere is reportedly playing a revamped version of that character.
4. A little more on that Gia role … let's just say keywords include "wild-child sexpot," "extremely sexual," and "ferocious." Sold.
5. The fact that Murphy not long ago described season two as "The Jessica Lange Show" that has been built "completely around her character," coupled with the rumor that Brochere will be playing Constance's archenemy, leads us to believe that Brochere's role will be positively huge and integral. Unfortunately, we'll probably have to wait until the second season premiere in October to learn all the gory details.
More:
Let's Predict Adam Levine's Role on 'American Horror Story'
Jessica Lange Is Coming Back for Season 2 of 'American Horror Story'
Ryan Murphy Drops 'American Horror Story' Season 2 Hint
[TV Line]