'American Idol' Frontrunners Candice Glover and Kree Harrison on their Painful Injuries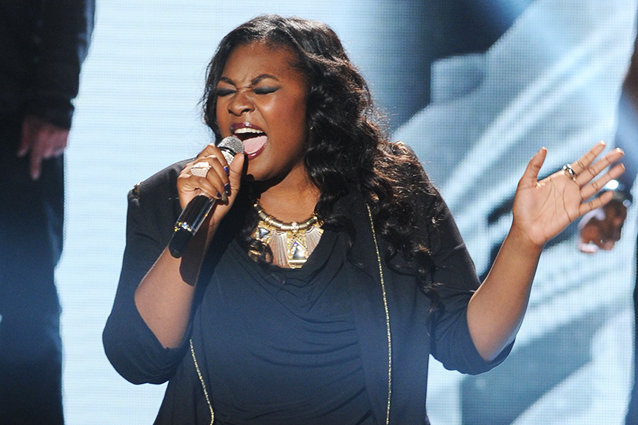 None of this year's American Idol contestants have suffered from a recurring health ailment like Season 11's eventual champion Phillip Phillips and his kidney woes, but two of the singers on last night's Top 7 show were in serious pain as they performed for Rock Week. Candice Glover broke her toe in an April Fools prank gone wrong, while Kree Harrison had a pinched nerve in her back so painful that she broke out in tears after her solo performance of Janis Joplin's "Piece of My Heart."
Harrison tells Hollywood.com and a group of reporters backstage after the show that she's always had a bad back, but it got so terrible in recent weeks that she had to see a physical therapist, who belatedly diagnosed her with a pinched nerve. "Now I can barely lift my right arm," she says. "I thought the adrenaline kind of pulled me through. Thank God for Mariah, saying that this is her favorite performance. But Keith could definitely tell. I just — I pray that people will vote for me and next week, I'm still here and I'm going to be pain-free."
RELATED: Candice Glover Channeled Her Inner Sasha Fierce
The singer always seems to be calm and collected, but she uncharacteristically lost control of her emotions after her performance. Harrison says she started crying because she'd finally gotten through such a painful experience. "I'm just emotional because I'm in so much pain. And I want to enjoy this experience and be all the way into it, but literally it's like someone is stabbing me right now."
Glover was also in pain, but her broken pinky toe has a slightly more exciting backstory — she and Burnell Taylor tried to trick Lazaro Arbos into thinking the Idol house was on fire for an April Fools prank, but it backfired when she ran into a door out of sheer excitement. "I thought it was just a stubbed toe and I thought I would wake up the next morning and it would be fine, but every morning I woke up it was worse and worse," Glover says.
RELATED: 'American Idol' Top 10 Dream Themes
Those high heeled boots she wore during her performance of the Rolling Stones' "Satisfaction" probably weren't the smartest footwear choice. "They actually have a lot of room," Glover insists, "but with all that stomping I was doing I was damaging it. … Every time I stomped [the other contestants] were like 'Ow, ow, ow, ow.' And I was saying the same thing."
But although it sounded like one of Glover's typically flawless performances, she didn't feel as confident as she seemed. "I didn't feel like I [killed it] because [my toe] was holding me back."
Broken pinky toes and pinched nerves might not be the most glamorous of injuries, but it speaks to the professionalism of the two frontrunners that they didn't let their performances suffer too much. Hey — at least they remembered all the words!
Follow Jean on Twitter @hijean
---
From Our Partners


See 'Game of Thrones' as 'Mad Men' (Vulture)


Hayden Panetierre Bikinis in Miami (Celebuzz)