'American Idol': Dream Duets for the Finale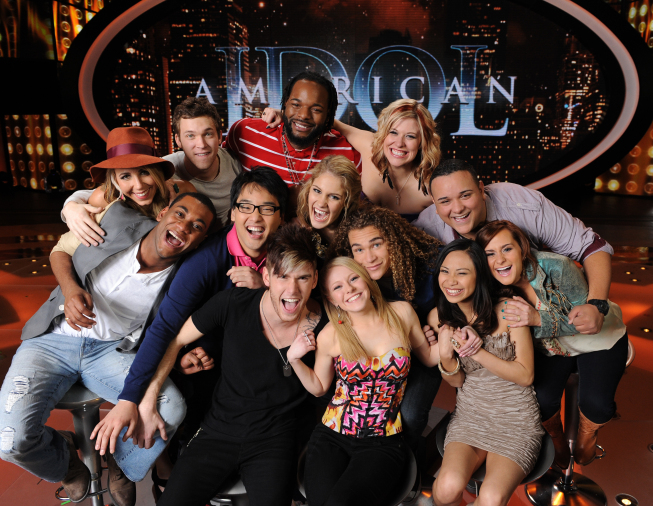 After 11 blockbuster seasons of American Idol, it's hard to believe the reality series' Season 1 finale was virtually star-free (of course, with the exception of the gigantic star the show was in the process of creating). We only had Top 2 Justin Guarini and Kelly Clarkson, joining forces with their fellow Top 10 to perform schmaltzy performances that looked as uncomfortable as Ryan Starr's wardrobe. Now, 10 years later, the top-rated series attracts top promotion-minded talent like Lady Gaga, Beyoncé, and Jack Black. (Wait, what?) 
While Season 11's finale boasts performers slightly less buzzy, we're still in for a respectable line-up tonight: According to
The Hollywood Reporter
, Gladys Knight, Gloria Gaynor, Kristen Chenoweth, Thelma Houston, Sheila E., Nelly Furtado, and Jennifer Holliday will be paying tribute to the late Donna Summer, while members of our Top 12 will duet with names like Holliday (Jessica Sanchez), Jordin Sparks (Hollie Cavanagh), Reba McEntire (Skylar Laine), Fantasia (Mantasia), and John Fogerty (Phillip Phillips). 
Of course, we Idol fans are a fickle bunch who will never be satisfied until we're given complete power of attorney over the series — so naturally, I have to suggest a few Idol-star duets I'd be dying to see in tonight's finale. For all that is holy (like a Haley Reinhart and Tony Bennett performance of "Steppin' Out With My Baby"), please, Idol gods, find a way for these duets to happen in the next 12 hours (and our thoughts are still with you, likely-not-to-appear Jermaine Jones):
Jeremy Rosado
: Oh gosh, who to pair with the extremely forgettable 13th place finisher with? Why not throw in
Idol
MVP
Barry Manilow
, who's appeared on the series five times? Let's make it an even six!
Shannon Magrane
: To avoid awkward staging, let's get someone height-appropriate for the tall
Idol
contestant. The 5'11"
Taylor Swift
would also help baseball baby Shannon stray away from the too-mature material she seems to focus on. If you build the youth appeal, they will come. (Record companies, that is.)   
Erika Van Pelt: Erika turned out to be one of the season's more uneven performers, delivering songs in styles ranging from dance pop to dated soul. And, as Wikipedia reminds me, Erika has a passion for "rhythm and blues, soul, country, jazz, rock, and classical." So what genre-jumping musician could we pair her with? The duet-friendly Kid Rock. Don't laugh — sure, it's as crazy as "Bawitdaba," but it could work.
Heejun Han
:
Billy Joel
. So he, too, can take a piss out on "My Life."
DeAndre Brackensick
: As much as we'd like one of the DeBarge brothers to come to the Nokia Theater to recreate DeAndre's "I Like It," the contestant sorely needs to prove himself as a contemporary, relevant artist. Let's get
Robin Thicke
to beef up his record sales-friendly profile. 
Colton Dixon: Creed. Just kidding — I wouldn't even wish Scott Stapp on Tim Urban. And it wouldn't hurt Colton's accessibility to distance himself from his religion. Instead, let's pair him with another piano-friendly band, The Script.  
Elise Testone
: I'm tempted to pick Joss Stone for Elise — they both boast a hippie-funk style — but Elise's lack of refinement would make us feel like we're comparing apples to much tastier and shinier apples watching the pair. Instead, why not couple Elise with the ultimate hippie,
Willie Nelson
, whose laid-back style would allow Elise's powerhouse vocals to dominate the
Idol
joint (heh)?  
Skylar Laine
: Cheers,
Idol
. You actually got this one right, pairing the contestant with
Reba McEntire
, a star who both looks and sounds so like our fifth-place finisher, I'll be wondering if our finale wine is simply making us see double. That said, I'm still eager to one day hear the "Gunpowder and Lead"/"Diamond-Studded Pistol" mash-up from Skylar and Miranda Lambert. 
Hollie Cavanagh
: Miley Cyrus might be the obvious choice — Hollie always took up the opportunity to sing "The Climb" faster than she could say "[garbled, confusing British-American statement here]" — but she has far more in common with fellow reality series vet
Leona Lewis
. Doesn't hurt that Hollie's "Bleeding Love" was one of the few standouts of her season. 
Joshua Ledet
: The judges insist that Joshua is one of the best singers they've seen in 50 years. So let's test their expertise and couple the third-place finisher with
the
best singer of the past 50 years,
Aretha Franklin
. 
Jessica Sanchez
: Even though
holograms
 are all the rage this 2012, let's not hope for a Whitney Houston duet. (Too soon. Too soon.) Though it's an obvious choice, we'd be crazy in love with the great TV that would come from watching a 16-year-old sing with her own greatest idol,
Beyoncé
. 
Phillip Phillips
: No, Phillip should not duet with Dave Matthews Band. Instead, he'd be best served paired with another artist with a distinguishable voice that's distinguishable from his own. The dream duet: Phillip proving he's the Better — nay, best — Man for the
Idol
crown via a finale performance fellow guitarist
Eddie Vedder
, who has recreated a song or two in his lifetime. I'm not
Hiding My Love Away
from that pipe dream!
Follow Kate on Twitter @HWKateWard
[Image Credit: FOX]