'American Idol' Eliminations: Hollie Scrapes By, But Who Takes the Fall?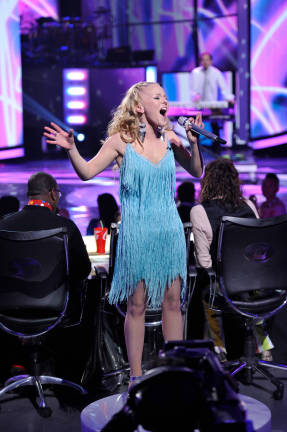 Update: Defying all logic, it was not Hollie Cavanagh who sang her last song, but DeAndre Brackensick. DeAndre superfans like myself can take solace in one solid fact: Jennifer Hudson was came in eighth place when she was on American Idol, too. 
Earlier
: There are only eight singers left standing on
American Idol
and April 5's elimination will crush yet another set of limelight dreams. A few singers flubbed here and there during
April 4's '80s Night,
but only one little lady had us cringing so hard we had to pry our eyes back open just to finish the show. 
Little
Hollie Cavanagh
, the Tinkerbell incarnate with the mega voice could be staring down the barrel of a sympathetic hug from
Ryan Seacrest
. Her performance of the
Flashdance
anthem "What a Feeling" had most viewers feeling nothing but embarrassment and sympathy for the pint-sized finalist. Watching her receive what the judges try to pass off as harsh criticism as the entire auditorium suspended breathing for a solid two minutes was excruciating; Cavanagh looked completely crushed, like a cuddly bunny cornered by a farmer with a pitchfork. 
But adorableness aside, Hollie's performance was more erratic than the fringe bouncing around on her flapper dress. She was off-key and out of sync. While we'd been hoping and praying for her to break out of her shell and stop moving around the stage like an elderly pantomime performer, she went further than her comfort zone allowed and the result was an awkward mess of mismatched shaking and grooving. 
Fellow bottom dwellers like DeAndre Brackensick and Skylar Laine both had killer nights, delivering performances that sent them back to the top of the competition. If Hollie's not singing her swan song by the end of the episode, it will likely be Elise Testone, whose performances have yet to establish a real personality or genre. With Idol, voting is often unpredictable, but if the voters get it right, sweet little Hollie will be heading home to her adorable golden retriever puppy. 
Will Hollie's cuteness save her? Is Elise's lack of a direction going to do her in? Who would you send home?
Follow Kelsea on Twitter @KelseaStahler.
More:
American Idol Top 8 Recap: '80s Night is Time to Trim the Fat