'American Idol' Finals Recap: Has Candice Glover Already Won?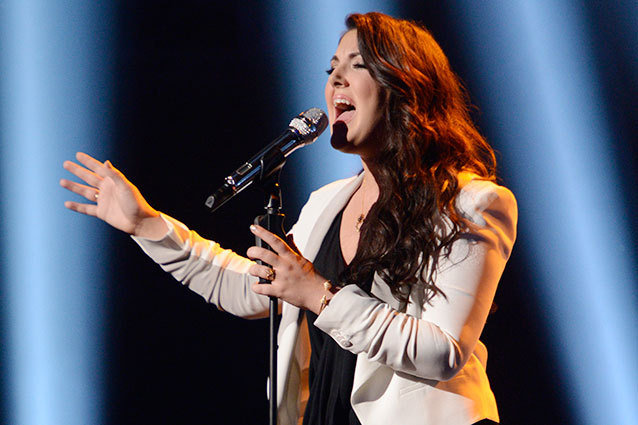 The finals on American Idol have famously separated the winner from the runner up. Two singers step onto the stage, and after an hour of Simon Fuller's song choices, the contestants' favorite song choices, and their brand new potential hit singles, we're given a pretty complete picture of each singer. And almost every single time, one singer rises to the top while the other floats nearby, but nearly as high as his or her competitor. However, when the votes fall, the results don't always make sense. That's why, even though Candice Glover was the clear winner at the end of Wednesday night's episode, we can't breathe easy just yet. 
Kree Harrison pulled a bit of a dud when she won the coin toss to go first in her game of back and forth with Candice. While she got to close with her big, emotional number "Up To The Mountain," she had to do so right before Candice, the nortoriously incredible show-closer, reprised her incomperable rendition of "I (Who Have Nothing)." While I've not a complaint about Kree's country stylings, when compared to the sheer artistry of Candice's vocals, there's no comparison. It's Candice every single time. 
So why am I shaking in my boots over Thursday night's big finale and the results it holds? Because, put simply, I don't trust Idol voters. While Candice is on another level, with talent so distinct that it transcends genre and style and simply is Candice, she's not speaking Idol fans' favorite language: Country. Kree is a perfectly great country singer. She proved that her level of soul can reach heights similar (though not as great) as Candice's with "Up to the Mountain" and her brand new single, while not earth-shattering, is exactly what the Carrie Underwood fan ordered. Kree could win, and if she does, it's because Idol voters have once again stuck to their vanilla guns and picked the girl who completes their predictable genre.
Of course, it's not that Kree, who's been through hell and back again in her personal life, doesn't deserve some shred of happiness. In fact, the loss of both her parents – as upsetting as it sounds – is a strength in a competition in which voters base much of their decision-making on feeling and backstory. But Candice has her own form of backstory strength as well, and it's why I have oodles of hope oozing from my every pore, that Miss Glover will be last singer standing.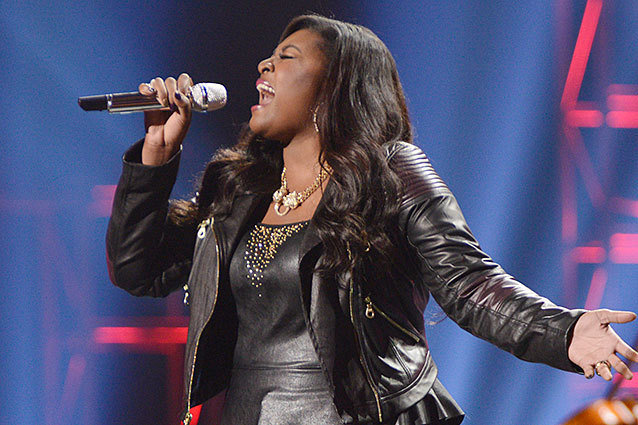 While Kree's song was clearly a pick from the country superstar reject bin (sorry, Kree, but the song itself wasn't anything to write home about, no matter how beautiful that voice of yours is), Candice's couldn't have been more perfect. I'm a little concerned that she went with such a slow ballad, but her ability to make any song sound like a classic, instantly, showed on Wednesday night. "I Am Beautiful" perfectly connects to Candice's candid expressions of her past insecurities and turns it into beautiful, marketable pop music. Not unlike Christina Aguilera and Pink before her, Candice's message of inner beauty and beauty that doesn't quite fit the mold is the sort of message that could push her past the country vote right into the winner's seat. 
It's a shame that I fear Candice's voice alone can't catapult her to the top, but if Kree could overtake Angie Miller – the clear frontrunner for almost the entire competition – we can't put it past her to overtake the woman who is arguably one of the most talented people we've seen on this show in years. If Candice doesn't win, it won't be for reasons that last year's vocal dynamo, Jessica Sanchez, missed the mark. Sanchez didn't deliver the way she should have in her final competitive performances and Phillip Phillips overtook her (granted, the cute boy card helped a little here, too). If Candice doesn't win, it will be because the Idol voters have become so predictable that they can't look past genre to see once-in-a-lifetime talent standing before them, asking them to understand her. 
But should the voters choose correctly, and should Candice win on Thursday, it will be an immense victory, and not only because she was cast off during Vegas week in Season 11, making a victory sweet vindication. Not just because her body image issues have held her back until Idol boosted her confidence. And not because Randy Jackson and Mariah Carey all but said she should win. If Candice Glover gets that confetti shower on Thursday night, it will be a victory because despite the network's gripes with Idol, the judges, and its slipping ratings, if Candice wins, we will have proven that Idol can find talent and skyrocket that talent into the spotlight, where it belongs. Her victory would prove that as tired as many fans are of the old Idol model, it's still kicking, and when you give it chance, it's still got the power to deliver the covetted "moment like this." 
Follow Kelsea on Twitter @KelseaStahler
More:
Nicki Minaj is Probably Leaving 'Idol' Too
Kree and Candice on Their Final 'Idol' Singles
'American Idol' Season 2 Finalists Are Actually Shocking 
---
From Our Partners:


Zoe Saldana Strips Down For Magazine (Celebuzz)


33 Child Stars: Where Are They Now? (Celebuzz)