'American Idol' Recap: Anything But Ladylike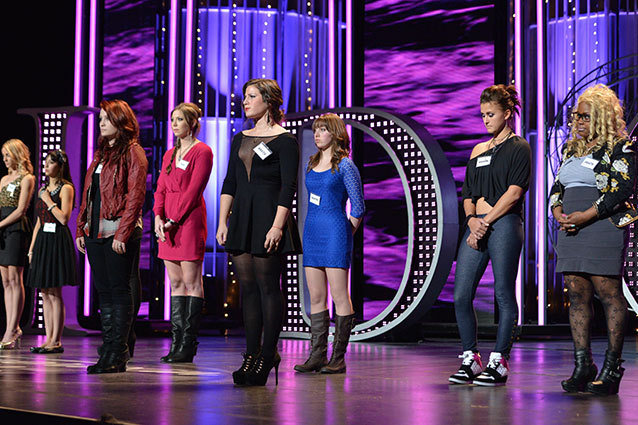 I see now. This is why the American Idol guys' audition round was so boring. The drama was waiting on the girls' side.
Sure, a few of the guys got steamed here and there, and then there was Matheaus Fernandes's onstage meltdown, but for the most part, the dudes were rather tame. I'm probably a terrible person for saying this, but it's just more fun when the crying, fighting, self-righteous ladies do their thing during Hollywood week. And this season, apparently the judges sent through more women than men during the national auditions, so the competition is tight and making these girls lose all the oxygen in their brains. It's getting nutty.
First up are the rapid-fire auditions, and we lose a few familiar faces. We lose wacky girl Ashley Smith from Charlotte, who surprised everyone when her fake blonde wig and faux hipster glasses hid a girl with a real voice. Also gone are nominated singer Anne Defani from Nebraska and Sarah Restuccio, who wowed Nicki in New York by rapping "Super Bass" almost as well as those two fairy princesses on Ellen.
Finally, we get to Mariah Pulice whose story of overcoming anorexia by getting into music moved the judges during her audition is sent home after her version of "Gravity" fails to impress the judges. Of course, this is after she's caught on tape saying that the competition means everything to her because it's helping her stay on the right path. It's cruel editing that makes us feel guilty for agreeing with the judges that the girl wasn't strong enough for the competition. Still, it's a blessing the girl is sent home now instead of at the top 24 cut-off.
RELATED: 'American Idol' Recap: Solo Night, Or Nicki's Jar of Hearts
As a parade of girls is ushered through to the next round, including mini-Alison Williams Angela Miller, San Antonio's mariachi singer Victoria Acosta, Rachel "Always (seriously, all the time, always) Smiling" Hale from Long Beach, and perfectly sweet country girl Janelle Arthur all make it through, but then come some hard distinctions that are still a bit confounding. When Candice Glover, who's returning a second time, sings her solo, she bbrings the house down, and perhaps it is that juxtapostion, but it completely ecclipses anything Megan Miller, a.k.a. the girl who auditioned on crutches, and her strong, yet bland voice. Both go through, but only one feels like someone I'd buy a record from (duh, Candice).
Isabelle, the girl with only one name, wows the judges again, as does Briana Oakley, the young woman whose classmates bullied her after she sang beautifully on The Maury Show (the the joke's on them because they were home in the middle of the day watching The Maury Show).
Finally, we have Kez Ban, the androgynous woman from Chicago who's bluesy, grassy style won over the judges. This time, she's gotten a little high and mighty. She actually tells Ryan Seacrest, as if he's the valet of American Idol, to find her some space to practice alone for 30 seconds because she's blown out her voice cheering for her friends. Oh, and also she's really sick. Cough, cough. Kez's voice greatly suffers but the judges seem to be keen on keeping her for now because they let it slide and she stays on to create a good 33 percent of the Hollywood Week drama.
RELATED: 'American Idol' Recap: The Guys Are Just Alright
Group round is upon us and, once again, the producers have chosen the groups for maxium drama potential. To separate the trainwrecks from the choirs of singing angels, come the judges (minus Randy, who never misses a thing on Idol but is apparently getting too old for this s**t) in a fleet of shiny new Ford cars whose names are definitely not glistening on the screen unnecessarily when all we're hoping to do is see Mariah lean back like a figure on a Grecian urn and tell us, "Darling, we're finding stars today." She does that too, but it takes us way too long, and too many car shots, to get there.
Luckily, Ford didn't make any of the contestants drive around in these promo autos when they should have been practicing, so we're able to get right into the groups, their drama, and of course, their performances. The Swaggettes have truly got the swagger because they all went to bed on time. They didn't fight over harmonies or choreography, and they walk in looking refreshed and cheerful. Are we sure this is Hollywood week and not the uplifting part of a movie about a plucky young girl group, with its weird hipster-nerd chick thrown in for the "cool" factor? It's not. While Glover is the clear standout of the group, her cohorts Kamiria Ousley, Melinda Ademi, and Denise Jackson the steampunk princess nailed "Hit 'Em Up Style," also known as the song every group wants to sing but usually can't. But hey, you'd be amazed what you can accomplish when you've got serious swag. They all stay on for the next round.
Page 2: The ladies turn on each other in an instant…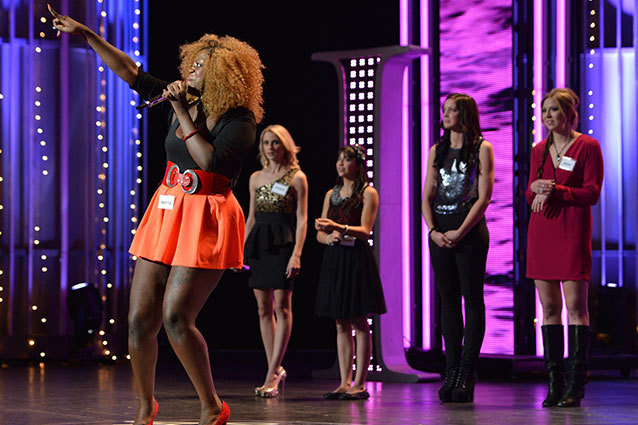 We jump straight out of R&B into real country with Rasin' Kane, comprised of Morgan Leigh Boberg, Lauren Mink, Brandy Hotard, and another girl whose name we don't learn because apparently she doesn't make it very far. Decked all in cowboy boots, these girls are country to the very core, to the point I almost felt I was trapped in unknown territory because my realtionship with country music lives and dies with Taylor Swift. Apparently, I'm not the only one because Mariah's tepid smile betrays just how much she hates this honky tonk stuff. Still she knows talent when it sings to her, so all the girls stay on.

RELATED: 'American Idol' Recap: Yeah, Dude Looks Like a Lady

But what is Hollywood week without a string of girls forgetting their words? This year, girls clearly knew the danger of group night because writing lyrics on their hands and arms became practically commonplace during the auditions, sending Nicki over the edge. But first one group probably should have invested in some sort of assistance because without the words, they fell apart completely. Savannah Votion (the mom with the belly shirt from San Antonio), Liz Weiss, Daysia Hall, and J'Leigh Chauvin take on "Somebody That I Used to Know," as many groups chose to do throughout the night, but the performances isn't even as melodic as a slinki hopping downstairs. Yes, a slinky is more pleasant listening material. Actually. In the end, Daysia is the only one who manages to sing when she forgets her lyrics, and she's safe. Naturally, her group members turn on her and the claws come out, but mainly from Savannah, who's claiming that because she chose the harmonies and because they "helped Daysia sing" onstage (which, as far as I know was not a thing that could actually be done, you either sing or you don't) that they deserve to stay instead. Let's be honest though, we're not looking for sportsmanship during Hollywood week. Got a blame shift? Or a catty comeback? This is where it belongs.

And at least one group knew what they were in for when they named themselves: The Dramatics. Cristabel Clack, Kriss Mincey, and Jane; Stiney are pushed together, and at first it seems perfect and easy. The girls get along, the harmonies make sense. But then Janel is concerned that they need to stay up all night because she hears the other good voices ("I hear them!I hear them!) and they need to be perfect. Her group gets some shuteye, but the next morning nothing has changed. She still wants to rehearse solo, until the moment of truth. Even in the group interview, Janel answers the group question by talking about herself. They keep trying to rehearse togehter and she keeps running away to work on her own. Come show time, the girls aren't too bad, minus Janel, who apparently didn't learn the words so well on her own. When Nicki asks what happened, Janel spews some story about not fitting in and lets out an avalanche of tears to boot. It's something Nicki quickly buys (even if I'm not) and she combats Keith's stalwart refusal to budge on the forgotten lyrics. Evenntually, and not by unanimous vote, the entire group is chosen to stay.

And again, Idol takes a step to convince us that it's not picking superstars based on looks, their opinion of puppies, and whether or not they think the sun is great or super swell. It's all about the voice. We meet Urban Hue, a group made up of Camp Mariah alum Tenna Torres, Kiara Lanier, and Seretha Gunn, whose daughter forged an eternal best friendship with Nicki during the Charlotte auditions. Unfortunately, the performance was awful. Seretha is all over place, and no where she should be. Kiara is forgettable and Torres seems off, even if the strength is clearly still present. But as Nicki said at the last minute, they've got to pick up their game… or they're out. Unfortunately for Seretha that chance passed a long time ago, and her shot at the top spots was is dashed as she is the only group member sent home.

RELATED: 'American Idol' Recap: The Panel is Haunted By Civility

In case anyone forgot Zoannette Johnson, who auditioned with the "Star Spangled Banner" and a whole lot of stumbling, she's thrown into a cute country girl group called the The Pu-snaps? Poo-snaps? Pouschnapps? I'm not sure what theire name means or where it comes from, and I'm not sure I want to. When the process begins, Zoanette is constantly pouting, worried that these country girls will leave her behind. She sits before the vocal coaches pouting, later claiming she's just "over-passionate." When it comes time for the performances, Zoanette, and her group mates Erin Christine, Lauren Bettes, and (just) Isabelle sing their versus prettily, and I'll admit, I really don't get the Zoanette thing or why she's still here. She still sounds like broken down Fantasia and yet the only person going home this round is sweet, little (boring) Lauren. Perhaps the next episode will relveal Zoanette's special power, but until then, I'm going to remain with my brow throroughly furrowed.

As the night winds down, the groups start to get a bit cattier. One group with their knife-like little claws right out and ready to play is that of Liz Bills. She's with Shira Gavrielov, Alisha Dixon, and Courtney Calle who sings songs like she's a cheerleader for Raffi, acting out every gesture of the song as if our tiny little brains depended on it. This group hates Liz Bill. They hate her so much, they go into their group interview without her, they speak ill of her right up until she walks in, and they've somehow concocted the idea that they're above her. Of course, Liz gets to exact her revenge when the three girls wretched vocals get them sent home while Liz's barefoot hippie antics bring her a little bit closer to that top 24. Sometimes justice is swift like that.

But Shira isn't willing to take this decision for face value. She somehow brings herself back onstage to beg for another chance, only instead of begging, it appears that Shira is guilting the judges for missing out on a good thing. Not only is this just about the worst look possible, the girl came in with a sense of entitlement. She has no concept of the fact that she could be cut from the competition if you're not a right fit. And thank goodness we got rid of her now. The last thing we need is another person on television, trying to make us feel guilty for their failure to succeed.

And Shira wasn't the only one convinced that she didn't deserve her fate. Contestant Stephanie Schmiel convinces her group to switch songs the morning of the performance and then promptly missed the intro of the song, again "Somebody That I Used to Know." But it's clear the girls made a poor choice: Stephanie missteps, Alex Delaney screws up the lyrics so badly her dad grimmaces, and Kalli Therinae and Holly Miller are fairly solid, Holly with just a little more strength. Randy makes it very clear he does not want Stephanie to stay, calling her out for going off key, but the judges vote and Stephanie and Holly are allowed to stay, much to Stephanie's surprise, who thought "botched that one."

Before the grand finish with Kez Ban, we stop off in Barbie-ville, where Britnee Kellogg, Kree Harrison, Brandy Neely, and Haley Davis. As the one who's done the show before, Britnee takes the lead, a job she instantly resents. (Then why are you doing everything? Why don't you just stop doing things? When the Dolly Chicks finally get to the performance, only one of them has slep, Haley, who left practice early for a totally nonexistent "stromach virus." When she does hit the stage, she can't remember the words and what's worse is she's caught on national television wearing Uggs and short skirt like it's an acceptable fashion statement. Surprisingly, it's actually sweet little Brandy who's sent home while the girl who can't play by the rules or stick with her team goes on. That's Hollywood, for ya.

Finally, we get to Kez Ban and the Misfits. After arguing over "poppy floofy" songs and picking something that Kez will finally agree means something to her, they start rehearsing, but all is messed the up royally before too long. First Kez demands arrangement change constantly so that the song suits her voice, then she bails on practice to get dinner right in the middle of a vocal coach session. Finally, she doesn't show up for breakfast, misses the bus to auditions, and shows up alone, just in the nick of time. Basically, she's already living the rock star life. And it works, for her. The group sings "Somebody That I Used to Know" and Breanna Steer, Angela Miller, Janelle Arthur, and Kez somehow make the combination of discipline and chaos work. The judges love it and the whole group goes through.

But as fun as the nonsense of the Hollywood groups can be, tomorrow it's time for judgment. The girls will be singing solos, without the cushion of group members and dance moves, and only then will we be able to tell who's worth watching. Well… worth watching in a serious way, clearly we've got no shortage of reality TV gold in this set of Season 12 contestants.

Follow Kelsea on Twitter @KelseaStahler

[Photo Credit: Michael Becker/Fox (2)]
---
From Our Partners:

Pregnant Kate Middleton Bikini Pics Spark Palace Anger (Celebuzz)

50 Steamiest Movie Kisses of All Time (Moviefone)