'American Idol' Hollywood Week Recap: The Guys Are Just Alright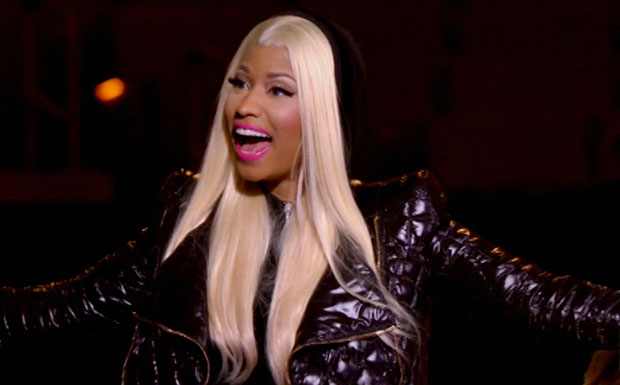 It's Hollywood week, and we're supposed to be floating on little clouds of Nicki Minaj's cotton candy hair and Mariah Carey's never-ending collection of butterfly accessories.We're supposed to be in heaven. But no. It's not that simple. American Idol has to be fresh and new, so they have to change all the rules of Hollywood week. What they don't seem to understand is they they just drew a mustache on the Mona Lisa of reality singing competition challenges.
Nigel Lythgoe waltzes out to tell a surprisingly husky group of competitors that the rules have changed this year. Rule 1: See how there are only men in this room? That's the first change. Just think of it as a middle school dance. Hollywood Week 1 is the wall where all the boys are standing, the one with the basketball scoreboard hovering above their heads. Hollywood Week 2 is the opposite wall, with all the girls twirling their hair while lingering close to the emergency exit. It's unnecessary, and it severely disrupts the usual ebb and flow of the dance of Hollywood week drama.
Rule 2: Producers choose the groups, no ifs, ands, or buts. Sure, in theory this means we'll get multitudes of groups butting heads rather than just the few that are comprised of shy guys, stragglers, and raging ego-maniacs, but in practice, it means continuous crimes against music, endless mild disagreement, and so much distraction that even some of the best singers in the competition are thrown off their game. It's a mess, and not the great kind. The worst result may be that terrible performances are rewarded with a second chance time and again this episode, perhaps as an acknowledgement that this new process was bad for everyone, but first, the judges did their best to thin out the herd in the initial sudden death speed round.
RELATED: 'American Idol' Recap: Yeah, Dude Looks Like a Lady
Most important to note at this point in the competition are those folks who lost it all in a matter of seconds. First up was Karl Skinner, who we fell in love with in Oklahoma City only to let go too soon in a fit of Coca-Cola-driven fervor. Unfortunately, Karl shows himself to be all growl and no true vocals, and he's sent home along with the group of strange rapscallions (including a man who drops a paper heart with all the ceremony of Criss Angel releasing a dove while he delivers his emo audition). He's followed by the singing doctor a.k.a. Dr. Calvin Peters, who I chastised for leaving behind his job helping to heal burn victims to pursue fame when we met him back in Charlotte. Next comes cutie-patootie firefighter Dustin Watts who was always lovable, but rather generic in this mixed bag of contestants.
Next comes the challenge. Cortez Shaw shows up with too much confidence for his own good, attempting to belt out the Whitney Houston classic "I Will Always Love You." And it's not good. His off-key, cocky performance starts a debate among the judges when Mariah inexplicably likes him (girl, is your falsetto range affecting your brain?). Nicki actually says she is "disgusted" and Randy says the only thing the kid needed to hear: "You ain't Whitney." Yet somehow, this cocky little smart-ass gets another shot at the big time. Sure, he sang a much tougher song than anyone else, but he clearly knows nothing about his vocal ability and that spells elimination.
The fake-outs continue as Nicki carries out a few jokes of her own. Her first victim is Bryant Tadeo, who she gets to admit he's tired so she can tell him "It's good that your tired because you're going to have a lot of time to sleep now that we're sending you home." But it's all a cruel ruse, Bryant's just dealing with a little emotional trauma now. No big deal. At least Bryant got a lesson in being grateful and excited about Idol. Oh and also, there's the part where he gets to stay. That's not bad either.
Lastly, we watch Brian Rittenberry, whose adorable wife survived cancer and then spent the second half of his audition sweetly fawning over Keith Urban. He attempts to country-fy Brian McKnight's "Back at One," and while he's still got strength and sweetness, it's clear the rough quality of his voice is serving to camouflage the lack of vocal ability. The lovable lug is sent home, and it's not pleasant to watch his dreams crash, the show is about singing and it was the right thing to do to let him go. It's a skill our judges only seem to have half of the time as auditions continue.
Almost as suddenly as it rehearsals began (because there was no time devoted to the cruel, yet fascinating process of self-selecting groups), the performances were underway, undercutting the vicious footage we've come to expect. It's probably better for our souls this way, but we were okay with the consequences of verbal sparring and bullys bested by their more talented teammates. Luckily, not everything has changed. We still get the requisite bathroom rehearsal. Unnecessary beat-boxing (unless you're Justin Timberlake or Blake Lewis, beat-boxers need not apply, but oh boy do they ever). We're also treated to an ego-crushing wake-up reel of the contestants before they've prettied themselves. Well, everyone except for Johnny Keyser, who apparently rolls out of bed with perfectly feathered hair and a cavalier attitude. And while even I'm jealous of his charmed life, full of eyes so sparkly they blind the sun and hair so naturally perfect it should be in a museum, his wake-up routine isn't exactly the highlight of Hollywood week. Then again, I'm not really sure what was.
RELATED: 'American Idol' Recap: The Panel is Haunted … By Complete and Utter Civility
First group of the night is Mathheads, comprised of Matenee Treco, Matheus Fernandes, Gabe Brown, and Nick Bodington. After milking Matheus's tale of shortness for all it's worth (even having the kid lay on his bed so he could put his hopes out into the ether, "God, please help me. I've been waiting so long for this," even though he just had a fairly sizable shot on Ryan Murphy's The Glee Project. Matenee's got a case of the crazy eyes, Gabe has an issue or two with really singing out when he's not using his gutteral growl, Matheus rocks out like it's still 1984 and Van Halen is the pinnacle of musical fame, and Nick is simply so overshadowed by his cohorts that I couldn't remember a distinguishing factor about him if I tried. "Somebody to Love" by Queen earns them all another shot at the top 24, but I'm still wary of Matheus and his seemingly out of control ego.
Johnny Keyser, his pretty face, and his group take on a song that he didn't actually know, because he doesn't listen to human music, just the sounds of a million angels singing directly into his ear. "Reach Out (I'll Be There)" may be a classic Four Tops song that most fans of aural joy have heard at least once in their lives, provides a problem for Johnny in that it is a total blind spot. It means a complete jumble of misguided voices for Johnny's group.Johnny forgets his lyrics, but manages to keep on humming. Kareen Clark has the words down, but he's flatter than a piece of plywood. The harmonies are awful. Despite the fact that Aussie Keith can't believe that he knows a song that all-American kid Johnny doesn't, Johnny is sent on through while the other move on. Of course they keep the hot guy. This is Hollywood after all. What's Tinseltown without a few attractive people to keep us interested? (A town full of talented people who were judged fairly? Who wants that.)
And the disappoint keeps on keeping on. Curtis Finch and his unbelievable gospel/R&B voice have made him one of the voices to beat in the competition, but as it turns out, he's kind of a jerk. When his assigned teammate, scrawny little pop-punk-loving Charlie, gets sick, Curtis sees it as an opportunity to do better for himself, with the kid out of the way. Their third teammate does everything he can to help Charlie, even admitting it to the camera while Curtis stood aside expressionless, totally aware that taking credit for helping Charlie would be unwise after the truth had been caught on camera. When the trio performs, however, you'd never know there was an issue among them, but Curtis's capable runs are tinged with the knowledge that he would have let that poor kid hang out to dry if he needed to. Apparently, he didn't get the memo about everything he says being taped and presented to America so that they might one day choose to vote (or more likely not vote) for the guy who was too ambitious to help a guy in need. Naturally, the judges don't know about his backstage antics and they're wowed, sending all three through while Mariah inflated Curtis' ego by telling him she's been waiting all day to hear him sing. With a victory on his hands, Curtis is all team spirit suddenly, but I can't imagine that would be the case if the song had put him in danger. If only she wasn't right about his talent. Selfish or not, the guy can destroy any song he touches.
RELATED: 'American Idol' Recap: There Ain't No Crying (or Fighting) in Baton Rouge
Two more relatively boring groups squeak on by, giving speech-impediment sufferer Micah Johnson and his teammates Vincent Powell, Marvin Calderon, and David Willis a ticket to the next round. Also raking in the luck was sign language teacher Nate Tao's group of leather-jacket-lovers, who all went easily to the next round, even Cortez, despite his tendency to hop into off-key territory during "Some Kind of Wonderful." If Cortez keeps getting through, we're going to have the male equivalent of Karen Rodriguez on our hands again.
While we wade through two groups who can't even muster up a fraction of the lyrics to either "What Makes You Beautiful" (only the most infection pop song courtesy of the biggest boy band on the planet, One Direction) or any number of other well-known songs during this, a singing competition presumably filled with folks so set on singing they might want to listen to artists other than themselves. Two groups of lyric-losers come through and only Paul Jolley and Will White survive.
B-Side or the group formerly known as Three Men and a Baby (get it, because that one kid is 15 and the rest of the dudes are strapping men!), try a little Maroon 5 and Keith comes to his fellow reality judge Adam Levine's defense: "Adam Levin isn't dead yet, but he's alredy rolling over in his grave." Morbid, Urban. Gupreet Singh Sarin, Nicki's favorite "Turbanator" from New York, leads the group, many of whom forget the lyrics completely while Sarin at least fills his empty lyrical space with some scatting. The sounds are simply cacophonic and even though Gupreet does his best to salvage his flub, he's not much stronger than he was during auditions when Nicki had to beg her fellow judges to give him a shot. Yet somehow, the judges deliberate and come out with the idea that these guys, who blew their group audition, deserve another chance. Even Gupreet looks confused as Nicki exclaims her joy over her "baby group" living to see another day of competition. She says she pushes them through because "we are humans and we forget the lyrics, but it's about what you do in those moments that makes you a star," and we hear you, Nicki, but these guys don't seem to be the ones to use that card up on. Hopefully, I'm wrong and they heed Randy's command to simply "be better next time." Some act of God spared this undeserving group, but hopefully it will lead to somewhat of a small miracle when it comes time for solo Hollywood auditions tomorrow.
Suddenly, some glaring choice (that occurred in the last paragraph and surprised all of us) makes the judges realize they have to get tough and soon. Luckily, they are served up a nice hot plate of terrible singing to get them in the cutting mood. Last Minute, a group that included Jason Jones, Dan Wood, Jessie Lawrence, and some guy the producers didn't see a need to call by name forget their words and quite possibly how to sing, forcing Randy to burst, "How do I even judge this?" He doesn't really have to, and send the whole lot home.
Carrying on with the snooze train is a group organized by Ryan Conner Smith, who gets the singers to perform a cappella. The judges hate the lack of musical accompaniment, and Ryan's innovation (and lack of vocal prowess) is what sends him home while the rest of his group stays. Perhaps he should have heeded his vocal coach (and Katharine McPhee's mom) when she cast a disapproving look at the mention of an a cappella audition.
Burnell Taylor from Baton Rouge is known as the guy who made Mariah cry during auditions, but during Hollywood week, his group's "Some Kind of Wonderful" almost made her cry for another reason. Burnell doesn't know the words, and his vocals are suffering. Yet memories of his past performances apparently keep him alive, during the round that is supposed to be judged at face value and he and his teammate Tony Foster Jr. are safe while their cohorts pack up.
Finally, as the end of the episode approaches, the drama begins to emerge. Super 55, socially-challenged stutterer Lazaro Arbos' group is having issues. And if you ask Josh Stevens, it's because they're all spending too much time trying to fix Lazaro because he's "not from around here" and his stutter makes it hard to communicate. While Lazaro is concerned that his teammates take his speech issue as a symptom of deficient mental ability, Josh is the one showing off just how stupid he can be. Who's the one Nicki loves so much, she made a heart with her hands in his general direction during the sudden death round? Oh, Lazaro. That's right. Pipe down, Joshie. While Josh worries some more, Ryan Seacrest's voice-over hopes the group doesn't become a statistic (which is impossible because they're by default already a statistic. This isn't an STD prevention PSA. "Becoming a statistic" doesn't mean bad things happen to you.) And the only people in danger of statistichood turned out to be Josh and his buddy in bullying, Scott Fleenor, who plays the flat singer to Josh's boring 1950s sock-hop attendee. Lazaro and his teammate Christian Lopez (With the dreamy blue eyes and sultry, seductive singing voice) are the only ones worth watching, and when the voting is done, the judges only leave the talented ones standing. Scott simply sulks, but Josh takes this golden opportunity to right the wrongs he's committed since group rehearsals started to be a total ass. "If anything, you should be going on. We spent so much time perfecting what you needed to be doing," was all he could say through his tears to Lazaro before he parted ways with the talented young lad.
But Idol had more than one group tailor-made for total implosion. Country Queen pitted two eccentric young men against two strapping young country singers, one of whom has a serious issue with men who don't chop down trees or stomp around in muddy boots. JDA and Joel Wayman drive Army man Trevor Blakney nutty with their focus on showmanship, but his real problem seems to be the various ways in which both men are less attached to traditional expressions of gender. While they're completely willing to listen to his needs as a member of the group, Trevor is convinced his teammates are ignoring him and he flatout refuses to participate in the lyrical workshop that he whined so desperately for, complaining that he didn't want to "put on dresses and put glitter on." And his intolerance of people unlike himself (something producers were counting on) costs him his pride and his spot in the competition. He forgets his lyrics, while his glitter-wearing teammate JDA focuses on vocals and wins the judges approval. Everyone in the group, including so-so country singer Lee Pritchard make it through while Trevor heads home to pout about never having lost anything before. Well, my dear boy, the thing about winning is that it doesn't happen when you sit on your rear end complaining for an entire round of a cutthroat competition.
And just when it seems the judges' vow to be tougher isn't quite as strong as they made it sound, Cystic Fibrosis afflicted 15-year-old Kayden Stephenson comes to the stage with his group, which includes a mature and much more polished David Leathers Jr. (he was eliminated at the top 24 cut off last season), is up with "For the Longest Time." Idol placed all four members of DSDK together because, oh aren't they cute, they're all the youngest in the competition. Each of the youngsters delivers at the very least descent solos until it comes time for Kayden's turn. A quick shot of Mariah while Kayden flounders with his sweet, child's voice on stage makes the diva look like she's just seen something horrific. This sweet little survivor is crashing and burning before her eyes and she can't handle the thought of what the judges are going to have to tell him. Luckily, he's not sent home alone, alone Sanni M'Mairura and David make it through, but it's still heartbreaking to watch little Kayden trudge on home. While his story was awe-inspiring, it was clear during his first audition that his voice wasn't strong enough for the competition, yet the show couldn't resist sending him through and pumping him for failure. He should never have made it to the televised round of auditions; it was clear he wasn't strong enough. Yet in the end, Nicki has to convince Mariah (and any backstory-clinging viewers) that sending him home was the right thing to do. Yes, it was hard watching the panel send home a cancer survivor with an amputated leg after he wasn't good enough for the competition, but it's less difficult than watching him step even closer to his dream before it's taken away. Rip the bandaid off early, or we're left feeling horrible for a young kid who was advanced unfairly because his story looked great as an episode endcap.
Finally, the night ends in tears when Frankie Ford, who won us over with his story about singing for change on the subway in New York, lets the pressures of a contentious group mar his ability to use his God-given voice. Placed in a group with powerhouse Charles Allen, unstoppable personality Papa Peachez, and constant surprise Adam Sanders, Frankie is faced with a smorgasbord of musical variety. He could, as the least experienced member of the group, use it to learn. But instead, he spends the whole rehearsal period complaining that they don't listen to him, driving him to tears just minutes before it's time to perform. Oz, as they decide to call themselves, serves up a performance that's the vocal equivalent of the junk drawer. Nothing fits together, however great the value in each individual piece. Peachez is weak, clearly shaken up by the group dynamic. Adam does okay, but ultimately rescues his performance with a suggestive joke. And Charles is the only solid performer, pulling out a few high notes and impressive runs. Frankie, however, cries on stage, forgets his lyrics, and eventually gives up mid-phrase. Even if his story is admirable and moves us and his voice is a good one, this is not the behavior or attitude of someone who can win Idol. He's cut loose while Peachez earns another chance thanks to Nicki's incessant begging, but that's not the last we hear of the supposedly sweet singer from New York. He bursts out of auditions, barreling away from his friends and yelling about how he'll come back and win, but it's his line "They will not deny me" that is of concern. Frankie, you're a good singer, but no one, not even American Idol owes you a win or an instant ticket to fame. He can come back again, but unless he fixes that attitude, it's going to be the same story all over again.
With all that surprisingly lackluster nonsense out of the way, Thursday will deliver the solo Hollywood round, also known as the place contestants start to have their big moments (you know, those performances that seem to make the sky open up just so angels can come down and flutter around the singer on the stage?). There will be a bit of drama here and there, but what we're looking for isn't a fight or a hissy fit. We're looking for some kind of wonderful.
Of course, it will be strange to go through this process once more with the ladies next week. Hopefully, they don't leave us with such ardent fits of boredom as the menfolk.
Follow Kelsea on Twitter @KelseaStahler
[Photo Credit: Fox]
---
You Might Also Like:

Who Wore This Crazy Hat?

Stars Who Changed Their Look