'American Idol': Inside the Dramatic Save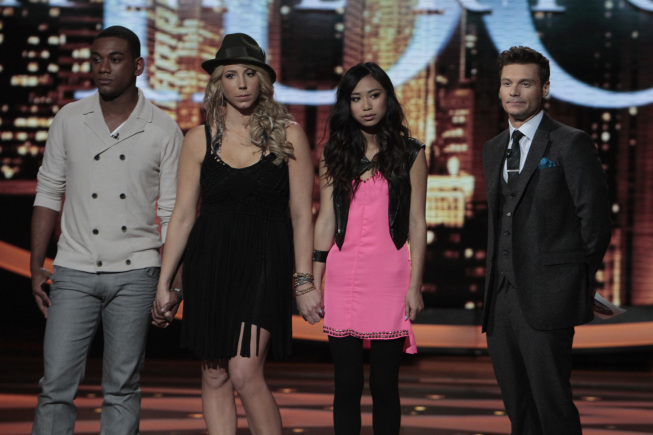 From three live musical performances to nearly saying goodbye to fan favorite Jessica Sanchez, Thursday was a night of highs and lows for the American Idol contestants and audience. But there was no bigger sigh of relief than when Jennifer Lopez announced that the judges would use that elusive "save" to keep Jessica in the competition. (Not everyone was happy about it though.)
So how did the moment go down? J. Lo herself led the charge on stage after seeing Steven pull back his chair from the judges' table in shock when Jessica was asked to sing for her life. Randy, looking as upset as Jennifer, couldn't seem to cope with the shock of this week's bottom three. In fact, Randy Jackson admitted to me backstage that he knew that they would use "the save" regardless of which contestant was at the bottom: "We saw all three [contestants] and that's why I said, 'You know what? We're saving them. Because this is crazy."
The theater seemed to agree the results were "crazy" — after Jessica was announced as the lowest vote-getter, the riled-up crowd screamed loudly for her (while the contestants on-stage looked similarly floored), even yelling "SAVE!" before she took the stage for her last-chance performance, which may have played into the judges' decision to interrupt her mid-song to tell her that she was, in fact, saved. How else to avoid angry uprising in CBS Television City? It was clear the contestants too were pleased about the decision (despite the fact that two of them will be sent packing next week because of the save): The six safe singers gave each other high fives after Jennifer's announcement, and even came together for a group hug as the credits rolled. (Elise, for her part, played the motherly role for Jessica — she hugged the in-danger contestant prior to her last-chance performance.)
Before the cameras even started shooting inside the theater, it was clear Jessica had the most fans in the audience. A teenage girl sitting in my row was holding up a bright yellow sign reading, "San Diego Loves Jessica." And the rest of the audience seemed to agree, as Jessica received a standing ovation and thunderous applause after being saved and taking the stage to close out the show. (Sorry, Colton — still no standing ovation for you!)
But, if you are like me and follow executive producer Nigel Lythgoe on Twitter, you would have known that you were in for an elimination night like no other. Minutes before the show, Nigel ominously tweeted, "Ok no BS I am truly shocked by tonight's #AmericanIdol result! #idon'tunderstand!"
As you all saw last night, the very sneaky Ryan Seacrest placed Hollie Cavanagh, Phillip Phillips, and Colton Dixon on one side of the stage and Jessica, Elise, and Joshua Ledet on the opposite side. There was little doubt in my section of the audience as to who was in the bottom three… and we were dead wrong. (But we all knew that Skylar Laine would be safe this week!)
Following the judges' comments Wednesday night, the crowd seemed to assume Hollie would be sent packing — why else would they have erupted in boos when Phillip was added to her group? But Phillip himself looked rather calm about his future on the show, and even gave a Hollie a comforting hug during the commercial break. Colton, a fellow member of Hollie's trio, also appeared unfazed by his placement. It didn't hurt that the entire female population at CBS Television City screamed for him.
In addition to the elimination drama, all seven of the contestants took the stage to sing Pink's "Raise Your Glass," which ended with raised fists from the performers… and Ryan. But, what you didn't see on a camera was the audience's rehearsal to practice the fist pump for the end of the song. That's right: All of us in the audience choreographed our own fist bump. Oh, Nigel, you sure know how to make good TV.
After dancing up a storm during "Raise Your Glass," the night continued moving with a performance of "Right Behind You" from Idol alum James Durbin. While I'm sure the performance looked incredible on television, it took a minute for the studio audience to warm up to the song. Skylar and Elise, however, helped heighten the mood, clapping along to the song from the start.
Before the third musical performance of the night, Ryan briefly went MIA as the stage manager called him several times to the stage. (Yet, being the pro he is, you would never know it if you weren't the theater. Remember what I said about him being sneaky?) But he returned, along with season 3's Jennifer Hudson, with Ne-Yo in tow for a performance of "Think Like a Man." Thanks to her endorsement deal with Weight Watchers, the former contestant and Oscar winner looked almost unrecognizable from her Idol days, but the audience sure knew who she was — they went nuts! (Of course, the crowd was already in a good mood, thanks to Ne-Yo's interaction with fans — the musician said quick hellos to female fans and touched as many hands as possible before, during, and after the performance.)
Of course, we can fully expect them to go nuts next week during a double elimination — and I'll be here to share the behind-the-scenes action!