'American Idol' Judges Announced: Nicki Minaj, Keith Urban Officially Join Panel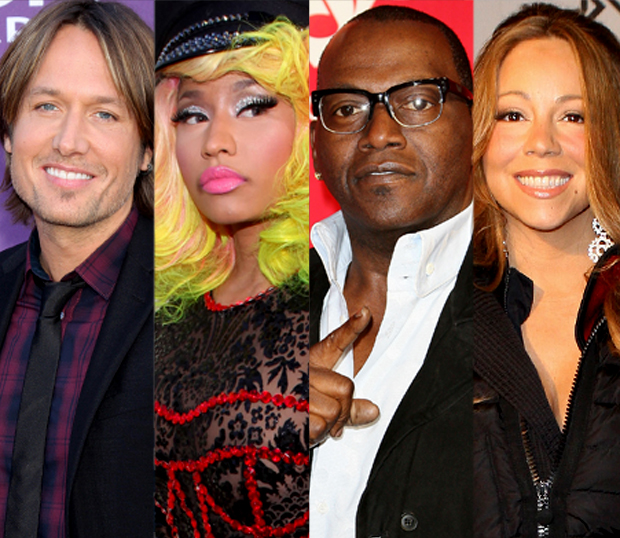 After months of searching — and dozens of rumors that put celebrities from Nick Jonas to Charlie Sheen in seats vacated by Jennifer Lopez and Steven Tyler — American Idol finally announced its judging panel. Following in the footsteps of competitors The Voice and The X Factor, the reality series plucked some of the industry's buzziest stars for its 12th season. Along with the already announced Mariah Carey and mainstay Randy Jackson, rapper Nicki Minaj and country star Keith Urban are set to join the Fox hit.
Simon Fuller said in a press release about the new panel, "With the exciting addition of Mariah Carey, Keith Urban and Nicki Minaj, alongside Randy Jackson, American Idol's star power has never been so great. For this we have to thank the ongoing commitment and belief of FOX and the dedication and focus of the Idol production team. We have all been together since the very beginning and we are focused on making Idol Season 12 the best ever." 
Added Fox President of Alternative Entertainment Mike Darnell in the release, "I am thrilled about this year's judges' panel! We've got global icon Mariah Carey and Idol's heart and soul Randy Jackson, who will be joined by Nicki Minaj and Keith Urban. Nicki's an unbelievably captivating international phenomenon who has made an indelible mark on rap and pop. And Keith is another great addition to Idol – he's one of the biggest stars in country music and I know that our fans and contestants will fall in love with him … With an unparalleled star like Mariah, fan-favorite Randy, chart-toppers like Nicki and Keith and our incomparable host Ryan, we've put together one of the most exciting judging panels around." 
Of course, this is hardly the first time
Idol
has flirted with an all-star cast: Not only did theshow famously reinvigorate the careers of famous faces Lopez and Tyler, but 
Idol
(not so successfully) tried to attract buzz in Season 9 by recruiting
Ellen DeGeneres
.
Lopez and Tyler announced their exit in a one-two punch in July — though Randy Jackson was first rumored to be a Season 12 mentor, the network confirmed that the judge, who has been with Idol since Season 1, is indeed returning to the panel. (Enrique Iglesias was reportedly in negotiations to join the show before Jackson officially returned.)
With the famously frisky Carey and Minaj on tap, Idol might have succeeded in creating a headline-making panel, even if no member quite matches X Factor judge Britney Spears' star power. Of course, the series still must fight the dreaded rule of three curse …