New 'Idol' Judges Already? Ratings May Be Low, But Don't Blame Mariah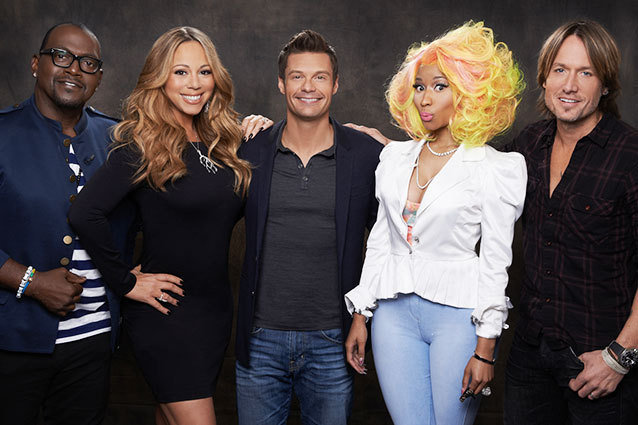 Update: Rumors are now surfacing that claim none of the Idol judges will return next season.
Earlier: American Idol's ratings have been in a steady decline since 2008, and its 12th season has reached a low point. Just 12 million viewers have tuned in for the past four weeks, a far cry from the more than 30 million in Idol's prime. But instead of examining the deeper reasons for such a steep fall in viewership, Idol brass are once again hoping a judging shakeup will bring in the eyeballs they need. Jennifer Lopez back, Mariah Carey gone? That's the new plan, according to The Hollywood Reporter (which Fox has refuted). But there's some faulty logic at work there, because the judges aren't the problem.
Idol ratings have been in free fall for years, and no judging shakeup has managed to change that. Season 8 saw the first change, with the introduction of Kara DioGuardi and the four-judge panel, yet ratings started to slip with both the premiere and the finale seeing about a 3 million drop in viewership. Season 9 didn't fare much better when beloved comedian Ellen DeGeneres replaced Paula Abdul while DioGuardi, Randy Jackson, and Simon Cowell continued on. Swapping out Steven Tyler and Jennifer Lopez for Cowell, DioGuardi, and DeGeneres the next season couldn't provide ratings stasis. And now, the panel comprised of Jackson, Carey, Keith Urban, and Nicki Minaj is failing to prop up Idol's droopy legacy. Sensing a pattern?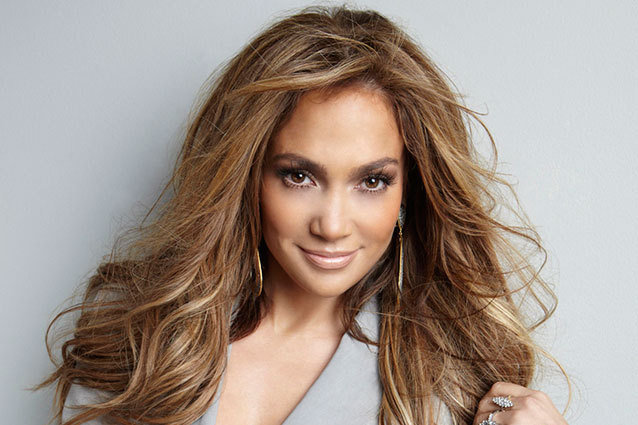 Anyone who thinks bringing in more stunt judges is the key to an Idol uptick is off their rocker: It doesn't matter who's in those judges' seats. It's the formula. It's the contestants. It's the feeling. It's the fact that Idol has been at it for 12 years and there is another dog (The Voice) doing new tricks. 
And, if we're being completely honest, it's the fact that Idol's desperation is showing. It's like every fiber of the series' being is screaming "love me!" at every single turn. First, there's the series' quest to crown a lady the champion this season, pushing aside all their cute boy failures and hearkening back to the era of Carrie Underwood, Kelly Clarkson, and even Jordin Sparks. It's something many fans have been crying out for (ahem, Hollywood.com included), but this year's effort has been so hamfisted. First, the series delivered a set of boys doomed to fail. It wasn't even fair. There wasn't a single young man who could stir up audiences a la Phillip Phillips. Instead, we were given Burnell Taylor, who only managed to wow a few stalwart fans much like the fallen Deandre Brackensick before him. 
Without that glue, we're left with a set of very talented ladies – now whittled down to a pretty quartet – and it almost doesn't matter who wins. We like them all, they're all gorgeous and talented, and the battle has already been won. There's no drama, no intrigue. Idol wanted a lady victor and Idol will get one. It might have been more exciting or satisfying if we hadn't known Nigel Lythgoe was sitting in the wings and smiling at how his girl-centric plan had come together. It doesn't feel like a victory; it feels like a prescription that's been filled, and that's not why Idol fans love this series. Sure, you can often tell who's going to be standing on stage at the finale, awaiting his or her fate, but never before has it felt like a master puppeteer and his subjects loping towards a forseeable conclusion. That's on Idol, not the judges, who've provided a great deal of entertainment for viewers this season. 
But if the obvious lady-centric mission wasn't enough, Idol is also jumping through hoops to be "fresh" and "different," yet the biggest moves consist of mirroring its competitors The X Factor and The Voice and changing up the process and intensity of its Thursday night results shows. Sometimes we find out the top three, sometimes we get zero results until the last five minutes, you just have to tune in to find out! It's an attempt at freshness that just feels like Grandpa trying to make a pair of Justin Bieber's famous harem pants work. At times, the secondhand embarrassment is almost unbearable.
Finally, it's the show itself. After 12 years, it makes little sense to drop the familiar pieces that fans react to in an almost Pavlovian sense: Ryan Seacrest's "THIS… is American Idol" and "Dim the lights, here we go," plus the classic, yet dated theme song and opening credits. Without these elements, the show isn't really American Idol, it's just some other singing competion, yet it's these elements that ensure Idol is a relic, slowly slipping toward retirement age, instead of being a young, spry competitor for the fresh face of NBC's The Voice. 
The producers may or may not have tried to shake up the judging panel as a means of raising the ratings a la NBC's recent acquisition of Usher and Shakira and the magic they've worked for The Voice's numbers, but that plan, however real, would be misguided. 
This year's panel has incredible chemistry. They're wildly entertaining, so much so that they've managed to rejuvinate the appeal of Jackson (even if it's only in the way that they all respond to him the way my brother and I respond to our father's dad jokes). And no amount of stunt casting at the last minute or next year will best their performance enough to boost viewership.
Nothing can last forever, and 12 years is quite a run. Idol is best accepting that it's no longer top dog, dawg, and slip quietly and gracefully towards what will be its eventual retirement. After all, it's far better to go out with style and grace than kicking and screaming in some fiery downfall marked with gaudy baubles and stunts. 
Follow Kelsea on Twitter @KelseaStahler
More:
'American Idol' Really, Really Wants a Girl to Win
'Idol' Results: Which Little Lady Sang for The Save?
'American Idol' Made Me Love Keith Urban
---
From Our Partners


50 Worst Celeb Mugshot Fails (vh1)


33 Child Stars: Where Are They Now? (Celebuzz)