How 'American Idol' Forced Me To Crush on Keith Urban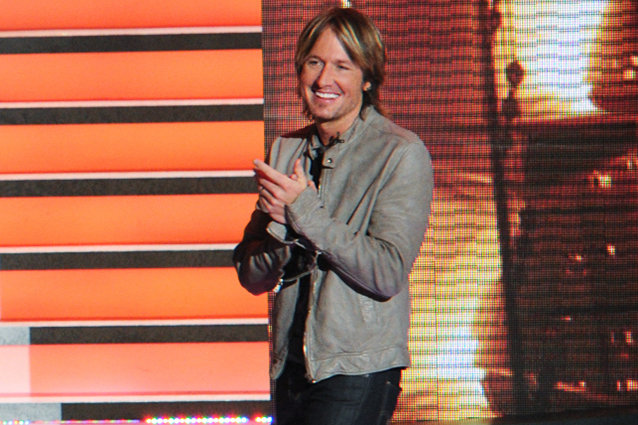 Damn you, American Idol. Despite my best efforts and previous declarations that he simply didn't do it for me, I've developed a hopeless, involuntary crush on Keith Urban. Now every episode of Idol is like my own personal round of Dreamphone, except instead of mooning over Gary and his super '90s power turtleneck, I'm making googly-eyes at Keith, who's rocking my dad's T-shirt collection and my aunt's haircut.
Of course, as much as I'd like to pretend that the only reason I've been forced into developing a strange crush on Urban during this season of American Idol  is because there are no attractive men left vying for our votes, I'd be lying. Unfortunately, I'm not that superficial: In spite of how obnoxious I find his impossibly feathery hair, with its clearly unnatural blonde streaks and a shape that frames his face like a pair of Ikea curtains, whenever I watch Idol, I'm undeniably drawn to him. 
I understand that to some folks, especially fans of country music, Urban is a certifiable babe — but sorry, ladies and gents — I just never understood it. To me, Urban's always been a goofy cowboy, and one who seems to be allergic to putting his razor on a setting beyond "graze." Sure, he's a great country music artist, but so was Garth Brooks and you don't see me (or anyone) clamoring after him like a pack of crying teenagers (at least not after he dabbled as Chris Gaines, the Criss Angel of country music). There was that way in which every glance at Urban's Golden Road album cover brought up memories of Britney Spears' "I'm Not a Girl (Not Yet a Woman)" music video. And that floppy haircut fit for some kid named Skylar on my brother's fifth grade baseball team was like a giant warning to stay away from all blonde Australian men with guitars. Urban was a good singer/songwriter, but he wasn't putting stars in my eyes.
Then he joined American Idol, and once the tensions died down between Nicki Minaj and Mariah Carey, we started noticing Urban do things like this: 
But it's not just his facial expressiveness that gets me. Just how wonderful is he? Let me count the ways…
This man is passionate. He loves music so entirely that when a pretty voice is laid before him, there's nothing he can do to stop the outpouring of emotion from every piece of his incredibly expressive face. When one of the top contestants sings an emotional ballad, a quick cut to Urban will show him leaning toward the singer, lifting his head up, furrowing his brow with great interest, and leaning out as if to catch the wave of his or her beautiful voice. 
He knows when we're laughing at him, and laughs right along with us. This was most evident on Beatles night when he realized the folly of his own repetive commentary (take note, Randy Jackson) and turned it into a joke on himself. Okay, so he's not exactly Jerry Lewis, but it's cute enough to merit a giggle. 
His friendship with Nicki Minaj is the stuff dreams are made of. First, he shared his trail mix with her during auditions, like an older brother on a school bus. Then came the friendly banter. Then there were the times when Urban comforted Minaj by lending her a shoulder on which to mourn Curtis Finch, Jr.'s early elimination, and when he lent her his hand so she didn't fall on her way to the judges' table in impossibly high heels. It's enough to make this ol' heart of mine grow a few sizes. 
He knows his s**t. For too long, we had judges who had their heads wrapped around pop music, but their interests in country music were fairly tenuous. But when Urban gets going, it's clear he's coming from a place of total, intimate understanding. He knows exactly how every facet of a country song needs to work. He knows who the real country idols are (not just the ones we surface country music listeners know). And he knows what Idol's country crooners need to do to make their voices stand out in a popular genre. Basically, he's a country music genius.
And to that point: He truly cares. It's clear that he genuinely wants these singers to succeed, and when they don't perform at the level he expects, he's not angry or dismissive like Jackson and, on occasion, Minaj. He's clearly saddened everytime one of the contestants misses his or her mark, and you can see in his sweetly pained face that he only wants the best for them, like scruffily handsome den mother.
With all that going on, how could anyone not fall totally and completely in televisual love with this man?
Follow Kelsea on Twitter @KelseaStahler
More:
'American Idol' Recap: Candice Glover Wins 
Why 'American Idol' Needs Lazaro Arbos
'American Idol': Will the Judges Use the Save? 
---
From Our Partners


Jessica Alba Bikinis in St. Barts (Celebuzz)


Pics of The Rock Making Things Look Small (Vulture)