'American Idol' L.A. Auditions: Do You Spot a Future Star? — Behind the Scenes VIDEO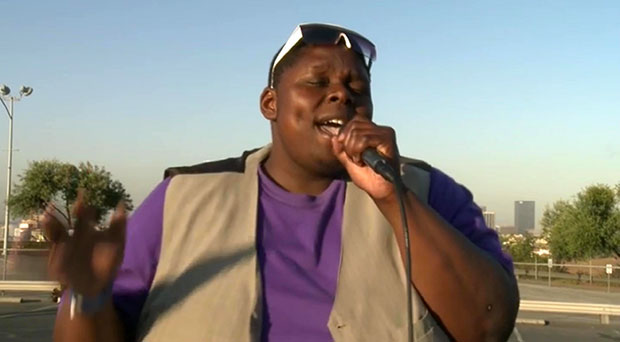 June 5, 2012. That was the fateful day — 2 weeks after the American Idol Season 11 finale — that thousands of hopefuls camped out in front of Los Angeles' Dodger Stadium for a chance at Season 12 Idol glory. It was also the fateful day that I got my "not a morning person" ass out of bed at 4 o'clock in the morning to witness the whole thing.
Do you know who is a morning person? Ryan Seacrest. The pint-sized host and man of a thousand jobs was downright chipper when he arrived at 5 AM to film those tried and true "THIS is American Idol" bits, and remained in good spirits when two female contestants were scolded for grabbing his rear end. What else did I see that day? A lot of singing and dancing, dozens of people who were willing to grab our mic for a shot to get on camera — any camera — and more stage moms wearing "TK is the next American Idol" shirts than you can shake a stick at. Who knows? You may be seeing some of them on TV tonight. Check it out yourself, and remember: A giant weird bow hat will ALWAYS get you on television.
Follow Shaunna on Twitter @HWShaunna
MORE:
'American Idol' Season 12: The Cold War Begins With Nicki Minaj and Mariah Carey
How to Ace 'American Idol' Auditions: Lessons From The Top 12 Alums
How Nicki Minaj Vs. Mariah Carey Could Change 'Idol' Forever — UPDATE

Craziest Celebrity Swimsuits (Celebuzz)