'American Idol': Lazaro Arbos Says The Judges Didn't Make Him Cry, The Internet Did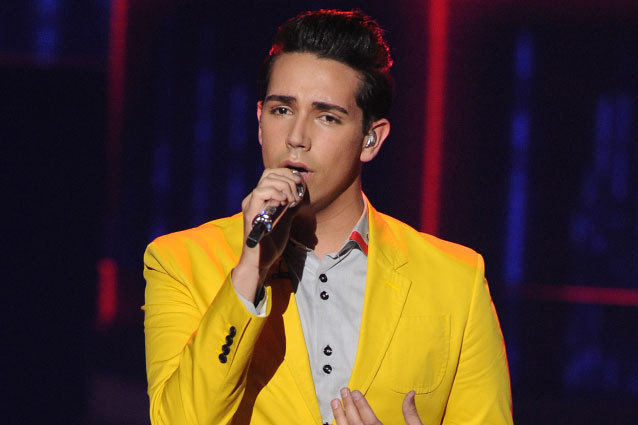 Lazaro Arbos knows that his performance of "In My Life" on American Idol Season 12 Beatles Week wasn't his best. But the singer tells reporters backstage after his performance that he was doomed once he decided to go against his initial song selection.
"Yes, I think that it wasn't the best," Arbos admits. "I think that Keith [Urban] was right — I have a wide range and I could have done it so much more. But the thing was that wasn't the song that I picked."
RELATED: 'Idol': Was Beatles Week Lazaro's Worst Performance?
He didn't draw the short straw in a competition with some of the other contestants, he just went against his own instincts. "It was more like I was trying to please people rather than to please myself and go with my gut," he says. "I had never heard that song, 'In My Life,' because I am from Cuba and they don't let you. I didn't grow up with it."
The judges were right — Arbos wasn't feeling as confident as normal thanks to some disparaging Internet comments he stumbled across earlier this week. "I think that when you become known there's a lot of people that talk bad, and I think that we have been letting those bad comments get to us," he explains. "That's kind of messing me up with my confidence. I saw a thing last night that totally messed me up. I just walked out there so nervous and upset."
RELATED: 'Idol': Nicki Minaj Loves Devin Velez's Pianist
He does take solace in the fact that he was the highest ranked guy last week, coming in fourth place out of the Top 10 Idols, but Arbos says the reason he broke down after the judges' critiques was because he felt like he disappointed his fans. "The reason I broke down on the stage wasn't because of what they said, because I don't take it too hard," he says. "I do take it too hard the fact that I somehow felt like I disappointed my followers."
If Arbos makes it through another week, he promises to pick a song he truly wants to sing and not let the negative comments get to him. "I'm going to just pretend I am on my couch, and I'm going to sing and rage on and get wild!"
Follow Jean on Twitter @hijean
[Photo Credit: FOX]
---
You Might Also Like:


Topanga's Revealing Lingerie Shoot: Hello '90s!


25 Stars Before They Were Famous