'American Idol': Did Lazaro Arbos Redeem Himself With 'We Are the Champions'?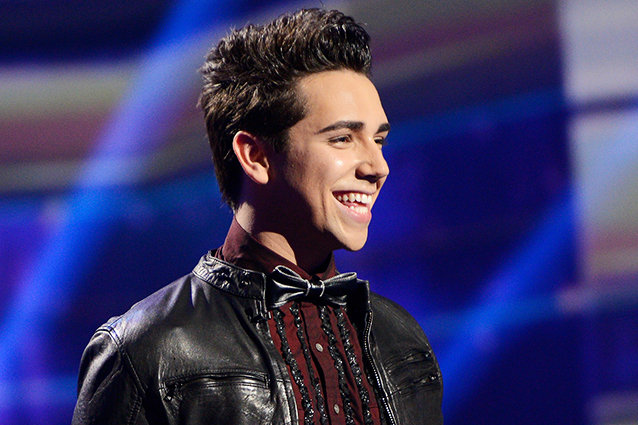 Lazaro Arbos had a much better week during the American Idol Top 7 celebration of classic rock than he did during the show's Motown installment. For one, he remembered most of the words to both of his songs this time.
After the disaster that was his Four Tops trio with Devin Velez and Burnell Taylor, it wasn't very hard to improve. Arbos forgot most of the words to "I Can't Help Myself (Sugar Pie Honey Bunch)," but there was only a momentary memory slip during his duet of Queen's "Crazy Little Thing Called Love" with Angie Miller.
RELATED: Does Lazaro Arbos Deserve to Stay on 'American Idol'?
"I don't like the groups and duets," Arbos tells Hollywood.com and a group of reporters backstage after the performance show. "I think we did better than the last trio," he says with a laugh. "But I looked at [Angie] and said I forgot the words again. … but I love how we came together at the end. I think the end came back, we came back. We got lost but we did come back. So it's good."
Arbos says he spends so much time learning his solo that he doesn't have as much energy on the duets and trios. "I concentrate more on my main song that I just forget and that's bad," he admits.
RELATED: Lazaro Arbos Says the Judges Didn't Make Him Cry
But even comparing last week's "For Once In My Life" to this week's "We Are the Champions," you can tell Arbos had a lot more of a connection to his most recent song."I just liked the words a lot," he says. "I just felt like I told all those people that wanted to send me home that I'm not going anywhere."
The judges seemed to agree that he was much improved, but Arbos says he'll never stop trying to do better. "I could've done a bit more."
Follow Jean on Twitter @hijean
[PHOTO CREDIT: Fox/Getty Images]
---
From Our Partners


See 'Game of Thrones' as 'Mad Men' (Vulture)


Hayden Panetierre Bikinis in Miami (Celebuzz)