'American Idol' Guys Know Their Four Tops Song Was a Trainwreck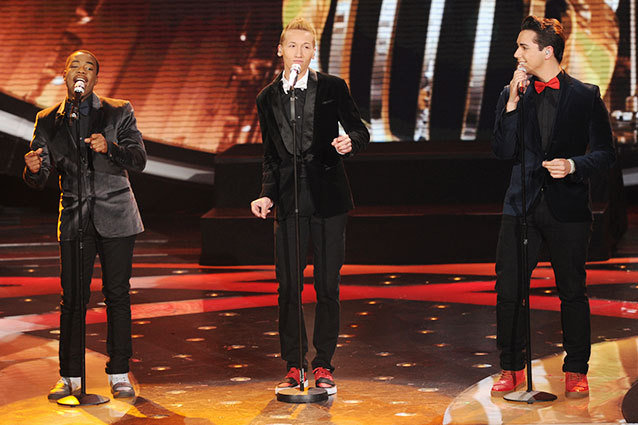 Talk about a trainwreck — the three boys left in the Top 8 of American Idol Season 12 managed to give America one of the worst performances the show has ever seen with their rendition of "I Can't Help Myself (Sugar Pie Honey Bunch)" by the Four Tops. But don't worry, they're aware of just how bad the song was.
"This wasn't our best," Burnell Taylor tells reporters after the show. "It wasn't like I was singling anybody out, saying 'You did bad,' because we all did bad. When we're in a group, we all look bad. Not one person."
RELATED: 'American Idol' Motown Week Recap
But the horrific performance wasn't something the boys expected, especially since their rehearsal went so well. "That's why I was so confident," Taylor says. "After my performance I changed and I was like, 'We're about to kill it.' Not in a cocky way — I was just so proud of our rehearsal. I was like … 'Everybody's gonna see that the boys are strong,' and then we went on stage it just went downhill."
Nicki Minaj certainly didn't hold back in critiquing the three men, singling out Lazaro Arbos for forgetting the words and telling the three of them to leave the stage immediately. Taylor appreciates that Minaj was so hard on them. "We need honesty, and I feel like her honesty let us know that we need to work harder. If she wouldn't have said that … we wouldn't have known the truth, and the truth sometimes hurts but it's necessary. I'm glad that she said what she said."
RELATED: Can a Girl Win 'American Idol'?
So, what exactly happened? "We forgot, well, I forgot the words," Arbos admits.
Devin Velez says he had a feeling something like that could happen so he over-prepared for the moment. "I don't want to point any fingers but I knew my parts," he says. "I tried to save a couple of lines and I think I did a good job. I got the feeling [something bad would happen] so I learned the whole song not just my part, my lines. Sometimes people don't take it as seriously when there's backup vocals, but America is always watching and you can never practice too much."
Despite the tough critique — and the fact that his groupmates didn't exactly support him by announcing they'd both learned their parts (and leaving the rest up to interpretation) — Arbos was determined to keep his composure when the judges spoke. "Last week when I walked off the stage I promised myself that I would never cry on national TV in my life, and that the past was past," he says. "So the song went bad and so what? I can't go back. I felt good about my first song so I hope that the people watching vote based on that song rather than the group song."
Follow Jean on Twitter @hijean
[Photo Credit: FOX]
---
You Might Also Like:


Topanga's Revealing Lingerie Shoot: Hello '90s!


13 Most WTF Fan Tributes