'American Idol' No Longer Has Most Expensive Ads On TV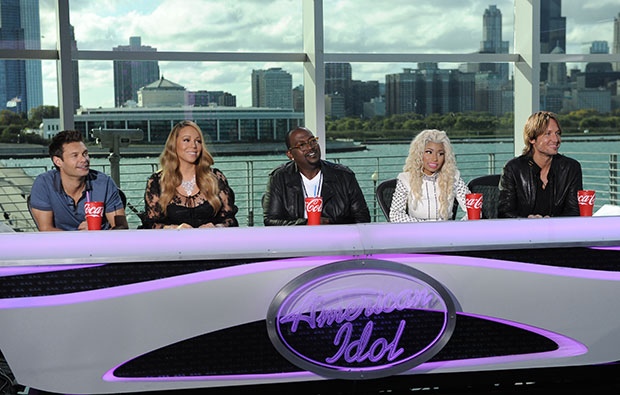 Ad Age has just released its annual survey comparing how much a 30-second ad spot costs during primetime TV shows, and for the first time in five years American Idol doesn't have the top spot. Sunday Night Football now claims the title of Most Expensive Ads on TV.
Last year, Sunday Night Football and American Idol ad prices were comparable with AI taking the top spot. But the average cost of a 30-second ad in Sunday Night Football this year is $545,142, up from $512,367 last season. The average cost of a 30-second ad in AI went dropped from $502,900  to $340,825 last season, and the average cost of a 30-second ad in Thursday's AI results show is $296,002, down from $468,100 the previous year.
Here's the full list of the top 10 most expensive ads on TV:
1. Sunday Night Football $545,142
2. American Idol $340,825
3. Modern Family $330,908
4. New Girl $320,940
5. American Idol, results $296,002
6. The Simpsons $286,131
7. Family Guy $276,690
8. Big Bang Theory $275,573
9. 2 Broke Girls $269,235
10. Two and a Half Men $247,261
Other takeaways:
-Fox's New Girl puts itself on the board in fourth place, doubling its cost of ads from last season and coming within $10,000 of passing TV's third-highest priced show, Modern Family.
-Seven out of the top 10 shows in the survey are comedies.
-Two CBS sitcoms crack the top 10 for the first time. The average cost of a 30-second ad in The Big Bang Theory is $275,573, up from last season's $198,348. And 2 Broke Girls has an average price of $269,235 for a 30-second ad, taking over the slot once reserved for Two and a Half Men.
-The new show with the most expensive ads is The Following, a drama starring Kevin Bacon on Fox. The average cost of a 30-second ad in the new program is expected to be $194,425.
Follow Sydney on Twitter @SydneyBucksbaum
[Photo Credit: Michael Becker/FOX]
More:
'Idol' Audition Fight Leaks: Why We Hope The Series Keeps It Behind-The-Scenes
'X Factor' To Hit Us (Baby) One More Time With a Third Season
Bullseye! 'Arrow' Gets Full First Season
From Our Partners:

Pippa Middleton Acknowledges Her Famous Bottom in New Book: 'It's a Bit Startling to Achieve Global Recognition'
(Celebuzz)

LeAnn Rimes Sits Down With Katie Couric For First TV Interview Since Treatment For Cyber Bullying
(Celebuzz)