'American Idol' Recap: Billy Joel Night Claims a Victim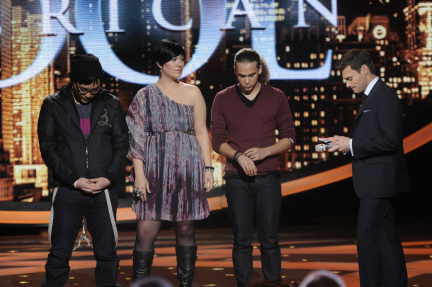 In a group like this, one bad week can send you home. 
Of course, a series of sub-par weeks on
American Idol
can send you home too. Both of these factors landed this week's bottom three in their compromising position. By the end of March 22's results episode of
Idol
, we found funnyman
Heejun Han,
rocker chick
Erika van Pelt
, and the man with the beautiful voice,
Deandre Brackensick
in the bottom three. And they all deserved to be there. 
At stake this week was a spot in the
Idol
mansion, though everyone from
the Top 10
will be seen on the
Idol
tour this summer, as Ryan Seacrest pointed out as many times as he possibly could. Frequent bottom three component Elise Testone earned her way out of the stressful set with a fantastic performance of "Vienna" leaving the three quaking singers chosen by
Idol
voters. 
Brackensick is easily the least deserving bottom three outcast. His song choice was a little weak; he had issues connecting to "Only the Good Die Young" and it didn't show off his amazing voice while his competitors were having "wow" moments. He needed the wake-up call of the bottom three, but in the end he was safe. 
It came down to Han and Van Pelt, and at that point, it could have been either singer on the chopping block. In personality, both of these singers are wonderful. Heejun is hilarious and Erika is a rocker chick with a sweet side, but in the end, this competition is about singing and neither of them really managed to deliver beyond their competitors. 
Erika continually has an issue with creating dynamics within her performances; she's all-out all the time when she needs to create softer moments. In essence, she's an over-singer and no matter how amazing that new haircut is, she's not cutting it onstage.
Heejun doesn't seem to be taking the competition seriously. He turned his performance of "My Life" into a hokey, jokey performance, allowing the vocal quality to slide. And even when he was singing normally during the "Songs From the Year They Were Born" week, he couldn't manage to wow the judges beyond the other singers. 
When it came down to the final elimination, it was a bit of a toss-up as to who deserved to go home. Erika ultimately earned the boot and the judges did not use their single save for the season to keep her around. For her swan song, she chose "I Believe in You and Me" by Whitney Houston, and it was clear that as great as her pipes are, she's not right for the competition. Of course, whoever disagrees will have the chance to see Van Pelt prove me wrong when she goes on tour with her compadres this Summer.