'American Idol' recap: Ditch the Judges' Save!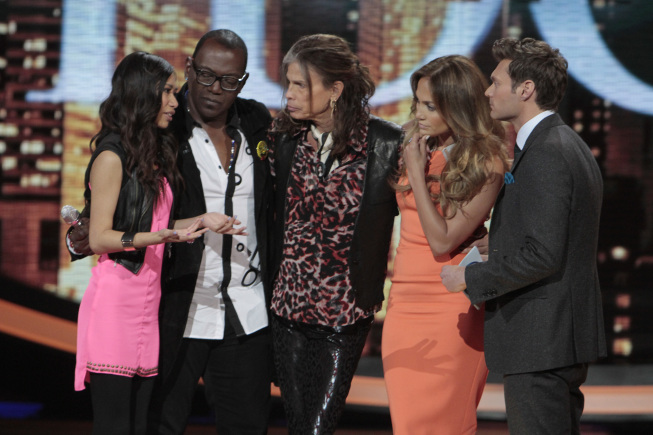 I'll admit it: I'm not a huge fan of the judges' save. And that is coming from someone who named Jessica Sanchez's incredible performance of "Stuttering" the best of Wednesday night. There's something about a shocking elimination that makes for fantastic television — you immediately pick up your cell phones and computers and angrily text and type like the boyfriend you loved and trusted walked out on you without warning. (And, in a way, he did. Boy, this is how I'm beginning to think of Idol? They told me not to get this involved… )
But, with the judges' save hovering over the entire competition on American Idol, it's difficult to become truly invested in the competition from a week-to-week basis. Unless you're, well, no one and are rooting for Erika Van Pelt, it's safe to say your favorite front-runner is going to going to sail straight into the Top 5. Yes, our hearts fell when Michael Johns was cut after Top 8 night in Season 7. And, yes, we were all shocked and outraged when Jennifer Hudson was deemed by audiences less worthy than the crocodile rockin' John Stevens. But last night, when Jessica was named the bottom vote-getter, I'm guessing America was as calm as Tommy Hilfiger seeing Phillip in a primary color.
Because we all knew what was about to happen: The judges only had one more week to use their save, and, unless Hollie was sent to go-lightly-away, J. Lo, Steven, and Randy were going to use it. And, lest you believe they had any plans otherwise, the Aerosmith rocker was sure to void the episode of any suspense whatsoever upon seeing the bottom three. "We're going to use our card," he told Ryan after seeing Jessica, Joshua, and Elise in the bottom three, as an angry Nigel Lythgoe growled, ran onstage, and tried to press Colton and Skylar's faces together. So the second Jessica was named the lowest vote-getter, we all might as well have picked up our remotes and finally started watching Sunday's Mad Men so we could stop running out of the room when friends and co-workers started talking about Joan and — la, la, la, la, la I can't hear you!
Look, I'm ecstatic Jessica is sticking around at least another week. And, yes, I'm confused that the "contrived" Hollie (according to Jimmy… and myself) is still sticking around in the competition, no doubt thanks to a power-dialing bot named Tate. But what good TV we missed out on! Front-runner Jessica Sanchez, sent home with six weeks to go? That's a water-cooler moment The Voice would envy. Instead, last night simply turned out to be the most predictable shocking evening in Idol history. (Right down to their annual Top 7 tradition that forces the competition's nicest contestants to choose who he or she thinks is the top or bottom three. Ryan, we know exactly what's going on, and it's getting old.) And, sure, we can all be outraged to see that Jessica received the fewest votes, but it makes complete sense how she ended up there: Why would her fans pick up the phone to save her when they know she'd be saved by the judges?
In fact, I enjoyed the far less "suspenseful" moments of the show much more Thursday night. Colton's adorable "strong maybe" response to the prom invitation. Ryan's recognition that Colton has yet to receive a standing ovation while the contestant stood next to Joshua, who sees more standing ovations than Coke cans in CBS Television City. And James Durbin's wedding story that featured Stefano Langone as the best man and Casey Abrams as the goofy late arrival, which is pretty much how I wrote it in the fan fiction screenplay I wrote during Season 10. That's entertaining television. An annual Idol safety net? As much as I love Jessica and Casey Abrams (and tolerated Michael Lynche), with The Voice hot on its heels, it's time that Idol start playing dangerously.
Were you shocked with the results? Or did you, like me, predict the judges' save tonight? Who in the world does Hollie dazzle? Did you enjoy James Durbin? More importantly, did you enjoy James Durbin's bleach-blonde hair? Do you wish you looked as good as Jennifer Hudson? (Hot damn, girl!) Do you love that this week is full of Idol callbacks? (Not only did we see James and Jennifer last night, but songs from Kellie Pickler and Kelly Clarkson were performed Wednesday night as well.) And were you surprised that when Elise received her mail, it wasn't a brand-new copy of the heart-warming We Bought a Zoo, now on DVD?
Follow Kate on Twitter @HWKateWard
More:
American Idol: A Predictable Surprise
Phillip Phillips Backstage at Idol: Colton Rivalry 'Just For Show'