'American Idol' Recap: One of These Girls Is Not Like The Others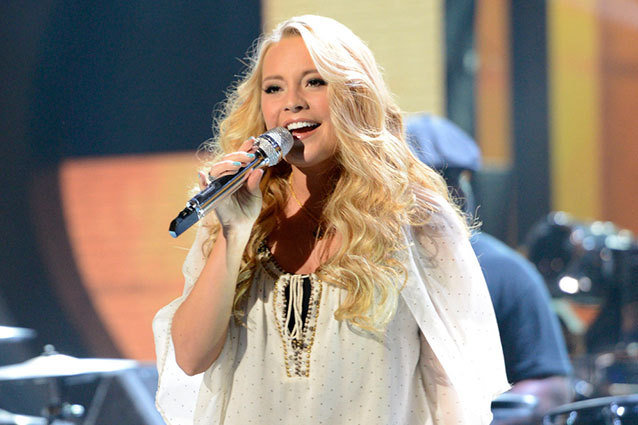 If you didn't notice, American Idol is very concerned with viewers taking note of the most obvious thing about the remaining five contestants: they are all ladies. As in: no more cute-boys-with-guitars-and/or-wacky-haircuts winning this show. Lady Idols are the ones with the most visible industry success (yes, believe it or not, we remember Carrie Underwood and Kelly Clarkson, producers), and the series seems to be happier than Randy in a closet full of bow ties and obnoxiously patterned glasses. Idol is ecstatic about all this lady love.
Unfortunately, now's the time for us to get mean. Like, talking-about-your-classmates-in-the-middle-school-bathroom mean. There may or may not be tawdry, misguided jokes Sharpied on the walls by the end of this recap. That's just the way it is: we're getting mighty close to that big finale, and only one of these ladies can be Queen Idol. They may be friends behind the scenes, but on that stage, it's every girl for herself, and that's how we're going to treat this week.
And because it's more fun to start with the person you've got the most gripes about, let's get right on in with Janelle Arthur, the sweet little lady who's about a mile behind the rest of the singers on this show.
Now, Janelle is a frustrating little marshmallow. She is talented. She has a great voice. She's prettier than a Disney princess. And yet, this competition is not working for her. She's the odd man out. The first problem is her talent: as great as she is, she's not nearly enough of a diva to keep up with these other ladies. So it's fitting, that on Diva Night, Janelle is the one who completely faltered. She's great, but not great enough.
The second problem with our little ray o' sunshine is that she really doesn't seem to know who she is. She hits her sweet spot with songs like the one she chose for the "The Year They Were Born" portion of the show. Vince Gill's "When I Call Your Name" didn't impress country buff Keith Urban, but for the rest of us, watching Janelle stand there with her guitar and croon was as good as it gets. Unfortunately, it's not enough to stand out, and when she took round two with one of Dolly Parton's worst songs "Dumb Blonde" (sweetie, Keith was being considerate when he said "It's not at the top of Dolly Parton's catalog"), she stabbed herself right in the foot.
Janelle's voice isn't as remarkable as the others and she has no idea who she is as an artist, aside from being a countrified ham in sparkly cowboy boots. It's not enough, it's confusing, and voters are only going to put up with it for so long.
Also in danger of becoming the girl folks just don't understand is Amber Holcomb. What's worst about Amber is that while she, too, can't seem to figure out how to showcase herself as a contemporary, current artist, she is so incredibly talented that it almost hurts to hear her sing. She could waltz out in that painters' sheet disguised as a jumpsuit from last week's throwback performance and sing one of the sleepiest Burt Bacharach songs ever, and still look and sound amazing.
And she proved that with her show-ending number, "What Are You Doing For The Rest of Your Life?" by Barbara Streisand. She looked incredible and despite the impossibly dated sounding song (Amber's speciality) the sheer talent necessary to perform a ballad like this to perfect what oozing from her every pore. She was incredible, flawless. The judges were in awe, and that's because for the first time ever, she connected with the song and expressed that connection beautifully. We saw more of her personality in this almost stoic performance than we've seen all season.
The problem is, that with so many of her other performances, like Wednesday night's "Without You" as performed by Idol judge Mariah Carey, her personality is completely absent. We're left with a big voice and no connection. It's infuriating, because by all rights she should be the perfect Idol. She's super model gorgeous, she's goofy and sweet in the video packages, she had a backstage romance with the adorable Burnell Taylor, and she's got the voice of a young Whitney Houston. She should be killing this competition, but it's all about her ability to connect and project her genuine emotion. She did that with the Barbara song, but when she took on Mariah in front of Mariah, she faltered. The legend herself, as Randy calls her, points out that the song was a little low for Amber, which is why it was hard for her to just sing and connect instead of worrying about how she was doing.
Still, it was boring and that, combined with the less than youthful appeal (no matter how amazing it was) of the Streisand song put Amber in a bit of danger come elimination time, even if she does have the voice of a ridiculously talented angel.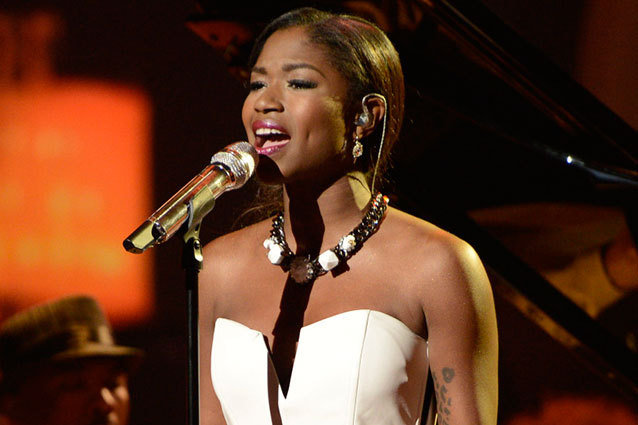 Then there's Angie Miller. This week, I'm pretty sure the judges were watching a different performance. There had to have been microphones pumping in something different, because while they were all over Angie, praising her every move, it really seemed as though the girl was stretching and steering away from the singer-songwriter vibe that we fell in love with back in Hollywood week. Sure, there's the element of her over pronunciation, which Mariah has since decided is just a part of Angie that's never going away. But there's also an element of theatricality that is starting to become a sort of visual version of nails on a chalkboard.
Angie has a great voice. And this week, she picked some great songs: "Halo" by Beyonce and "I'll Stand By You" by The Pretenders. Her voice is well-suited to carry the vocal acrobatics of both songs, however, she has nothing of the subtle expressiveness she has when she's singing her own song at a piano (or something in a very identical vein). She's got pipes, but so does everyone else. The thing that will keep her from being Angie Miller, X place finisher on Idol instead of runner up or winner is the fact that while she's got the raw goods, she's not using them in a grounded, natural way like Kree and Candice, and to some extent Amber (even if she's not sure who she is).
At first, the judges seem to get it right. After she performs the Pretenders song, helped by the stage smoke and galaxies swirling on screens behind her as the music swells, the judges give her almost no critique of her performance, but instead spend time praising Chrissie Hynde for writing the incredible song and making it a classic, and giving Angie props for dedicating the sweet song to her hometown, Boston, in the wake of the marathon bombings. And as sweet as that was, the judges should have had the courage to give her the correct judgement which is: your voice is good, but you let the songwriting and effects carry you, and your theatrical facials were over the top in an attempt to compensate. I like Angie, a lot, and I'm happy to see her connecting to her hometown at a time like this, but the performance underneath that was not up to par.
Similarly, her performance of "Halo" lacked any edge. Perhaps I just worship too ardently at the altar of Bey, but there is no way Angie's performance is as queenly and Queen B. Not even close. Nicki Minaj's sweet words of encouragement about B watching the video and knowing who Angie is cute, and maybe even true, but her performance was just alright. Put "Halo" in the hands of Candice, Kree, or Amber, and it would be a killer performance. Angie's felt very (forgive me, Angie fans) shallow in a way that songs her comfort zone don't, and picking a Beyonce song only highlighted that.
As for Kree Harrison, this is the first week that she's ever had me really worrying. Alright, I'm only slightly worried, because while she faltered, she's still more herself than anyone in this competition aside from Candice. Kree tried "She Talks to Angels" by The Black Crows for the Year They Were Born portion of the evening, and even though the song is decidedly '90s, Kree struggled against that lean towards cut-off jeans and plaid shirts tied around waists enough to give it her own signature bluesy spin, landing very near Bonnie Raitt territory (for you young people, that's a very, very good thing).
It wasn't her vocals that were off. It never is. It's the way in which she felt clearly awkward on that stage. Maybe it was the pressure of trying to make a Black Crows song work for a show like Idol, but whatever it was, Nicki doesn't agree and she gets into her first fight with Mariah since audition rounds. Kree looks as awkward as the way in which this catty vignette made its way into this recap, and then went back about her business, getting ready for performance number two.
Throwing herself full on into Diva Night, Kree dons a sleek black dress, diamond necklace, and pink lipstick, and it's so against her personality that it's jarring. Through the performance, it's clear that she's not sure why she's so dressed up either. But eventually, she lets that go and just gets into Celine Dion's "Have You Ever Been In Love," and once again making it all her own. Still, I would have preferred they keep her in clothes that make her comfortable. Kree is the sort of woman who doesn't need a fancy dress to be elegant. She could wear jeans, a nice blouse and pair of flats and still be an swanlike presence on stage. She's just got that simple, genuine grace flowing. Still, even with those awkward moments, she's got no issue maintaining her lead in the competition.
Unless of course, we're pitting her directly against Candice Glover (which may very well happen in a few weeks). Miss Frontrunner started out with a song the judges weren't exactly keen on, but if you ask me, it was a brilliant choice, especially when we consider her Diva number that followed it. At the suggestion of Janelle, Candice does a slower, jazzier version of Paula Abdul's (yes, Randy, we still remember that she used to judge this show with you) "Straight Up." She rocked out, just as we all expected, but the song wasn't challenging. It didn't showcase her voice. It just showed that she was given two opportunities on Wednesday: one in which to have a grand old time and entertain us, and another to blow our tiny little minds.
When she gets to her second song, "When You Believe," which wasn't just a Mariah song but a Mariah and Whitney Houston duet, it all makes sense. "Straight Up" was a victory party after last week's magical "Lovesong." "When You Believe" was her way of bringing it all home. What's interesting about this performance is that it follows Amber's boring rendition of Mariah's "Without You," and both songs follow that '90s ballad rule of quiet singing for the first two thirds followed by a sparkling explosion of high notes at the end, but Candice's is so much more compelling.
That's why despite the fact that both she and Amber have powerhouse voices and effortless quality about them, Candice is the one on top and Amber is hanging on for dear life. Candice makes you feel every word of that song, from the first note to the final beat, you are hanging on every word of a song you know by heart. That's the mark of a true talent: she's firing on all cylinders. And if that can't propel her to the winner's slot (along with Nicki's mention of her not making it last year, but coming back on top in Season 12), nothing can.
Who was your favorite of the night? Who do you think is going home?
Follow Kelsea on Twitter @KelseaStahler
More:
'Idol' Star Angie Miller Is Singing For Boston
How 'American Idol' Forced Me to Crush on Keith Urban
'American Idol' Recap: Candice Glover Wins, Everyone Else Can Go Home
---
From Our Partners


Stars Pose Naked for 'Allure' (Celebuzz)


Which Game of Thrones Actor Looks Least Like His Character? (Vulture)