'American Idol' Recap: Even The Good Girls Go Home During Sudden Death Cuts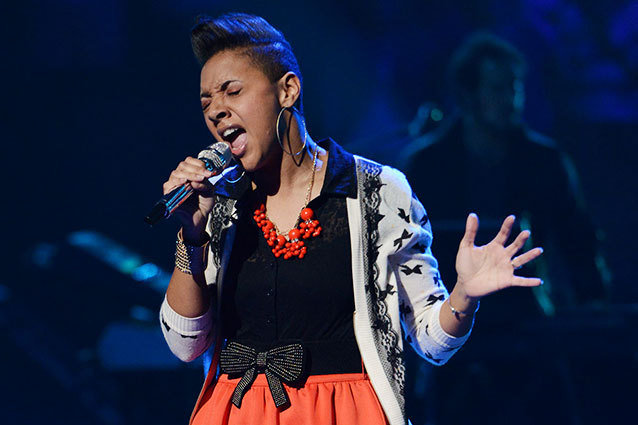 The gender disparity continues on American Idol, where the girls present quite the conundrum for the judges in week two of the sudden death rounds.
While this whole process (eschewing group numbers and integrated sexes for individual, last ditch performance rounds for two entire weeks) seems so very un-Idol, it is doing one very important thing: it's giving a strong appreciation of a few ridiculously strong ladies (and on the guys' night, an overzealous distaste for the men in the competition). Luckily, Wednesday night was one for the ladies. Still, that doesn't mean we're guaranteed girls who can do no wrong.
First up is Melinda Ademi, who's back for a second shot on Idol. Like Angela Miller before her, she sings "Nobody's Perfect" by Jessie J, and if her Lisa Frank wardrobe and over-the-top performance aren't enough, the fact that Nicki can only compare her to the flawless Angela is a surefire way to follow the yellow brick road on home. Melinda, who told the judges she was only trying to use "her artistry," is cut from the competition.
RELATED: 'Idol' Recap: Vegas Sudden Death Round 1
The first girl to earn a spot to continue on is our returning singer Candice Glover, who sings "(You Make Me Feel) A Natural Woman" in a very Kelly Clarkson sort of way. It's almost effortless, it's old fashioned, but it's easy to see how Glover's voice might work on a pop song. Now, like Randy mentions, we've seen incredible things from Candice and for her, this was just alright. Still, if this is Candice's "alright," just imagine what she can do with one of Randy's "moments." Naturally, she stays.
Next up is my own personal heartbreaker. Fifteen-year-old Juliana Chahayed sings Demi Lovato's "Skyscraper," and while she delivers a fantastic, moving performance the young lady doesn't stay. She slows the song down and makes it her own (and far more enjoyable than the original), but her voice is thin and she experiences pitch problems here and there. Unfortunately, it's not something the judges can get past with the ladies (though it would result in a gold star for the dudes). Sweet little Juliana is sent home, but at least she's got plenty of time to get this whole thing down and try again. Let's remember, she's only 15.
Next, Jett Hermano sings a slow version of "Only Girl" by Rihanna while sitting at a piano. It was an intriguing performance and one marked by Jett's ability to belt out some serious notes. And while Keith loves the "sexier" arrangement, Nicki and Randy want more, supposing that she was going to pull out the biggest stops at the end of the song. She doesn't and they lose their faith, so much so that Jett is sent home by the end of the night.
RELATED: 'Idol' Recap: We Have a Huge Problem
On her last shot at the Idol title is 29-year-old Cristabel Clack. And unfortunately her journey ends too soon. She sings "No One" by Alicia Keys, trying so hard to make it her own, but she gets a little too squeaky at the beginnings of phrases and a little out of control, adding runs here and there because she's trying so hard to differentiate herself from Keys. I'm interested to see her sing something that isn't by someone so close to her style so she can show us who she is rather than just trying to cover up her similarities to the artist she's covering. Unfortunately for the mother of three, she's headed home. And the next contestant stupidly tries Beyonce on for size.
Aubrey Cleland sings "Sweet Dreams" by Beyonce and while she also slows the song down like Jessica Sanchez did last season when she rocked it, it doesn't quite work here. Aubrey is a fantastic singer and she looks great on stage, so she gets a spot in the final five, but the slow rendition of the song quite literally takes away the difficult part of singing it, much of which is the simple aspect of keeping up with the incredible pace at with Beyonce is able to perform.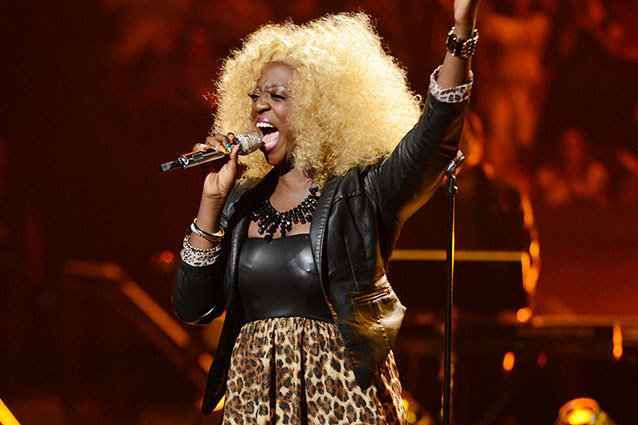 Finally, the almost-reject from Hollywood week, Rachel Hale takes her shot with a song we've already heard her sing: "Nothing But the Water" by Grace Potter and the Nocturnals. She gets to her big moments at the end of the song, but everything leading up to those moments is abysmal. Eventually, the song gets to be very nice, but there's no way any successful singer could turn you off that much at the beginning of a song and have you stick around for the thrilling conclusion. Randy and Nicki both love it, which is makes it all feel a little strange when they decide to cut Rachel and keep Janelle Arthur, who sings a sweet (but boring) Lady Antebellum song.
RELATED: Do We Already Have an 'Idol' Frontrunner?
Powerhouse Breanna Steer takes on "Bust Your Windows" by Jazmine Sullivan, and while the arrangement she uses makes the song sound like nothing more than good karaoke ballad, Randy and Nicki are sure she's "sexy on a stick" and ready to be signed to a label (not that they're willing to do that instead of throwing her through the Idol ringer). Still, it's no wonder she's got a spot in the top 10 ladies group.
Janelle Arthur scrapes by on the skin of her teeth with the overdone cover of "Just a Kiss" by Lady Antebellum. It was nice, but it wasn't the right song to wake up non-country fans who might just want to hear something they can connect to. Her good voice keeps her on the show, but she's still just another sweet blonde country singer. She has pitch issues here and there, but that's not the issue. She's just bland. The strange thing is, the judges all seem to agree, but they keep her on.
Finally, we learn why the judges wanted Zoanette Johnson all along: she's actually really, really good. With her blond afro picked out as she sings "The Circle of Life" from The Lion King, it makes sense as to why she's still on show. She can sing, actually. Where we would hear screeching before, now there's simply a rich voice that makes sense in this competition – even with all the outside nonsense. How the judges knew that was in there from Day One is a mystery I'll never understand, but it's a risk that may just actually pay off, especially now that Zoanette is staying on.
The cuts were incredibly harsh tonight, do you think any of the rejected ladies deserved to stay?  
Follow Kelsea on Twitter @KelseaStahler
[Photo Credit: Michael Becker/Fox (2)]
---
From Our Partners:


25 Most Scandalous Celeb Twitpics (Vh1)


33 Child Stars: Where Are They Now? (Celebuzz)