'American Idol' Recap: Hollie Go-Lightly-Away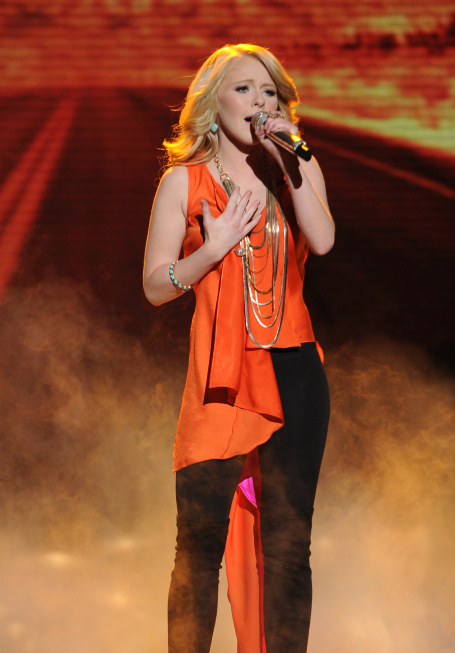 Does American Idol's dark horse gallop on? After shocking America by surviving several shocking straight weeks of eliminations (Rest In Peace Idol Tour Rehearsals, Colton and Skylar!), Hollie Cavanagh pleaded with the voting public during California Night Wednesday to allow her to continue her California dreamin'. Alas, it was too little too late — Hollie couldn't make America love her, and was sent straight out of CBS Television City.
But as much as we can harp on the contestant for outlasting more deserving singers, we do have to give her Randy-esque mad props not only for having the survival instincts of a Twinkie in nuclear war, but also for going out on a high note. A very, very literal high note. Sure, we could call Hollie the Tatiana Del Toro of Season 11, being the master of only one song, but the girl schools Miley Cyrus like a math test. Not the highest compliment, of course, but it does make it a little clearer why Hollie fit into the Season 11 equation so seamlessly.
Of course, it could be worse for Hollie: The singer's post-elimination trauma can't come anywhere close to our post-Jennifer Lopez trauma. As much as I'm impressed with the judge's ability to clone her own boyfriend into an army of washboard robots fueled by dancing and what looks like futuristic '90s mini-backpacks, you'd think she'd grow tired of the ab-tacular attention. It's like when you start bopping your head to one John Mayer song, and suddenly, four albums later, you find yourself with a collection of CDs and tribute Xanga that only embarrasses loved ones around you. (Just me?) Even poor Idol must have been contractually obligated to keep the cameras rolling long enough for Jennifer to tell the audience, "He's so cute." Ugh. Jennifer. We get it. You're famous, beautiful, successful, and dating someone much, much younger than you. But keep in mind his name is Casper, and there's simply no beating 1995 Devon Sawa.
Thanks god David Cook played the delightful cheese plate to Jennifer's rich, over-the-top main course. Perhaps I simply can't let go of the glory days of Season 7, but there simply is no sadder song title from Cook than "The Last Song I'll Write For You." Please, don't let this be true, Cook! Do I have to gather a merry band of cougars for you to stick around? I hear they're on TBS now. And in my mother's living room.
But from our living rooms next week, we'll get to watch our final three — Phillip, Joshua, and Jessica — head to their respective homes for hometown visit week, the sobbingly-est of all Idol weeks. Of course, Joshua got the waterworks started early during Thursday night's elimination, bawling when best bud Hollie was sent packing. A sweet moment for sure, and one that makes me feel slightly guilty for knocking the singer for the judges' favoritism. Or perhaps I'm just feeling less enraged knowing that Idol has one honest voice, Jimmy Iovine — otherwise known as the only non-contestant with ears. Once again, the mentor judged our final four much more accurately than our actual judges, ribbing Joshua for choosing a corny "pomp and circumstance" song like "You Raise Me Up," recognizing the subtle genius of Phillip's "Volcano," threatening Jessica with Tommy Mottola, and transforming into an 8th grade mean girl by delivering Hollie the best back-handed compliment of the season. ("She peaked … in the wrong direction!")
So, sadly for Hollie, she will go lightly away tonight. But she also never stood a chance against Phillip — now that the contestant has mentioned "chicken and cheese nachos," I am incapable for separating him from deliciousness. And incapable of not being jealous of all the free Mexican food he'll be treated to come next week.
But have we been treated to the proper Top 3, friends? Does Phillip's absence during the Ford Music Video shoots continue to be jarring, or has Idol just decided it's better for everyone to spare him the embarrassment of lip-synching while dressing up as a bee? Are the other contestants shoving his poor health in his face while singing "Feeling So Good"? Does Idol feed Phillip magnetic poetry to place awkward words together during his soundbites? Do we care that, as Steven sagely said, Phillip has found himself and still doesn't care? Did the choreography during the "California Dreamin'" group number prove we have a long season of SYTYCD ahead of us? (Oh NappyTabs, you could do better than that.) Are you, like me, relieved that I finally got to use my long-awaited headline? And can we expect an army of shirtless men with buzz cuts to eventually pull a coup d'état over our government? They're growing!
Follow Kate on Twitter @HWKateWard
More:
Phillip Phillips Backstage at Idol: 'I Was So Nervous, I Didn't Know What Was Going On.'
American Idol Recap: The Long, Long, Long Winding Road
Idol's Biggest Underdogs — GALLERY