'American Idol' Recap: Jermaine Jones Complicates the Top 12 Guys Race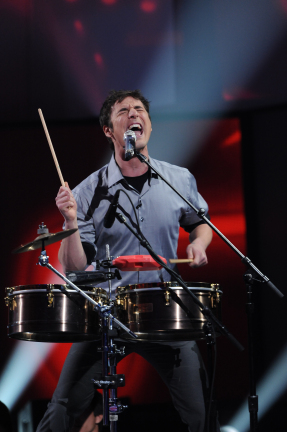 S11E13: Was it always this hard to choose the top six male American Idol contestants? Thirteen guys sang their hearts out on Fox's singing competition in the first live show of 2012, and while there are few contestants we can eliminate somewhat easily, there are about eight standouts and only five or six available slots (three non-gender specific wild cards, five guys and five girls). Come results time, the judges will only be able to choose one wild card each – the other 10 contestants are chosen by America's votes. Idol voters are not in an enviable position. No matter what Thursday's results hold, there are going to be broken hearts all over the place – and I'm not just talking about the contestants.
And now that we're into the live shows, we're returning to the ranking recap format. Here are the top 12 (and one surprise returning contestant) guys in order of the best, practically life-changing performances, to the lesser, close-but-no-cigar numbers.
Joshua Ledet "You Pulled Me Through"
Before I get to my one criticism, it must be stated that Joshua's performance was the most emotional, arresting performance of the night. He is a true talent and he's already able to make an incredible connection with his audience. Now for the one criticism: he overuses his vibrato. I wish he'd pull back on that, but overall he's fantastic. Move over Jacob Lusk. Move the hell over. Joshua is what we
wanted
Jacob to be. The difference is that Joshua takes us along for the ride. Jennifer says he's so good she wants to punch him. Randy bros down about his Louisiana roots. Steven says he's got a voice from God. That about sums it up.
Deandre Brackensick "Reasons"
I love Deandre. There, I said it. And his choice of this Earth, Wind and Fire classic is perfect for his voice – he can't sing a Maxwell song every week – but I worry America won't latch on to his old school stylings. Deandre is a truly musical performer, and while his performance started off breezy, by the time he reached that high note at the end and switched out of his falsetto, he had us eating out of his hand like so many tiny birds. Clearly, the judges love it. Randy says he's "ready to go out of the box." I wouldn't put it that way, but he's certainly a marketable singer.
Creighton Fraker "True Colors"
Okay, I get it. I never would have thought I'd place Creighton in my top three – or even top five – but his performance was fairly incredible. Once he lets go of his hammy, over-the-top scatty riffs, he's actually got a strong, heart-wrenchingly beautiful voice. He proves it by taking a well-known song like "True Colors" and breathing new life into it. The judges all gush over him, but they all emphasize how badly they want him to stay. It almost seems like they're worried he doesn't have commercial appeal. Honestly, it really doesn't seem to be an issue.
Reed Grimm "Moves Like Jagger"
If we were worried that Reed could only scat, this performance proves that he can really, really sing. I'm almost embarrassed to say it, but he's sort of nerdy-sexy. His unique rendition of this ubiquitous pop song borders on lounge singer in a few spots, but when he breaks off and works on the drums, he confirms what we've known all along: he's a truly musical person. The judges are over the moon, and I'm right there with them.
Phil Phillips "In the Air Tonight"
This is an important performance for Phil because he's a bit of a polarizing performer. He uses the song as an opportunity to show off his pipes, and just as I thought the song might swallow him whole, he breaks out the big notes. Jennifer compares their excitement about him to Season 10's top two, Scotty McCreery and Lauren Alaina, and while I'm not prepared to make that kind of a claim, he's certainly a favorite. Steven and Randy bring up the bad news: his voice is hard to adapt to other people's songs and the arrangement of the song wasn't right for him. In truth, the arrangement is a little dated. Still, they're Phil fans, and so am I. Hopefully, voters are on board too.
Heejun Han "Angel"
Every time I think "This is the time Heejun is going to show me I'm more in love with his personality than his voice," he changes that. And this wasn't even his best performance. Jennifer and Steven both say they don't think the song was the best choice to show off his voice, and they were right. We didn't get to see those smaller, softer moments that are his bread and butter. I just worry that he's not going to make it. I love him and even though I don't think he can win, I want to see him stick around for a while.
Jermaine Jones "Dance With My Father"
Look who's back! Jermaine is the surprise returning guest and he picked a great song to try to win America over. Luther Vandross' song helps his deep, deep tone become a little more approachable. The judges are wildly impressed and they're sure they did the right thing in bringing him back. I've got a soft spot in my heart for Jermaine, but it's almost unfair that they brought another viable candidate back. As if choosing favorites wasn't impossible already.
Jeremy Rosado "Gravity"
Jeremy is a strong singer. His voice is beautiful, tender, and sweet, with an almost effortless quality. But I don't know if he'll be able to stick around. He tends to get lost in the shuffle, even though – as Steven and Jennifer point out – Jer-bear has a lot of heart. Randy says he's one of the best "SANgers" on the show, but with a group like this, they all fit that description.
Chase Likens "Storm Warning"
It may be a detriment to Chase that this is the first we've seen of his family and home life. Without a connection, it's really easy to harp on him. He's flat a few times, and he's pleasant, but never breaks that barrier between good and amazing. He's the only real country singer on the guys' side, and he's an attractive guy, but he's just not as engaging as the others. It's like he's a country contestant just to prove they didn't forget about the genre.
Aaron Marcellus "Never Can Say Goodbye"
He's very talented, but he gets a little too breathy on some notes that should just be straight, strong notes. And at times he uses a little too much vibrato. The judges continue their all-praise-no-critique pattern and praise him until they're blue in the face. And in truth, the guy's a good singer, but there's not much that lets him stand out in the very talented crowd.
Colton Dixon "Decode"
I'm sure he's a great guy, but Colton is here for the Twilight generation. And while the judges rave about how relevant his sound is, it's a sound without staying power. In fact, there's an over-saturation of singers like him in the industry. His voice is pretty thin even when when he hits the chest notes. Jennifer said she could feel his heart – and the teenage girls screaming in the audience reflected that. He's a good singer, it would just be a shame to see his tween power give him a slot over the other immensely talented contestants.
Adam Brock "Think"
Okay, I'm the bad guy. I'm about to hate on the nice man with the adorable baby. Adam is not a showman. He doesn't really draw the crowd in. And to boot, there's nothing incredible about this performance. If it wasn't for the flashing lights in the background and the bump and grind of the song itself, the number would feel pretty flat. The judges love it, praising him for finally bringing it home at the end – but for me, it wasn't enough to make up for the lack of dynamics throughout the rest of the song.
Eben Franckewitz "Set Fire To The Rain"
It's never a good move to start with Adele. It's especially not a good idea to start with Adele when your voice is as vanilla as Eben's. He goes a little flat; he's adorable and has a sweet voice, but he seems dwarfed on that stage. It's like he's on the cusp of potential greatness, but he needs some vocal training to unleash it. The judges are so impressed that he managed to wrangle the performance and that he can work the stage – but when other performers are so strong, it's hard to support him. Steven says that he needs to listen to Blues and loosen up his straight tone. Translation: you're cute and sweet but a little boring.
Who are your top five? Do you think anyone could win it all? Are you afraid your favorite might be sent home? Let us know in the comments or get at me on Twitter @KelseaStahler