'American Idol' Recap: We Have a Huge Problem
This is not okay.
Since Jordin Sparks won her rightful title at the end of Season 6, American Idol has continued to crown the cute boy mafia winners. Even during Season 9, when no cute boys were to be found in the finals, America went with the infinitely uninspiring Lee Dwyze over talented lady Crystal Bowersox. The ladies, as it turns out, are at a disadvantage on this show. But then comes Season 12, with a surplus of awe-inspiring ladies and a dearth of male singers who are even a fraction as talented and stage-ready as the women in the competition. Yet, this season, producers are intent on giving each sex an equal set of opportunities to be represented in the group of 12 finalists up for America's votes.
That would be great if out of the 10 guys who auditioned during the second Las Vegas episode, I could name a single one that belongs on the Idol stage in L.A. Sure, the little quips and crazy comments from the judges are somewhat amusing. The battle between Randy Jackson and Nicki Minaj raging all night was diverting. Keith Urban was loveable as always. Mariah Carey is apparently campaigning to be the new Paula Abdul, as the deliverer of incomprehensible and useless commentary at the end of every performance, but she too was at least somewhat entertaining. Still, these little distractions aren't enough to curb my blind rage over the sheer lack of value in any of the evening's performances.
RELATED: 'American Idol' Recap: One Big Surprise
Idol and these 10 young men just wasted two hours of our lives, and no matter how hard we try, we'll never get them back. I don't know about you, but I'm seething.
The evening didn't start with rage, though. First up is lovely human Paul Jolley, who bravely attempts a song outside of his genre and one by Keith, "Tonight I Wanna Cry." We know Paul can sing, but this performance is screechy, unpleasant, and over-performed. Oh, and he's very handsome. The judges are gracious, but no one's willing to truly praise Paul's performance except for Mariah, who apparently thinks judges on this show should "nitpick." Ahem, Miss Carey? I think that lack of nitpicking is what got us in this pickle in the first place.
Idol's wave of mediocrity continues with returning whipping boy Johnny Keyser, who's being jerked around by the series for a second time. He's got a pleasant quality to his voice and Nicki finds him wildly attractive, but he's simply not strong enough to be here. He wasn't last year either, yet the judges brought him through to this point both times. Singing "When I Look Into Your Eyes" with a Leave it to Beaver haircut and his crisp, white shirt strategically opened to expose his silver cross necklace, Keyser is still simply vanilla. There's nothing compelling about his performance, even if you're just here for the view. He's simply not engaging. But still, the judges keep it civil. Keith and Nicki love him, even if Nicki didn't like that whole part where he was moving his voice up and down. But he's cute, so who cares? Even Randy isn't that tough on the guy, saying he's great but he just needs to make us feel something when he sings, you know that thing where music is a serious of sounds that's meant to elicit an emotional response? Do that. Mariah agrees, but thinks his sexy ass is more important than knowing how to sing. This is when the rage began to form.
As my anger simmered, JDA took the stage singing "Rumor Has It" by Adele. I'd like to preface my scathing criticism of JDA by saying that the fact that he dresses the way he does and loves glitter as much as he does have nothing to do with my inability to praise this performance. I wanted so badly for the guy who endured such prejudice during Hollywood Group Night to step onto this stage and blow away the snooze-worthy guys who came before him. But he doesn't do that. His vocals are weak and wavering. He planned dance moves for every lyric, but they aren't fluid or interesting. This entire performance is amateur hour, from start to finish. Yet, even when the judges so clearly want to tell him it isn't up to snuff, they go easy, telling him that his performance is great and that the vocals need work. False. The entire performance needs help. It is not good. And no amount of whatever Mariah means by JDA's "bigness" is going to change that.
RELATED: Is This Girl Already an 'Idol' Frontrunner?
The rage subsided a tad when Kevin Harris took the stage. His song choice is all wrong, but the man has a sweet quality to his voice that's simply a delight to hear. When he reaches the end of "(Everything I Do) I Do It For You," he falters a bit, falling into off-key territory, and the performance itself lacks teeth on account of his choice to sing a song that we've all heard far too many times and his indecision about which part of his voice to show off at the end. (He wavers between vibrato and falsetto cumbersomely.) Keith is underwhelmed, Nicki thinks it's perfection but that his sweet personality isn't enough for America (not everyone has to be a Barb, Nicki). Randy is bored, and even the woman who loves everything, Mariah, thinks he chose the wrong song. Look, the guy cannot compare to the ladies chosen to stay on Wednesday night (and maybe even some of the ones who went home), but he does better than anyone who came before him. And the rage escalates.
Next, we're dealt a performance from head-scarf-enthusiast Chris Watson. He picks, shocker of all shockers, the most overused Idol semi-finals song ever "Sitting On The Dock of the Bay." But if the lack of originality wasn't enough, his two and a half minutes of fame are spent focusing on his ability to gyrate and point at his "adoring" public, instead of, oh I don't know, singing the song with any level of vocal talent or quality. Keith and Randy like his vibe, but find a nice way to tell the dude his singing is weak. Nicki and Mariah, forever the issue, are in love with the pretty boy. Nicki thinks he's the "prettiest man I've seen in my life" and Mariah's Butterfly Dreams tour tells her that he's beautiful and the fact that his vocals "weren't the best" is totally okay in a singing competition. So. Much. Rage.
Finally, (and I thought) thankfully, Devin Velez takes the stage. He's the great hope. The one chance to turn the night around. His unique song choice, "Listen" from Dreamgirls is a brave one. Maybe all's not lost. But when he approaches the huge song, it still feels small. It's clear as he approaches the wise marketing decision that was the Spanish-language section of the song, he becomes concerned about hitting it right and the first part of the song suffers. Still, Devin is better than everyone who came before him, not that he would have any right to let that go to his head. Randy, however, is so excited about listening to someone whose voice is an actual singing voice, that he bursts with joy, calling Devin "amazing" when what he really deserved was "that was nice." (And yes, I'm considering what a tough song "Listen" actually is.) Mariah is the only one with real criticism (shocker of all shockers) and she tells him that he was too in his head to deliver a really great performance. And that's when I got angry about the fact that Randy and Nicki were making me so crazy that I agreed with loopy spirit guide, Mariah Carey.
The (frustrated, angry, aggressive) beat went on with young Elijah Liu, whose Bieber antics are obnoxious, but at the very least, they represent someone who might actually have a shot of entertaining someone in the real world after Idol. He sings "Talking to the Moon" by Bruno Mars, and he's clearly studied how to be just like the multi-platinum artist because he feels like a caricature of what a modern pop performance should be. He gets a little shaky towards the end, but all in all, he's managed to replicate the pop persona that's managing to drive teen girls wild right now. Everyone but Randy loves this kid to death. Randy doesn't dig his vocals, but likes his swag, however his commentary can't compete with Nicki, who says she wants to have the 18-year-old's babies, and Mariah, who's so completely obsessed with the kid's mixed heritage that she forgets to say something useful.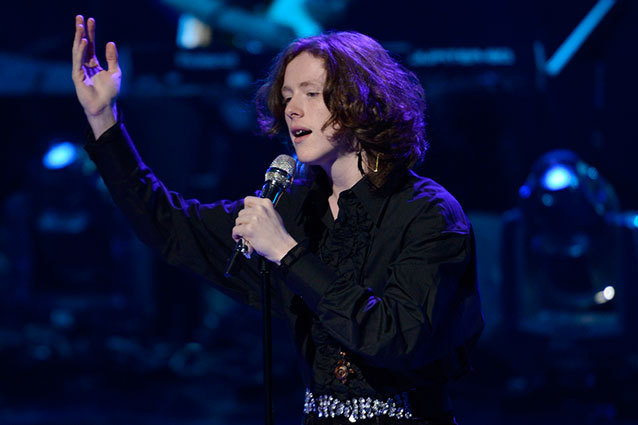 Rage turns to sadness when my favorite little youngster, Charlie Askew, takes the stage to take on "Rocket Man" by Elton John. His vocals are a mess, and despite the admirable way in which Charlie actually appears to be on this show to actually feel something through music, his silliness gets the better of him. I'm not sure if his visible case of nerves encouraged him to turn on the goof factor as a defense mechanism, or what, but the result wasn't a performance I'd like to remember. That being said, he is still more compelling than most of his competitors, something the judges acknowledge until Randy finally cages my rage and exclaims, "Forget singing tonight! Let's just all perform." Because this definitely isn't a show about singing. Not tonight, anyway.
RELATED: 'American Idol' Recap: Ladies Light Up Hollywood Week
The second-to-last disappointment of the night is Jimmy Smith, the strange, boring 1990s Dawson Leery-esque country singer who loves Keith. He sings a song Keith himself was covering when he sang it, "Raining on Sunday," and it's a risk that did not pay off. At all. It's spotty and boring, like the last karaoke song on a rainy Tuesday night when everyone left in the bar is too drunk or tired or disappointed with their life decisions to heckle the singer. The auditorium was silent. No one is impressed, but don't worry, Mariah still loves him and thinks she's the best because her role this evening is apparently the captain of the self-esteem patrol.
And if she's the captain of the patrol, her main focus is Curtis Finch, who she praises so hyperbolically I worry he might fly up into the atmosphere the next time she speaks to him. He sings "Superstar" by the Carpenters, and while vocally and technically, it was the best performance of the night, it's not a good performance. It's cheesy and over-performed. It feels like a performance by some nameless singer for a bunch of folks who just want to hear a nice voice serenade them with the classics. It has no mark of artistry, it's all a show. Randy and Keith agree, but again, the ladies are bowled over by Curtis' voice.
It's something that didn't stand for the ladies on Wednesday night, just ask eliminated contestants Brandy Hotard or Isabelle, of only one name. Both women possess incredible sets of pipes. They can hit full, high notes with ease, but they're not compelling performers and they're not packaged for a modern audience. That's a sin on girls' night, but here, in the delusional warmth of super swell guys' night, it's not a problem at all.
Eventually, the judges make some cuts, and one even needs the advice of Jimmy Iovine, the tie-breaker, but it doesn't really matter. The talent in this room is an insultingly small fraction of the talent on the girls' side. Sticking around, because five people had to stay somehow, are Curtis, Elijah, Charlie, Paul, and Devin. Going home are Jimmy, Kevin, JDA, Chris, and poor, tortured Johnny Keyser. There are a few shakeups in these results, but in the end none of it is all that surprising.
No matter what, we are given a line-up of contenders who can't hold a teeny, tiny birthday candle to the ladies, we gave them two hours of our lives, and five of these undeserving singers got to stay. There is something to be said for giving singers second chances, because not every performance can be amazing, but there's something wrong with a talent competition that spends two hours giving credence to a group of folks who give us no clear indication that any of them is significantly more talented me when I've have a few too many drinks and I suddenly think that singing Carrie Underwood lyrics in public is a good idea.
You've wasted our time, Idol, and I mean it when I say, it's simply not okay.
Follow Kelsea on Twitter @KelseaStahler
[Photo Credit: Michael Becker/Fox (2)]
---
From Our Partners:


25 Forgotten Celebrity Crushes of the '90s (Vh1)


30 Stars Who Have Gone Topless (Celebuzz)