'American Idol' Recap: Clash in Las Vegas — Can the Judges Be Trusted?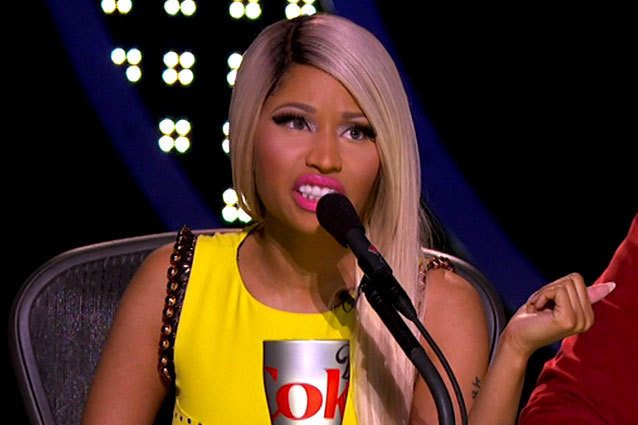 Be afraid. Be very, very afraid. Because if Thursday's episode of American Idol is any indication, a large part of the series' audience has no idea what a good singer sounds like, and next week, those people are going to start determining who goes home.
Throughout Thursday's episode, during which the final 10 guys sang for their spots in the top 20, the judges were at odds with the audience, who were apparently watching a different show than the rest of us. When Nicki Minaj or Randy Jackson would do their jobs and point out the issues with each singer's performance, the audience would not only groan, but boo so vehemently that at one point Nicki was forced to fire back at them just so she could finish speaking. This is not good news.
RELATED: Nicki Minaj is the Best Thing To Happen to 'Idol'
Next week, half of the performers in our top 20 will be voted off the show, and if the sizable audience in Las Vegas couldn't tell the difference between a cute guy with little talent and a truly spectacular performer, how can we trust the audience at home? Perhaps we should just hope and pray that the people in Las Vegas were just drunk off the fumes from all the spilled alcohol throughout the streets of the party town.
But complaints aside, the main event of the evening were the performances, because surprise, that's the point of the show.
First up is the never totally pleasant Mathenee Treco, who continues his trend of wasting the parts of his performance style that are appealing by covering them up with his brand of bro karaoke. He's got a good voice under it all, but the guy has no idea what to do with it. His rendition of "A Little Less Conversation" is spastic and unpleasant; he allows the song to take him over and it swallows him whole. Randy, Nicki, and Keith dislike the performance, though Nicki's the only one who points out that it's the fault of Mathenee's cheese-factor and not just his poor song choice. Mariah says she likes him, because she's proved she can offer no other commentary, but it's not enough to keep him from going home.
RELATED: The Problem With 'American Idol'
Gupreet Singh Sarin follows Mathenee right out the door, and to be honest, I have no idea how this guy got this far in the first place. Sure, Nicki loves him, but even in his last performance, which all of the judges reminisce about as some great "moment" (and we all know how they love those moments), Gupreet was only mediocre. This week, "Nothing Ever Hurt Like You" is just plain awful. There's nothing remarkable about any of it. His vocals are boring and off-key. It feels like the last hour at a wedding when your drunk cousin grabs the mic and starts making up words to all the instrumental parts of songs. It's terrible and even Mariah agrees, though she's not quite at Nicki's level of "Hell. No."
Finally, one of the guys is worth watching. Vincent Powell is someone I could actually imagine voting for. While his look is somewhat stolen from Cee-Lo Green's closet, his performance of "Because I Love You" is pretty incredible. He's got an interesting voice, control over his vocals, and a knack for completely organic runs. The guy's got what everyone in this competition keeps pretending to have: a sense of artistry. Luckily, the judges saw the same thing I did (though I didn't quite have the panty-throwing urge Nicki was clearly having) and Randy even connected Vincent's style to Miguel and Frank Ocean, two artists who are owning this moment in music. He's a real singer and he makes sense in the current scene, so thankfully he's sticking around for the big vote next week.
Delivering a bit of a disappointing number is Nick Boddington, who tries "Say Something Now." This guy was so incredible during Hollywood week, but Thursday's performance is boring. He's got a nice voice, but there's little connection to the song. It's something Keith and Nicki pick up on, but Randy says he knows Nick can do better if he could just get himself one of those moments Randy never stops ranting about. Regardless, Nick was happy in the final moments of the episode, because he managed to eke out a spot in the top 20.
RELATED: 'Idol' Recap: Good Girls Go Home
And from a lack of connection to a lack of touch, the famous pants-ripper Josh Holliday steps onstage to sing an original song he wrote during Hollywood Week. You'd think the guy would want to do a song that's had a little more time to gestate, but this is the person who didn't think before doing a split in non-stretch khakis on a stage in front of 20 guys and four industry experts. The performance is alright and almost a little tender when Josh starts at the piano, but as he continues singing his trite lyrics and gets up from the piano to dance around and feign emotion, any potential he had dissipates immediately. He's showy and cloying, not passionate, and the judges can feel it. Keith gets away with saying Josh needed to be more passionate, but Nicki is booed to death by the audience when she dares to suggest that Josh wasn't all that great (now, if only she wasn't totally and completely CORRECT). Randy's not impressed and even Mariah defers her commentary to the audience, suggesting "Well, at least the audience sure loved it."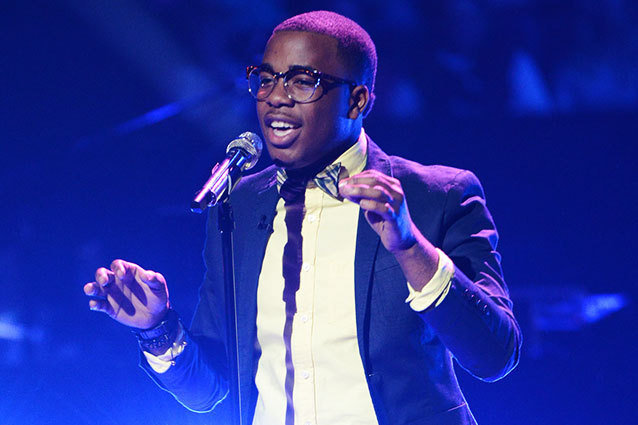 And this is why I'm worried. Josh was not good. If we're going to sugarcoat it, sure, he lacked passion, but the audience couldn't even deal with the suggestion that it wasn't great. These people are going to be the ones sending good singers home next week. Luckily, Josh is sent home, so he won't be around to cloud their judgement.
The judges aren't always right though. David Wallis makes a mistake with his song choice, but still manages to prove he's a good singer who's ready to take his talent to the next level. He sings "Fever" and it leaves him in a bit of a rut until he gets to the song's finale and breaks out something a little special. And even though he gets a little too comfortable in his little rocking back and forth groove, it's a good groove. Randy and Keith like it, but they think he needs a bigger opportunity to show off. Nicki thinks it's amateur and that he wasn't current enough, but perhaps that's because his rendition wasn't super sexy. Either way, his journey ends, likely so Lazaro Arbos, the heartbreaking so-so singer can stay on a little longer.
Bryant Tadeo of Hawaii takes us into his laid back world, but perhaps we takes it back one too many notches. His performance of "New York State of Mind" shows that he's clearly got a good voice, but man is it cheesy and boring. You can't do this song with this arrangement without it feeling dated unless you are the Piano Man, himself. While Keith likes it, Nicki hates everything except for the last couple of notes, earning her some serious anger from the crowd. But Randy agrees, saying the song didn't go anywhere and as the crowd loses its mind over the truth, Mariah brings them back into "woo-hoo" territory when she simply says he sounded "professional." That's not a compliment, Mariah. I have a green shift dress that is very professional, but I never wear it because it's no fun and I'd much rather wear basically anything else I own. "Professional" is not the mark of a good performer, sweetheart, and it's not the mark of someone who gets a spot in the top 20.
Thankfully, the bad taste in our mouths is abolished by the sweet, sweet singing of my favorite guy on the show, Burnell Taylor of New Orleans. He wisely and bravely chooses "This Time" by John Legend, which is an excellent song choice because he's got a voice in Legend's genre without sounding exactly him. He's good, a little strange in his movements, but totally genuine. While Burnell doesn't have a huge range, he's a great singer and the sort of person whose effortless style ropes an audience in until they're hopelessly devoted to his every last work. He's got it all. He's wonderful. And it doesn't hurt that he's super cute. While Keith and Randy simply love it, Nicki has to take it up a notch: she would pay to hear him sing RIGHT. NOW. BOO. And while Nicki connects to his story of misfortune (which is exactly what we hate about Idol), it is actually very sweet that she wholeheartedly thinks he deserves it. Mariah pitches in and says a lot of things, but it's not worth trying to crack that code because no one doubted that Burnell was going to be asked to stay on for another week.
RELATED: Is This Girl Already a Frontrunner on 'Idol'?
Now comes the hard part: total sweetheart and chronic stutterer Lazaro Arbos hits the stage looking dapper in his bright pink button-up and little black bowtie to take on Keith's song "Tonight I Wanna Cry." He's a sweet, loveable guy, but he's simply out of place in the competition. And it's not for lack of vocal quality: it's lack of training. Another year, after some training, perhaps Lazaro could be a strong enough performer and confident enough to be a real contender. This year, he's either going to get swallowed up, or pushed along through the competition with sympathy votes until voters can't support him any more. But he doesn't deserve that. This sweet guy deserves to be told the truth, do some work to better his performance, and return triumphantly like the girls' Candice Glover did this season. Still, the judges can't send him home and he stays on for another week.
For the finale, the show gives us Cortez Shaw, who's still a little too cocky for his own good. He does a slow rendition of "Titanium" by David Guetta, which is a song I hate and if I'm being honest, I spent the first half of Cortez's performance trying desperately to conquer my hatred. Once that subsided enough to hear clearly, it was obvious that Cortez's vocal range is a thing of beauty; he can hit high notes that most men can't even dream of. But as Keith points out, his chosen tune exposes all the flaws in his voice and while the good parts are great, the connecting parts are lacking. It's something that can't last if this guy is to stick around and become a serious performer. Nicki doesn't seem to see an issue because she's blinded but the fact that she finds Cortez sexy. (Hey, let's give the girl a break. Getting booed for two hours probably does something a little unkind to one's brain.)
Mariah is impressed (or something, who knows what she was really saying), but it's Randy's comment that really seals the deal for Cortez before he's told he gets to stay: according to Mr. Yo Dawg, Cortez is extremely current and marketable. And to some extent it's true. He's handsome and has a smooth voice, but is he one of a kind? So far, no. Still, he's another crowd favorite and if the applause is any indication, this crooner is going to take one of the few spots available to the Idol finalists at the end of next week. Color me as concerned as can be.
Are you worried that voters will pick the wrong singers next week? Who can't you live without?
Follow Kelsea on Twitter @KelseaStahler
[Photo Credit: Michael Becker/Fox]
---
From Our Partners:


25 Most Scandalous Celeb Twitpics (Vh1)


33 Child Stars: Where Are They Now? (Celebuzz)