'American Idol' Recap: Opposites Attract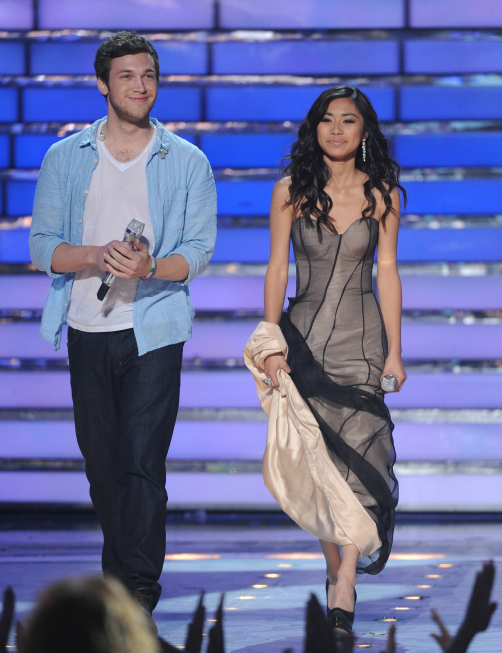 Apples and oranges. Day and night. Prostitutes and Amish people (as Yahoo answers tells me in a search for "opposite things"). Phillip Phillips and Jessica Sanchez, our final two finishers on American Idol's 11th season couldn't be more different if they were named Ryan Seacrest and Brian Dunkleman. One is a low-key growler with a penchant for pissing off famous fashion designers, while the other is a strong-voiced troubadour with a penchant for making you feel like you've broken a law just noticing her wardrobe.
The main problem with our Top 2? They have no problems. Here, at the end of our Idol road, are two polar-opposite singers so on top of their games, they might as well be battling Bowser. Of course, this makes it quite difficult for us obsessed fans, who are begging for someone to irrationally root against in the finale. But we no longer have an uneven Hollie. We no longer have the favorite son Joshua. And we no longer have terrible cowboy guy.
Instead, we're left with two extremely likeable, extremely talented singers. And, for the first time since the Season 8 finale between Kris Allen and Adam Lambert, it's difficult to side with one or the other. Not that it's necessary — after all, at this point, a Phillip win is about as predictable as my projectile vomit hearing an Armageddon song on Idol.
Not only was the crowd and history on his side — with the exception of the Illinois-based Lee DeWyze, a male from south of the Mason-Dixon line has won every year since Season 6 — but poor Jessica was saddled with the atrocious original single "Change Nothing," a name that invites far too many headline-worthy puns. (Jessica, change everything, please!) Holy "No Boundaries," was that a clunker or what? We're talking about a contestant who could sing the phonebook, the newspaper, or Fifty Shades of Grey — yet "Change Nothing" managed to change Jessica into a floundering singer with an inability to nail any register. True, it wasn't as bad as "No Boundaries," but even hangnails, paper cuts, and James Blunt aren't as bad as "No Boundaries."
Jennifer Lopez was right — during her one moment of usefulness last night — that Jessica had been given the wrong song to suit her R&B-worthy voice. ("You have to be able to say to someone, this is not me," the bootylicious one told Jessica, lending advice that all of Idol's pigeonholed former contestants would have been well-served to hear.) Instead, Simon Fuller was wise in his attempt to transform Jessica into a Whitney Houston incarnate with "I Have Nothing," the third Houston song Jessica has sung in the past four months. That said, as much as Jessica boasts the powerhouse vocals of the late legend, Idol fans expect more than a note-for-note cover of a song more suited for the days of Season 4. Or should I say almost every other Idol season ever? After all, the song has been performed by the following: Trenyce in Season 2, Leah LaBelle and Jennifer Hudson in Season 3, Vonzell Solomon in Season 4, Katharine McPhee in Season 5, LaKisha Jones in Season 6, and Shannon Magrane earlier this Season 11. Idol needs to retire this song three years ago like it's Leno.
Jessica's smartest move of the evening was choosing "The Prayer" as her personal choice, reviving a pre-semifinals power ballad that was all but wiped from our memory following her "I Will Always Love You" cover during Top 13. The repeated finale vocal has always been an Idol pet peeve of mine — don't the producers know that super-fans can recall every twitch and vocal trick of a previous performance, thanks to the wonders of YouTube and workplace procrastination? Still, only David Cook in Season 7 has been able to deviate from the directive, performing new cover "The World I Know" while David Archuleta rehashed "Imagine." And Cook was better off for it — not only was "The World I Know" one of the most touching and perfect performances of all-time on Idol, but the originality helped bag him the win. (Let's go back to those simpler times with simpler rules, Idol, shall we?) But while our contestants may no longer be given the choice, Jessica did right by allowing us to remember what we had nearly forgotten. And it would have been a shame if we had — Jessica's "The Prayer" blew my mind harder than the concept of Ace Young and Diana DeGarmo actually being a real-life, bona fide couple. (The American Idol fan fiction file in my brain just imploded. Nikko Smith and Julia DeMato, you better be next.)
NEXT: At home with "Home."Sadly for Jessica, she still doesn't have a prayer come Wednesday evening. Mostly because Phillip, equipped with a pimp slot, actually delivered an original performance that was radio-ready in our contemporary music environment. Randy was right to say "Home" sounded like a Mumford & Sons hit. The friends I watched the penultimate episode with were right to say it sounded like a Dave Matthews hit. And I felt Phillip was right to throw in a little "Dust in the Wind"-esque inspiration for extra flavor. In other words, the song sounded right. It sounded appropriate. It sounded Phillip, which is typically something we cannot say about any schmaltzy victory single. You're my boy, Phillip!
Now, following round 2, I wasn't so sure of Phillip's victory — "Movin' Out" was too recent in my memory for me to be really moved, and the only part of the slowed- and stripped-down "Stand By Me," Simon Fuller's choice, was the sweet lick at the end of the song. (That was a gift to you Philophiles: Phillip and "sweet lick" in the same sentence. Sweet dreams.) But following his star-making turn during last week's "We've Got Tonight" and "Beggin'" — and Jessica's underwhelming "My All" and "I'll Be There" — it's difficult to imagine a scenario in which Phillip's fans don't beg the AT&T gods for a win tomorrow night. Hell, the dude doesn't even have to speak actual words anymore to win over fans — just see his nonsensical response to Ryan Seacrest's "Phillip, how do you feel?" The guy's like a still-talented Adam Sandler — people will love everything he does, no matter the effort involved. Plus, Rob Schneider, as Randy's lapel pin!
Still, does Jessica deserve to win just for having to sing "Change Nothing"? Do you hate the finale performance repetition like I do? Did you go to YouTube to watch "The World I Know" halfway through reading this? (I did.) Does Steven Tyler belong on The Bachelorette, what with his egg talk? What over-eager intern has been tasked with creating the dramatic opening numbers each Wednesday? Was Jason Derulo's new America-collaborated song as unlistenable as it was "Undefeated"? And is seeing Derulo's girlfriend, Jordin Sparks, making you wish Idol would release contestant dolls so you can make them all date other Idol figures? Am I too obsessed? Don't answer that.
Follow Kate on Twitter @HWKateWard
[Image Credit: FOX]
More:
American Idol Recap: Blame the Judges!
American Idol Recap: Pick and Miss