'American Idol' Recap: Rock & Roll Night Or a Bad Trip?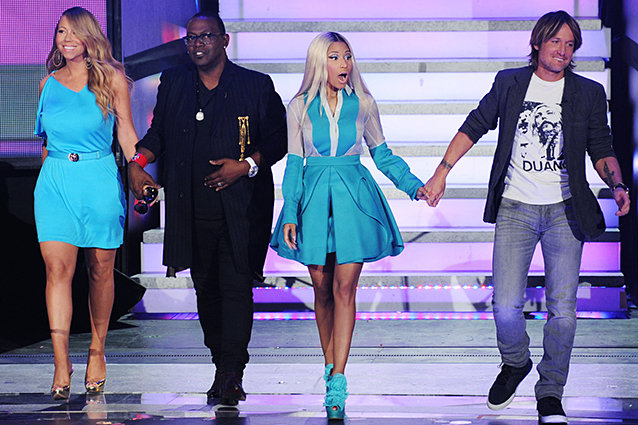 I can't be the only one left with a feeling of disorientation after Wednesday night's Rock & Roll night on American Idol. The episode which promised "no slow stuff" during the promos was meant to turn down the sombre moments and ramp up the fun, presumably in the face of drooping ratings, but the result was an episode on uppers, and not the classy kind.
From the way in which "no slow stuff" pummelled many of the contestants attempts to build their own brands by watering them all down into your mom's favorite episode of toddlers on Star Search, to the fact that guest guitarist Orianthi took the stage like the Hamburglar, never allowing anyone to actually see her eyes under her Heisenberg pork pie hat, to the judges' insistence on spending much of their precious time talking about fashion and the worst of all Idol qualities (flair), the episode felt like one long, disorienting trip. And we're hitting the hangover right about now.
RELATED: Burnell Says 'Idol' Amber Has a Crush on Him
We entered the episode with the Lawrence Welk (in its own personal hell, where bras show freely) judging panel: both the men dressed in black while the ladies donned Alice in Wonderland light blue. While Nicki Minaj's decidedly more scandalous buttoned up dress revealed her undergarments on the sides, it certainly felt like deja vu after last week's matching red outfits and raises the question: is someone trying to re-stoke the fire between the two pop stars? But hey, they shouldn't worry too much. They may keep accidentally matching, but at least no one is making them wear a brooch from Randy's Storm Troopers and Liberace collection.
But enough about wardrobe. That sort of discussion is the judges' job, apparently. There was some actual singing this episode, though there seemed to be some sort of disconnect between what was happening in the studio and what we saw at home on our televisions.
First up was Burnell Taylor with "You Give Love a Bad Name" by Bon Jovi. Yes, watching Burnell sing this cheesy '80s song because it was the only one he knew on the list was like watching John Legend hit rock bottom by being hired to perform a New Jersey mom's favorite songs at her son's bar mitzvah. Burnell looked great, his voice was still doing its usual buttery thing, and he even figured out how to move around the stage (none of those hand flourishes that his co-contestants were so keen to tease him about), but nothing about this performance was Burnell. But considering the pressure the "no slow stuff" bro-down of a theme that Burnell was given, can we really blame him? His style isn't like Kree's or even Angie's, that both lend themselves to more uptempo, blues or rock moments. Burnell is a very specific type of artist who needs his sweet spot or nothing. And this theme may be what kills him in the competition. At least Nicki thinks he's huggable. Her "Teddy Rupskin" (her exact wrong words, not mine) is going to need a little comforting Thursday night, unless voters have finally grown tired of Lazaro Arbos' courage card.
And how could they not be? When Lazaro and Angie Miller followed Burnell with a duet of Queen's "Crazy Little Thing Called Love" it felt like Lazaro had won a fan competition to sing on stage with Miley Cyrus. He had the confidence, but once again his voice and his ability to learn the lyrics were the problem. Big surprise, Lazaro doesn't know another classic song and he uses it as an excuse. If you recall, last week Kree forgot some of the words to "Like a Prayer" and the judges almost didn't care because her vocals were so incredible: it's because in the end, it's all about performance and even when she forgets a word, Kree performs the hell out of any song. Lazaro gets jerked around by every song. And luckily, the judges seem to somewhat agree, each of them searching for the one compliment that applies to Angie's adept performance and Lazaro's floundering one in order to avoid making the kid cry on stage again. The best compliment for the young man is that the abolition of his "candy man look" is a good call (Lazaro still knows you didn't like his performance when all you can talk about are his bowties, folks). Keith manages to find the sweet spot of insulting the arrangement and production of the song instead of commenting the duo's vocals, calling it "kitchy" and "variety show" and he's right, but I start to wonder if he's really been here for any of the other group numbers. Kitch is sort of the Idol group number sweet spot.
As a sort of remedy for that performance, which sent us into a deep downward spiral, Kree Harrison delivers Janis Joplin's "Piece of My Heart." And if her (duh) amazing performance in the face of a killer pinched nerve in her back wasn't indication enough, the package before her performance paints her as a den mother, ironing everyone's shirts and getting to know everyone on the crew like family. If we were going to call the top two right now, I'd say this video package just shored up Kree's spot in America's hearts by being a better person than most of us. But she actually sang too, stepping onto the stage looking like a vixen with red lipstick and slim-fitting black leggings and I turn to her fashion, because she's almost boring to write about now because she's too damn good. It's like they're putting her in the middle of the singers just to shake it up a bit and confuse us, but Kree is at the top of the heap. Randy trotted out his tired old horses "This girl can sing" and "she's in it to win it" which somehow still get the crowd going. (Someone get this man a thesaurus!) Nicki spends her judging moment reminding us how the Idol app works (translation: get it now, you guys, pleeeeease?) But strange commentary aside, Kree killed it yet again, even with a pinched nerve in her back. Suddenly, Lazaro's "I didn't know the song when we started" excuse is feeling thinner and thinner.
RELATED: Kree and Candice on Their 'Idol' Injuries
Because we've only got seven contestants left, we're treated to another group performance from Candice Glover and Burnell Taylor who sing "The Letter." As expected, this jazzy version is cheesy, but allows both singers to settle into their vocal sweet spots. The problem is that Burnell's sweet spot is subdued and artsy, while Candice's is explosive and incomparable. And her chance to perform with her close friend on the show brings out her inner fire in a way her trio with Amber and Angie did not. Even their highlighter yellow accessories couldn't put them on the same playing field – I mean how do you compete with a woman Nicki says can summon the entire galaxy with her voice? I love Burnell, and it kills me to see him standing on that stage like a sad puppy, but this number proved that Idol isn't necessarily the vehicle for him: the winning factor this year is a big voice, not a Phillip Phillips-level cultivated and stalwart persona.
Then comes the first true bout of disorientation after a series of uppers and downers. Janelle Arthur is up, but not without hearing from her fellow contestants about how country she is (Lazaro even has a borderline offensive idea about Janelle being a girl in a rural cornfield who's only yet to lose her teeth – what the hell, Lazaro?). But that doesn't seem to stop her from diving head first into "You May Be Right" (which I can't hear without taking a trip back to Dave's World). This song is inherently cheesy, and Janelle's showboating vocal suffers. Rather than sliding into her vocal sweet spot, Rock week coaxes her into trying to match the drama of her competitors, but this is not the way to do it. Her cowboy boots from a bedazzler's paradise may have wowed the judges, but perhaps they distracted the quartet from Janelle's less than perfect vocal. And while Keith's comment that she certainly worked the stage like a professional is true, she didn't handle the song like a professional. She sounded like someone singing a song that Dad picked out for the church talent show. She'd take home the prize at a summer fair for sure, but the quality wasn't where it should be. Perhaps Randy was just buttering her up because he wanted her fringe vest, but I would argue this performance was not the mark of a "great contender."
Ah, and then there's Lazaro with "We Are The Champions" by Queen. It's a song about redemption and unfortunately, Lazaro's redemption is only that he didn't totally bite the dust this week. He's got his swagger back, but swag does not a singer make. His vocals are reliably awful. It takes an active effort from Keith and the rest of the panel to be interested in the fact that he's singing right next to them when he takes his Latin dance moves to the judges' platform. Still, when it comes time to judge, they've only got sweet things to say. Maybe they were a little happy, Nicki did call his performance "crack juice" while Keith did an impression of Lazaro as a matador. But the truth is, the judges need to stop giving out gold stars when someone improves on their previous performance, especially when the previous performance is terrible. A cut above awful is still pretty awful. Sure, it's a lot less uncomfortable to be nice to Lazaro on live TV, but it's pointless.
The weird continues with Kree, Amber, and Janelle singing Billy Joel's "It's Still Rock and Roll To Me." Word to future Idol contestants: It is impossible to pull off upbeat Billy Joel without sounding campy, stop trying. Granted, this trio didn't choose each other and they didn't choose the song, but it did not do them much service. At best it was middle number during a VH1 Divas tribute, or as I like to call it, the moment at which I take the opportunity to refill everyone's wine glasses. The judges loved that yo, yo, yo, yo you guys seemed like a group. Like, there were three of you and that's what group is and you guys were it. Right. Luckily, Nicki seemed to pick up on the impossibly pageanty feel of the performance, while all I could think about was how Janelle got to cozy up to the sexy guitarist during the song while Amber and Kree got the clearly season musicians to sing next to. Is it time to just give every contestant two songs yet?
Finally, we get something good in the form of Candice, a.k.a. our temporary fix on this long, strange trip. She's got a broken toe thanks to her attempt to pull an April Fools joke on Lazaro, and yadda yadda she's got a cute brother-sister thing going with Burnell. That's not why we're here. We're waiting to hear her sing "I Can't Get No Satisfaction" to perfection like a bunch of drug addicts. And that she does. She's flawless, as always, even with a broken toe and a genre that's not really her thing, Candice delivers. Her fellow frontrunner Kree may have won the week with her impossibly adorable package but Candice feels like the sort of old soul who could make something of herself in Beyonce's music industry. But Candice's performances do leave me exhausted, because to quote to Nicki: "I can't think of extra things to say about your voice for the next six weeks." Preach, ladybug.
RELATED: Did Lazaro Redeem Himself on 'Idol'?
On a similar token, comes Amber Holcomb with "What About Love?" by Heart. After fielding questions about Burnell's shameless crush on her (though, who can blame him?), Amber takes the stage with all sorts of fog and atmospheric decoration. Once again, the issue is that her vocal is amazing, and perfect even, but I cannot see a single place that she fits in the music industry. Randy is right when he calls her Whitney Houston-esque, but where does that fit? Record labels aren't exactly looking to find Whitney's successor. It's the reason that Amber's technically stellar performances are always followed with a bit of a bout of sadness: she's incredible, but no one seems sure how to bring her out of her dated bubble and into some space of relevancy and that could be her undoing – even with those legs for days that creepy Uncle Randy seems insistent on praising. Still, the judges are obsessed, even Nicki, who finds her connection to a song she's probably normally call cheesy if she hadn't once dedicated the same tune to Lil Wayne. You know, normal stuff.
Finally, Angie Miller closes the night with an exciting, but perplexing performance. After watching her reel, in which we get to be annoyed by her penchant for overzealous clapping, Angie takes her smizing to the stage to perform "Bring Me to Life" by Evanescence. I hate this song, admittedly, but it was a smart choice for Angie. It lets her start at the piano and then move into the "no slow stuff" part in a way that helps her lose her Disney character essence a bit. Putting herself in a rock position like that lets her have a little more of that edge while occupying a space in that genre (she's professed her desire to produce music in the Evanescence, Mute Math sort of category) that we haven't often seen: the soft glam alt rocker. It's not something that's going to win her this competition, but it certainly made her a standout performer on Wednesday night. Though, like Keith says, if she's going to get too wrapped up in getting her hair going nuts in a fan on stage and holding down her shirt, she's kind of losing that rock goddess feel. Though honestly, the fan was working, as long as she can sort of forget it's there.
After getting through all those performances, it sort of felt like the beginning of a bad hangover. Some were great, and almost none were terrible, but for many contestants, forcing them into the rock genre felt like putting a square peg in an oversized, sparkly star-shaped hole: the contestants who didn't pull it off were drowning in the rock-ness of it all. It's something Idol has done a lot in the past, but it seemed to be over this season. Apparently not when ratings are slipping away faster than Randy's edge.
Follow Kelsea on Twitter @KelseaStahler
[Photo Credit: Michael Becker/Fox (2)]
---
From Our Partners


See 'Game of Thrones' as 'Mad Men' (Vulture)


Hayden Panetierre Bikinis in Miami (Celebuzz)