'American Idol' Recap: Sky-Fall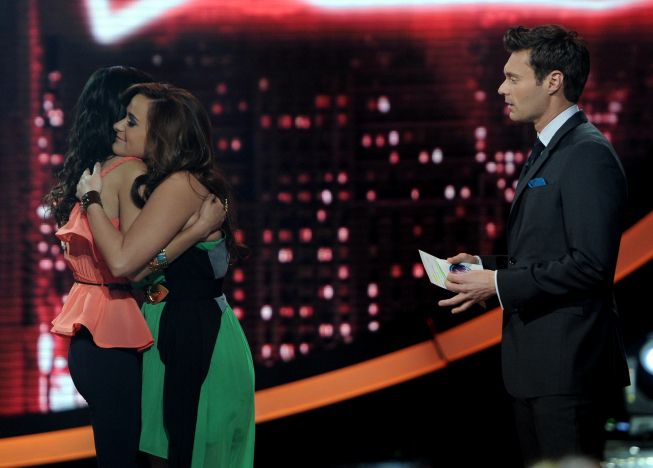 The way Season 11 has progressed, the only cut that would have been truly shocking on American Idol was if Hollie Cavanagh was sent out the door. Not only because the contestant has proven to have the staying power of a pimple on prom night, but also because Wednesday night featured a theme, British Night, that played right into her roots. So it's really not all that shocking that one of our early frontrunners, Skylar Laine, was the contestant actually sent straight out of CBS Television City. Sad? Yes. Shocking? Not entirely.
I even predicted her possible elimination following her stellar performance night Wednesday. Not that I ever wanted her to be sent packing — Skylar was one of the most consistent performers to ever hit the Idol stage. But that was precisely her problem — in order to find success on Idol, you need an intriguing storyline that extends past your love for ATVs and gunfire. The singer might be far more professional and recording-ready than the likes of Hollie, but the latter contestant is currently enjoying the benefits of the "dark horse" label that fueled previous contestants like Season 10's Haley Reinhart and Season 7's Syesha Mercado straight to the Top 3. Skylar, on the other hand, was simply an awe-inspiring performer week in and week out, which is hardly enough to inspire drama-loving teens to race their phones faster than Jennifer Lopez can say, "WeloveyouJoshuayoumustwinpleasesing'Blue(DaBaDee)'formesoIcaninexplicablyoverpraiseit." 
Luckily, Skylar will be just fine. If Season 5's sixth place finisher, Kellie Pickler, can use Idol to jumpstart a lucrative country career with her red high heels, so can Skylar with her diamond-studded pistol. And, dear fellow Idol fans wondering if Skylar's cut means we are indeed "headed straight for hell" — as the outgoing contestant sang — the rest of Season 11 will be just fine too. In fact, Hollie's mere presence might just make this season even more exciting. (I know what you're thinking: What? No! But bear with me, friends.) As I mentioned in my recap last night, Idol viewers love to root against a contestant who they perceive undeservedly outlasted their favorite. (See: Danny Gokey, Scott Savol, Sanjaya Malakar.) From a pure talent standpoint, the Top 4 might have been better off with Skylar, but from a drama standpoint? Hollie certainly dazzles.
Thursday night's Idol did, however, deliver a shock more stunning than Skylar's cut: A terrible performance from Season 4 winner/superstar/owner of amazing legs Carrie Underwood, who I can only hope was braving a sickness during "Blown Away." Country royalty or no, even Simon Cowell would call the number "dreadful" and ask Carrie if she went to the same tanning booth as Willy Wonka's workers. Seriously, the only thing that blew harder than Carrie during that performance was the ridiculous wind machine. ZING!
So we shouldn't fear for our dear Skylar — she managed to outperform a superstar like Carrie with "Gunpowder and Lead," even after being dealt a crushing, not-quite-expected blow. Here's hoping she seeks solace in faux boyfriend/fellow undeserved fallen Idol Colton Dixon. But were you surprised by the cut, readers? Shouldn't we at least be glad Hollie will be able to dine on Twinkies and Spam after the Apocalypse? Are you, like me, the teensy bit angry that Joshua got another opportunity to enjoy standalone praise that should shoot him straight to victory? Was Jessica's dress really almost the most damaging style choice on TV since Keri Russell's haircut-that-shall-not-be-named? Did anyone else notice Phillips' absence during the Ford Music Video (and feel relieved he didn't have to dress like a fairy tale version of Mystery like Joshua)? Has Phillip stopped caring so much that he
chews gum on stage?!
And wasn't Coldplay Coldplay?
Follow Kate on Twitter @HWKateWard