'American Idol' Recap: Is This Girl a Frontrunner Already?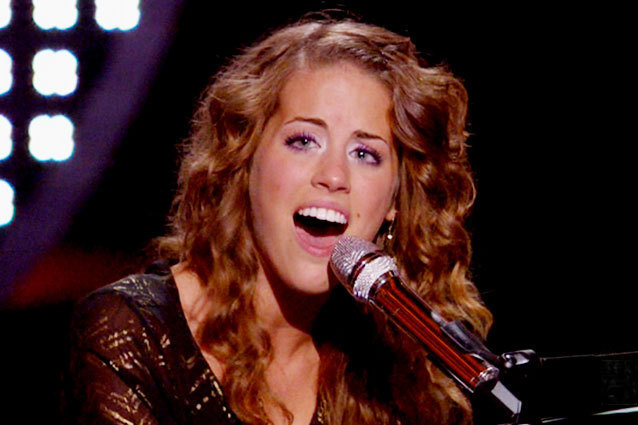 It's not rare for a contestant to blow American Idol judges away to the point that they proclaim the song "good enough to be on the radio." It is rare, however, that it's actually true. Thursday's Ladies' solo night on Idol was one of those times.
Angela Miller, a young singer we met in New York and who looks like a charming combination of Miley Cyrus and Allison Williams, starts off the show by ensuring that she's the most memorable person of the 47 girls performing solos. Sitting at a piano and singing "You Set Me Free," Miller leaves the entire panel speechless. To be completely honest, I failed to take a single note aside from "HOLY CRAP" because like Keith Urban, I was a little baby bird in Miss Angela's hands. She actually sounded like a professional singer. If this girl is not part of the Top 12, it will be a grave injustice.
RELATED: 'Idol' Recap: Nicki's Jar of Hearts
Candice Glover also makes herself a singer to watch, as she's done every time she's performed, singing Alicia Keys's "Girl on Fire." There's nothing surprising here, once again, Candice appears to put forth no effort for a phenomenal performance. We can't watch this girl go home prematurely again after she was cut last year. Next up is Janelle Arthur, a picture perfect little country singer. I truly want to like her, but it's hard to separate her from every adorable blonde country singer who's hit the Idol stage since Carrie Underwood hit it big.
Then comes Zoanette Johnson, the woman who continues on in this competition for reasons beyond comprehension. She takes the stage with a drum kit and performs a song she made up on stage that basically consists of her singing the judges' names at them. I have no idea why the judges react to her so positively. The woman has a voice, but she has no idea how to use it. You can give someone John Coltrane's saxophone, but that doesn't mean they can use it. Perhaps they're seeing Zoanette through some kind of filter that smooths out the horribly grating pieces of her voice and her inability to complete a song without stopping, during her solo audition. Somehow, this woman makes it into the top 20… even after Randy brought the 24 girls out and cut four of them without warning right then and there. My mind is a pretzel. I cannot comprehend this continual surprise. 
RELATED: 'Idol' Recap: Yeah, Dude Looks Like a Lady
But in order to fit in the surprise ladies' cut and the leftover cut from last week's guys' solos, the night cut the performance element short, so here's what you need to know:
-Shuba Vedula dared to sing Mariah's "Miracle" in front of Mariah. But she sounds like a cruise ship impersonator of Miss Carey. Somehow, they still love her.
-Kezban performs an original "song" and says it's like "watching my child take her first steps today." That child fell down. The song was awful, no one understood it and she was sent home rather unceremoniously.
-Ashlee Feliciano, the girl whose parents have a large foster family, is ill when she hits the stage, but that doesn't explain why the first half of her performance doesn't match the second half, or why she was able to hit a beautiful falsetto note without issue. The main problem was that her performance was boring and that's what sent her home.
RELATED: 'Idol' Recap: Anything But Ladylike
-Melinda Ademi sings Jessie J. They love it. She's upbeat. She's a tad obnoxious and a bit innocuous for my tastes, but I'll keep it zipped until Vegas.
-Kree Harrison's backstory finally comes out. She lost both her parents, years apart. It's a sad story, but luckily, it's not what defines her. When she sings, she sounds like an updated Patsy Cline in a sea of Carrie Underwood and Leanne Rimes clones. She stays on.
-The judges have Adam Sander sing for his spot in the top 20 guys, but his rendition of "Taking Chances" is so godawful I'm not sure how he ever made it in the first place.
-Josh Holiday also sings for his life, but he's always been boring, like the Tuesday afternoon singer at a Casino. He goes dramatic, but it's hollow. And to top it off, the showoff splits his pants and he's not even going to stay.
-When they cut eight guys, it includes Adam Sanders, Josh Holiday, blonde kid with glasses whose name we never learned, and the adorable David Leathers Jr. (Sorry, buddy.)
-On the girls side, Stephanie Schimmel is eliminated in order to save the always-smiling Rachel Hale, though in all honesty, neither girl really has the chops to continue on.
Do you think Angela Miller could make the Top 12? Did your favorite get cut?
Follow Kelsea on Twitter @KelseaStahler
[Photo Credit: Michael Becker/Fox]
---
From Our Partners:

Kate Upton Bares All in Nothing But Body Paint: Video (Celebuzz)

Bradley Cooper Dancing Is Surprisingly Awkward, Sweaty (Vh1)