'American Idol' Recap: The Long, Long, Long Winding Road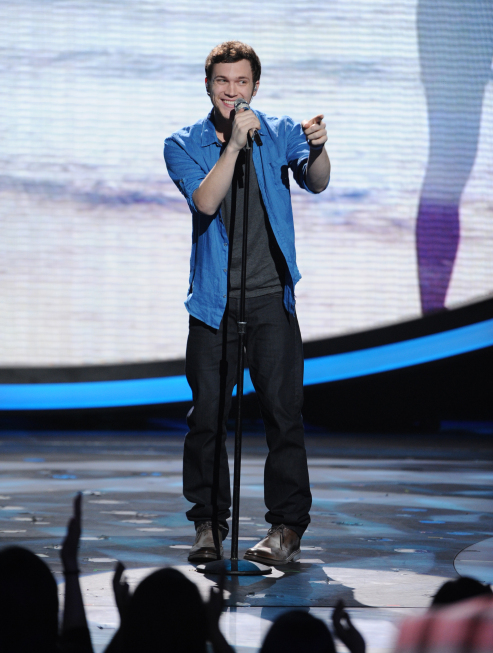 If the gods of television announced tomorrow that all original programming would be canceled and replaced with American Idol reruns, you'd find no one happier than yours truly. Since 2001, I have withstood the freezing winters through sheer Idolation, relying on Ryan Seacrest's voice telling me that This. Is. American. Idol to survive. I have needed to hear the word "dawg" uttered at least twice a week in order to fuel myself through the weekend until the next Wednesday. And, come the warmer months of April and May, I've relied solely on Jennifer Lopez's beaming bronzer to get my Vitamin C. The obsessed fan in me simply needs Idol, and will willingly argue with any detractor who thinks The Voice has caused the reality series to jump the "Against All Odds"-singing shark. (Randy Jackson sees your crazy hat, Xtina, and raises you a bananas lapel pin.)
But as much as I love you more than you love literal backdrops, Idol, I gotta keep it real with you: Please, once we have whittled down to our Top 4, shorten your Wednesday performance shows to one hour. I'm never one to ask for less Idol, but Wednesday night's California Night was as lukewarm as a seat vacated by Kim Kardashian. It was clear the contestants had little time to prepare — while three out of the four managed to deliver at least one stellar performance, all floundered in successfully executing another. Add in two middling duets, a group performance so forgettable, I just forgot that I even wrote "group performance," and a long commercial for Tom Cruise's airbrushed ads, and even I overdosed on two full hours of unnecessary Idol programming.
Take Phillip, who even admitted in his introduction package that he's "trying to push himself" through the competition. And talked to Ryan about his difficulty memorizing the lyrics to CCR's "Have You Ever Seen the Rain?" (This sentence brought to you by Idol Conspiracy Theorists of America , a.k.a. ICTA: Was this conversation Idol's attempt to force Phillip in an unflattering light to make family man Joshua seem more likeable? As the President of the Paranoid Chapter, I vote yes. Discuss.) But for a contestant that came into the competition as a visionary, able to rework songs like "Superstition" and "Movin' Out" into original masterpieces, Phillip has only surprised fans in recent weeks by choosing to perform faithful versions of popular hits. And whenever you see Phillip without his guitar — as he was during "Rain" — you know he wasn't given enough prep time to ace a performance.
NEXT: Steven Tyler Poetry Hour!And, quite honestly, it shows. Even Phillip's grandmother would agree that "Rain" was, yes, "pretty rough," even if the judges refused to critique the song. (ICTA members: An attempt to quell the sympathy vote for Phillip to gain more traction for Joshua? Discuss!) Steven went so far as to bring his book of poetry Wednesday night, telling Phillip, "All the mimsy were the borogoves, and the mome raths outgrabe!"
But Steven should have reserved his words for Phillip's follow-up, "Volcano," by Damien Rice. It was yet another faithful rendition, yes, but staying true to the song seems to make sense in this context: If Phillip had wished he had written the song, why would he change it up? Perhaps the performance just made me nostalgic for the nights I sat faux-sad in my dorm room, mourning a boy I had just unwisely taken to Closer on a first date, but Phillip's "Volcano" simply exploded on stage, despite the odd fact that he was singing to a hologram. It was gorgeous, meaningful, and subtle — all adjectives one of Phillip's fellow Top 4 finishers would be wise to adopt.
I'm speaking, of course, of Idol favorite son Joshua, who I've knocked for weeks now for being the subject of the judges' unyielding and infuriating fervor. But I have gotten so tired of discussing the obvious favoritism that I simply cannot bring myself to criticize the show for pimping Joshua's loving family for votes ahead of Mother's Day. I am so fed up with describing the show's pleas for Joshua's win that I will not talk in detail about the fact that the producers literally raised the contestant on a pedestal during his rendition of Josh Groban's "You Raise Me Up"… which we saw Chris Mann perform better on The Voice earlier this week. And I am so sick of mentioning Joshua's 13+ standing ovations from the judges, I will not even address how Randy — fresh off the set of Bye Bye Birdie — called the contestant's screechy "It's a Man's, Man's, Man's World" one of the best performances on any singing show, and how Steven told the singer "Let us leave this place where the smoke blows black and the dark street winds and bends."
Because, sorry judges, as much as I can appreciate a brilliant run or two during Joshua's performances, the singer does not connect with his lyrics. He's music's version of a serial killer, bonding with his lyrics and gaining their trust, only to end up pulverizing every phrase, stomping each lyric six feet into the floor below him at CBS Television City. Joshua wouldn't know subtlety if it stood up with Jennifer Lopez and kissed his feet. But I can't blame Joshua — he hasn't received a shred of constructive criticism on this show to learn to do otherwise. If it ain't broke enough to keep you from getting an undeserved standing ovation, why fix it?
NEXT: 50 Shades of Phillip.Instead, I far preferred Joshua's fun-loving, laid-back duet of Maroon 5's "This Love" with Phillip — shocking, considering I figured they'd butcher the hit to keep their NBC competition at bay. But somehow, the song — backed by Sergeant Doakes on the piano — allowed Phillip and Joshua's voices to mesh, and gave girls plenty of opportunity to scream. Giving Phillip the dirtiest parts of the song to sing, Idol? Perhaps you are making this a fair fight. (ICTA: OR are they just counting on conservative voters to push against Phillip? Discuss!)
Surprisingly, Joshua wasn't gifted the pimp spot tonight, though — our dear Jessica, who had yet to enjoy the enviable position, finally bagged the slot and delivered the first truly entertaining song of the night, with Etta James' "Sail Away." Between the powerful vocals and the much more conservative garb — was the spiky heart a chastity necklace? — Jessica proved that she should win this whole shebang. The 16-year-old's talent is so mature, she makes an unintentional mid-song squeal sound like a gorgeous note written on the page. (If only she wasn't surrounded by all that literal baggage.) The judges, however, didn't quite give the glistening "Steal Away" the respect it deserved, instead opting to compliment Joshua while Steven said, "The fact that I was napping, and so gently you came rapping, and so faintly you came tapping, tapping at my chamber door."
They did, however, grant Jessica a standing ovation for "And I Am Telling You," which, unfortunately, was no better than Tamyra Gray's Season 1 version, Frenchie Davis' Season 2 version, LaKisha Jones' Season 6 version, and Jennifer Hudson's Oscar-winning version. (But, thankfully, far superior to Nick Mitchell's Season 8 version.) But it was still was as powerful and passionate as it gets for a 16-year-old with no life experiences an emoticon can't express, and will hopefully convince America to love her, unoriginality be damned.
NEXT: From The Climb to the fall.Hollie, however, might not be so lucky, having chosen a song that's far too perfect a send-off, Bonnie Raitt's "I Can't Make You Love Me." (Apparently, based on her song choices, Hollie wishes she had written the entire soundtrack to a trip to the gynecologist's office.) After hitting her stride in recent weeks, the contestant took a step back, relying far too much on her ability to beautifully finish a song with a strong crescendo. What Hollie is forgetting is the build-up, particularly during her pitchy "Faithfully," which dragged on longer than a Ryan Seacrest Comedy Bit ™. Hollie can't overwhelm an audience with a strong finish if the beginning only has you wondering how Jennifer Lopez transformed Casper Smart into sequins so she could have him wrapped around her at all times. Even the judges couldn't love "I Can't Make You Love Me," with J. Lo criticizing Hollie's vibrato and Steven telling her, "New Kids on the Block had a bunch of hits, Chinese food makes me sick."
But, friends, even thinking about the judges is making me sick, so I leave this to you. Can we talk about the "Eternal Flame" swings? Because I can't go through that alone. Is it shocking to think that J. Lo and Co., ever refused Joshua? If Joshua's first song was dedicated to his father, and the second to his mother, who was "This Love" dedicated to? Did you, like me, laugh when Joshua admitted he didn't have Jimmy's phone number after the mentor so casually told him to call for guidance? Are you, like me, also ashamed to admit that you laughed at Ryan's engagement fake-out? Why did Randy's tie change its mind? And, finally, is it me, or does America seem very uncreative, giving Jason Derulo lyrics like "Whoa-oa-oa-oa" and "Oooh-oh-oh-oh" for "Undefeated"? Should I submit my lyric, "Ahhhh-ah-ah-ah"? Would it have a shot?
Follow Kate on Twitter @HWKateWard
More:
Idol's Biggest Underdogs — GALLERY
American Idol Recap: Hollie Scrapes By But Who Takes the Fall?