'American Idol' Recap: The Panel Is Haunted… By Complete and Utter Civility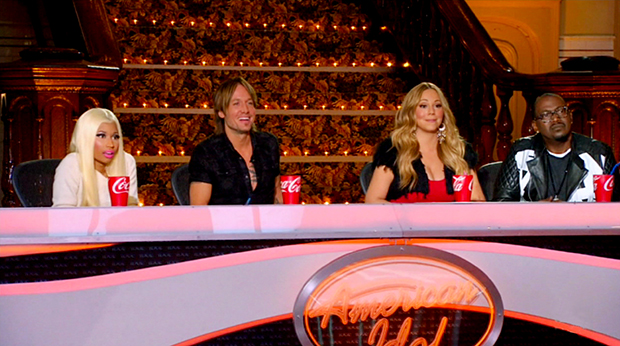 Do you feel like a fish pulled out of water by a spiked hook only to be dropped back into the ocean and sent back on your merry, fishy way? Do you feel slightly cheated after months of the tabloid equivalent of a giant "DANGER" sign hanging on the 12th season of American Idol, promising the Nicki Minaj-ocalypse brought to fruition by the magnanimous magnificence of Mariah Carey's diva status. Sure, we got a few knock-down drag-outs, but they've since simmered and by the time our crew gets to San Antonio, and later Long Beach, Calif., things are downright chilled.
Stop one in Texas delivers a slew of unpredictable contestants, including a girl in an ill-fitting sequinned tube top who isn't an over-the-top disappointment, a pair of seemingly adorable brothers who turn out to be a nightmare, and a singer named Peachez who'd never have made it were it not for Nicki Minaj's love of absurdity. Still, Texas could have been more of a hoot.
Vincent Powell is a returning contestant who was kicked out during Season 11's Hollywood Week, but you wouldn't recognize him because he had terrible taste in hats then and he's since learned that Zooey Deschanel glasses are better suited to frame his face. He swears he's "in love" with Mariah, but he also wants to be her, so let's not even attempt to unpack the hidden meaning in all that. Luckily, he's a very talented blues singer who delivers "Rock Me Baby" like a pro. That must have been one hell of a terrible hat, because it seems pretty unlikely that this guy made it through to Hollywood last year without garnering at least a sliver of my attention. Naturally, a guy like this is going to Hollywood… again.
Unfortunately, our good time buzz is ruined by two young men who, by all rights, seemed to be the kind of brotherly duo Idol loves to love, but in truth turn out to be the worst kinds of auditioners known to this show. No, not the woman who thinks wearing a bikini top as a shirt will get her a ticket to Hollywood; not the person whose Broadway theatrics are all wrong for the show despite their aspirations to be the next Kelly Clarkson. No, Derek and David Bacerott are the guys who won't shut up. And the ones who have no idea how obnoxious their incessant babbling really is.
The duo steps up to the plate to sing "Let Me Love You" like an Elvis Impersonator with the midday shift in Reno and his quieter, less-interesting brother. When Mariah does her best to tell them it just isn't working for them, they lobby like this is a show about who can shout the loudest (which, to their credit, is how the first two episodes of the season went on the other side of the judging table) instead of one about who can sing the best. First, they tell the panel they're mean, then the boys get their dose of false niceties and they insist that the judges stop lying to them. Look, bros. What you really want is for the judges to rewrite the laws of musicality, sound, and the way we perceive voices to make it seem as if you are fantastic singers, but the truth is you're awful. And no amount of blame on "having to make money" as a reason for not being better at the one thing they are supposed to be good at when they're in a room with Keith, Randy, Mariah, and Nicki is going to make them not awful.
And the switcheroos continue when 25-year-old Savannah Votion takes the mini-stage in a sequined tube top, unflattering low-rise jeans, and a belly button ring, and it seems that we're in for another overconfident train wreck. But then comes the story: she had a daughter when she was 19 and she's been a single mother working hard for her daughter ever since. Now, she's ready to take a chance for herself and with her take on "At Last" she's at least got a pretty good shot at making a dent in Hollywood. However, I hope for her sake that someone helps her with a look that is less distracting. While we're looking at her poorly-chosen wardrobe, she's actually wildly talented. Appearance isn't everything, but being a singer is being a part of show business, and in show business, every last detail is a part of who you are as a performer (just look at Nicki).
After an embarrassing few minutes with Ricky Jo Garcia who turns "And I'm Telling You" from Dreamgirls into a pile of mushy, rusty old nails (if that's even a thing that's possible), we're thankfully delivered into the vocal graces of Cristabel Clack, a worship leader taking her last crack at the Idol stage before she turns 30 and is no longer within the age range. As she sings "If I Ain't Got You" by Alicia Keys, her husband holds her sleeping child outside (cue the unstoppable "oohs" and "awws"). Clack doesn't have the strongest voice we've seen, but both she and her voice have something that's a little more important: character. It's a little shaky, but for the most part, Clack has the unique crackle and tone of a potential star. Plus, she's already got the bold look going. She's so arresting she even keeps Randy from making sense (oh wait, that's to be expected, but this quote is kind of great, so go with it): "You to me are what the whole thing is about with the singing." You tell 'em, dawg.
In between segments that should just come out and say, "OMG DID YOU KNOW THERE IS AN IDOL APP? DID YOU GET IT YET BECAUSE IT EXISTS AND IT'S FROM AT&T AND IT'S THE BEST AND WE'RE DEFINITELY NOT TALKING ABOUT IT TOO MUCH," Randy takes his dawgy self out to meet another audition nominee, Ann Difani, whose husband has Randy surprise her on the field during an Arkansas football game. She sings "Stronger" by Faith Hill and it's sweet, man oh man is it sweet, but Ann is, unfortunately, duller than Keith's commentary. Still, the judges are charmed by the love story between Ann and her husband and cuteness of it all and she's sent through to Hollywood. She's sweet and all, but I'd eat the grass straight off that Arkansas football field before I'd bet that she'll make it through Hollywood week.
But the boredom doesn't stop there. (Hurray?) Victoria Acosta, who works as a mariachi singer in San Antonio, tries to transfer those skills to pop music with "Big Girls Don't Cry," but winds up falling absolutely flat. She's technically got the goods, but there is nothing behind any of the lyrics that come out of her mouth. Randy is kind enough to let her sing a mariachi song and she lights up, but this is a competition in which the singers perform pop music. If she can't make us believe her as a pop singer, then she doesn't belong on that stage. She'll still get her shot in Hollywood, however.
This week's movie prefaces one of the judges' strangest decisions: Band of Outlaws makes use of old film look and a series of headaches so strong not even a painkiller the size of Keith's Texas cinnamon roll can fix it. Luckily (I think), Papa Peachez (that z is important, you guys) drops in to declare himself a "big black woman trapped in a little white boy's body" and put on a bit of a show for the judges. His voice has some strength and something of a unique quality to it, but he's not ready. He needs more work. Nicki loves his individual style and the bravery he exhibited by playing an original song (he declares that he hates to singing covers despite singing covers being the actual bread and butter of the competition). Keith and Randy rightfully turn the kid down until Nicki lobbies Randy so whole-heartedly that she gets him to change his mind. Sweetie, you may have won that small victory, but this kid isn't going to make it very far in this competition.
As San Antonio auditions come to a close, we meet two miracle singers. First up is Sanni M'Mairura whose parents are from Kenya and Tanzania. The kid is also a choreographer, and if being cute as a button isn't enough, he lists one of his goals as becoming a good role model. Let's just make him famous right now. To boot, he's actually really great, delivering "Who's Loving You?" by Michael Jackson like a strong singer with a twinge of the Bieber nasal syndrome, but with much more capable pipes. He has Nicki seeing stars and rainbows and Randy thinks he's "fresh," so of course this cute kid gets a golden ticket.
Next is the surprise of the night. Adam Sanders, who belts out "I'd Rather Go Blind" by Ella Fitzgerald to such incredible effect that the whole panel gives him a standing ovation. His sweet, strong and somewhat feminine voice comes out of nowhere, and it hearkens back a bit to Adam Lambert's high tone.