'American Idol' Recap: The Winner Is…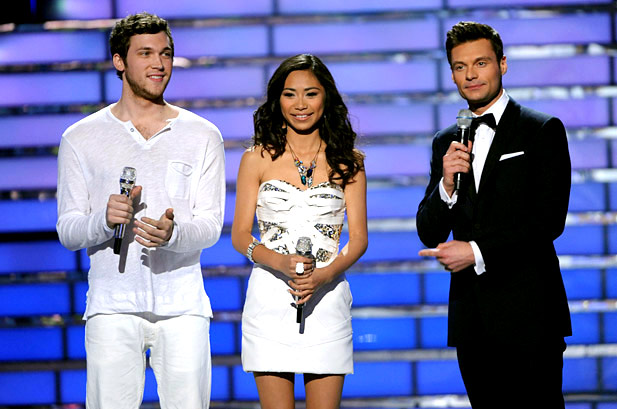 I predicted it. You predicted it. Even Charles H. Duell could have predicted it. In fact, all were so sure that a Phillip Phillips win was on the horizon, I wrote this first paragraph before American Idol's finale even began.
But it turns out it's true: Our laid-back growler Phillip survived the pain of kidney stones and the torture of awkward group performances to be crowned Season 11's American Idol. And though he might be the unconventional choice (despite the prevalence of rock-inclined male winners of the past), it was a deserved victory — the singer only experienced one vocal setback, "Time of the Season," and is the only Idol since Kelly Clarkson and Fantasia to make a victory song even slightly listenable. Sorry, Jessica Sanchez. Broken Hearts go to this link.
But you'd be cold-hearted to not love the finale's final moments, during which an overcome Phillip was reduced to happy (or relieved?) tears, unable to sing more than a verse of his first single, "Home." It's a great reminder of the artist's dedication — no matter how many funny faces or sardonic comments he makes at Ryan Seacrest, Phillip Phillips was hopelessly devoted to Idol. Just as much as at least half of 132 million voters were to him.
No doubt, however, the singer has a struggle ahead of him. It's no secret that Idol's male rockers have tried hard to tow the difficult line between rock legitimacy and being on a reality series that forced them to dress in funny costumes to shill Ford's latest model. Of course, luckily (or unluckily) for Phillip, his poor health forced him to skip most of the Ford Music Video shoots, sparing him any future humiliation, but few in his position and genre have surged onto the music charts like Kelly Clarkson and Carrie Underwood.
That said, it certainly doesn't hurt that his first single is far more listenable than other victory songs of seasons past, which tended to focus too much on rainbows (David Cook), dreams (Kris Allen), and childish grammatical errors (Scotty McCreery), concepts that don't quite meet Daughtry-esque standards. Instead, "Home" is actually a radio-ready track, something you would feasibly want playing in the background this summer as you sit barbecuing burgers and drinking Old Style Genuine Draft.
But Phillip's inability to sing more than the first minute of his new track wasn't the only proof that the finale wasn't about the music after all: Though the series' finales typically serve us an Idol ice cream sundae — mixing together all the best elements of all the season's best singers, with a celebrity guest singer cherry on top — Season 11's bow served us a popsicle, offering plenty of non-musical stickiness that was no less delicious to ingest. I'm speaking first, of course, of the best surprise of the night: The emergence of diva catsuits. If there's anything I expected less than Phillip dressed up as a Marshall Applewhite follower at the outset of the episode, it's Fantasia and Chaka Khan rocking Jennifer Lopez's 2010 wardrobe. Look, I'm not a fan of body-snarking. And I'm hardly an expert fashionista, seeing as shirts covered in cat pictures occupied most of my closets until I was 15 years old. But not since Nutty Professor have I seen anyone so enthusiastic about Spandex. I hope I'm confident enough at 59 to dress like our "Tell Me Something Good" singer, but I sure hope I'm dead enough before someone slaps Fantasia's bedazzled Batsuit on me.
NEXT: Indecent proposalSo while Fantasia and Chaka Khan's wardrobe made it impossible to pay attention to the former's "Take Me To the Pilot" duet with Joshua and the latter's "Ain't Nobody"/"I'm Every Woman" medley with the women, it was impossible not to stare wide-eyed at another terrible/awesome non-musical moment: Idol's segment inside Steven Tyler's dressing room. Between the Playboy bunnies, the sloth, and the rocker's supposed sister aggressively making out with someone right in front of him, I felt like I had stepped into an episode of Mad Men through Roger Sterling's LSD-fueled psyche. Or New York's hottest club, Meth Nightmare.
But the night's most uncomfortably entertaining non-musical moment came courtesy of Diana DeGarmo and Ace Young, an Idol power couple I found out about just days ago, despite the fact that they've been dating for two years. (I'm enraged! Why do I not get such important inter-Idol dating news sent to me via text alert?! #CNNFail) Now, I'm as big an Idol fan as they come, and watching two alums get engaged on the finale stage is a bigger jackpot than watching Paula and Simon's Season 2 kiss on a continuous loop. Unfortunately (or fortunately for us viewers), Ace's proposal was the equivalent of a jackpot at Atlantic City's Trump Taj Mahal: As tacky as Tara Conner in daisy dukes. (Excuse me for a minute — I'm short-circuiting on metaphor overload. Beewwwwwwwwop! Okay! Rebooted!) It's true every woman wants a romantic proposal set in a meaningful location, but, last I checked, "Will you marry me?" typically isn't paired with, "With the help of David Webb jewelry… " Let's just be thankful it wasn't Coke, Ford, or Bravo? Aww, shucks, I'm still a sucker for Idol romance — good luck to those kids. Here's hoping they have a long, happy life, and many healthy babies who come out of the womb singing "I Don't Wanna Miss a Thing" or "Against All Odds."
Of course, all these unexpected diversions only partly distracted from the fact that there were a few quality musical performances throughout the finale. Though Season 11's bow didn't boast the star power of seasons past (though I get miffed when big acts — ahem, Rihanna and, yes, Jennifer Lopez — show up to the reality series finale, only to not perform with any members of our Top 12), a few helped show off our young contestants' abilities. Take Reba McEntire, who sang alongside Skylar Laine while sweetly still allowing the young country hopeful to step into the spotlight. The two singers were nearly indistinguishable during "Turn On the Radio" — not only did they look alike, but Skylar managed to brandish an on-stage presence that rivaled the country star spitfire. No wonder our fifth place finisher dressed like a pirate — girl stole the show! (Not to mention outshined Season 10 runner-up Lauren Alaina, who boasted a "moment" with the song during semifinals. Yarg.)
NEXT: Diva Duel!And how could I forget the epic diva duel between 16-year-old runner-up Jessica Sanchez and Jennifer Holliday? Reba and Skylar's number might have been collaboration, but Jessica and Jennifer's was a friendly competition. There was no word that Jessica could enunciate that Jennifer couldn't over-enunciate harder. There was no note Jennifer could sing that Jessica couldn't sing louder. There was no hair Jessica could flip that Jennifer couldn't flip faster. It was thrilling; it was awe-inspiring; it was revenge against any voter who didn't call AT&T for Jessica. It was also aggression we haven't seen from Jessica in weeks. It's obvious the young contestant performs much better when she's actually having fun on the stage. Getting the opportunity to match vocal chords with one of her idols does more for her on-stage spirit than forcing her to rehash a tired Whitney Houston ballad for the umpteenth time. (Yes, "I Will Always Love You" repeat performance, I'm looking at you.) And how lucky was Jessica to go out on such a powerful note with Holliday? Idol's introduction might have insisted that both our final two's "stories will end very differently," but is that even remotely true? Last I checked, both Phillip and Jessica were a lock for recording contracts — and perhaps the young, sheltered Jessica is better off enjoying hers out of the high-pressure Idol spotlight.
But if Jessica and Phillip deserve contracts, so do Skylar, Colton — the only consistently on-key performer in the rest of the best — and Joshua, if only for simply shrugging his shoulders and moving on after an embarrassing fall during the Top 12's "Runaway Baby" group performance. (A number far more entertaining than the boys' ill-advised Neil Diamond medley. Diamond himself sounds so karaoke singing "Sweet Caroline," I couldn't help but immediately go on karaoke autopilot, getting up to go to the bathroom to bide time until the song was finished.) And Jimmy Iovine himself deserves a contract… to sit on the judges' table. Especially after learning that the producer consistently calls Jennifer Lopez "Jessica," we cannot possibly pass up the opportunity to watch the diva gradually fill with pent-up rage throughout the season. Idol, it's worth whatever number Jennifer's currently floating your way.
But there we have it — another season come and gone, allowing us Idol fans to finally get some Vitamin C and a life. That is, of course, until the American Idols LIVE! tour comes to our town… Ugh, I'm already going through withdrawal! Forget barbecues and the beach — is it January 2013 yet? But tell me, friends: Were you satisfied with the Season 11 conclusion? Or did Jessica's numerous appearances throughout the finale make her seem more worthy of the win over Phillip, who only sang with CCR's John Fogerty and, later, his runner-up? Does anyone else wonder if the living legends who agree to sing with our contestants feel peeved hearing the audience scream louder for someone else covering their own song? Are you jealous that Phillip somehow managed to get 10 hours of sleep and you didn't? Did Ryan's declaration that "We look forward to making many more memories next season" in front of the judges' table mean that Jennifer might indeed be returning to us in Season 12? Do you, like me, get angry when unpopular dark horses like Hollie Cavanagh get more singing time than unfairly eliminated musicians like Colton? Oh my god, remember Jeremy Rosado? Did you too have a five-minute conversation with your dad about how Dean Cain was not, in fact, on Early Edition? And, finally, what am I going to do now on Wednesday and Thursday nights?! Read books?! Help.
Follow Kate on Twitter @HWKateWard
[Image Credit: FOX]
More:
American Idol: Dream Duets For the Finale
Phillip Phillips Backstage at Idol: 'I Was Scared to Death'