'American Idol' Recap: There Ain't No Crying (or Fighting) in Baton Rouge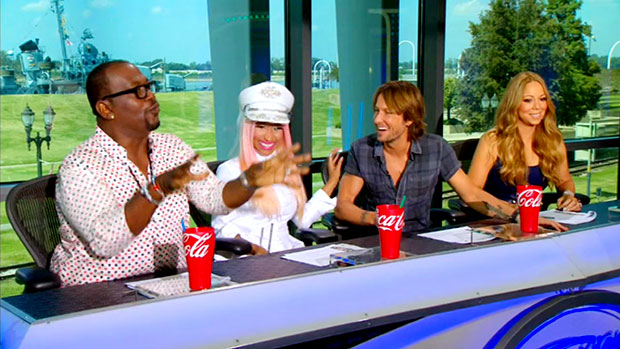 There's something about Louisiana. It's just a little hard to be down all the time, when you're in the "Home of the Dawg," Randy Jackson's own Baton Rouge, La. Plus, as Keith Urban points out, "All the good music is from the South." It's just a good time down in Louisiana, and during American Idol's fourth round of auditions, that much was clear.
There wasn't a moment of unrest nor a single sob story that dipped into the well of melodrama. It was simply an hour of goofy judge antics, good voices, and a few requisite unfortunate souls. (We're not reinventing the wheel, here.) It was just about as sweet as the smell of a crawfish boil on the Bayou.
First up, was Miss Baton Rouge, and the sign that things were going to be nice and easy in Baton Rouge. Megan Miller was in an accident just before her audition, but she doesn't spend much time feeling sorry for herself or milking her situation for sympathy. No sir. She's got surgery scheduled immediately after her audition, but she puts on her favorite heels, struts (as much as one can on crutches) into the judging room and shows off her natural, beautiful voice with a little dose of humor at her own expense (crutches make great fake microphones). She doesn't draw attention to the scrapes on her legs and arms, but instead tries to direct all attention to her voice (you know, that thing she's there to show off). Of course this girl is getting a ticket to Hollywood, but not because she made us get all misty over her hardship. She's going to Hollywood (after a successful surgery, to boot) because she's got the goods. Plain and simple.
But the talented people keep coming and their sad stories, while present, are kept in check. Seventeen-year-old Charlie Askew is socially-awkward. His parents joke that he's got Charlie Askew Syndrome because no doctor would diagnose the shy guy's social awkwardness. But from what we can see, he's just a sweet, shy kid. "I'm bad at communicating in a firsthand sort of way," he says with a laugh as America collectively sighs, "Aww." And that's all well and good, but when Charlie finally sings (a little of "Breakthrough" by Queen and a lot of "Nowhere Boy" by David Bowie), the last thing anyone is thinking about is the kid's social fears. His sweet, androgynous tone is haunting and lovely, especially when he takes on the Bowie song. It's a perfect choice, because as Keith notes, "The tone, it's not of a gender … like Bowie or something." Much like Kez Ban before him, Charlie brings a voice unlike any we've ever seen on the series, and one that could take us to a whole new place if sticks around past group week.
For Randy's mission, he's sent a hop, skip, and a jump down to New Orleans to the world famous Cafe Du Monde to pick up Maddie Assell (and hopeful some of those mouth watering beignets), a teenager on vacation with her grandmother, who's just nominated her for an Idol audition (and who happens to be the sauciest grandma ever). When she stops by the next day to sing her lil song, she chooses "Oh Darling," citing Beyonce, Adele, and former Idol contestant Haley Reinhart as her influences. She's certainly got her own sound though, and the raw goods, but her runs are out of control. She's definitely someone who figured out that she could handle some incredible flourishes in her singing, but she overuses her giftand it sounds a bit messy. Still, auditions are about raw talent and Maddie's got it, and a golden ticket. Now, let's just hope she brings her hilariously strange grandmother along for the ride so she can keep telling Ryan Seacrest things like "I want to kidnap you and take you home with me."
After a brief trip into the Idol producers' latest parody reel, True Bad (it even adds a sexy, dark filter to the action to give it the real dingy True Blood feel). Hey, at least they're trying to keep the tone deaf stretches of auditions somewhat interesting. Still, I imagine I would have liked to see the girl who made Randy scream (yes, scream) "NONONONONONO" and who walked out of her audition yelling "I DON'T UNDERSTAND WHY THEY WOULDN'T CHOOSE ME" like a murderous Veruca Salt.
Thankfully, that nonsense is followed with an adorable, gorgeous, talented guy: Paul Jolley. Idol attempts to make a background story out of the fact that Paul just lost his grandfather, but this is about as melodramatic as the episode gets. When he gets down to business, singing Rascal Flatts' "I Won't Let Go," it's clear we've just happened upon someone important in this competition. He sounds like a sweet, countrified Josh Groban, and with those eyes (that chin, that smile, those shoulders), he's what music industry experts might call a total jackpot. Here's to more from Paul come Hollywood week.