'American Idol' Recap: They Want To Break Free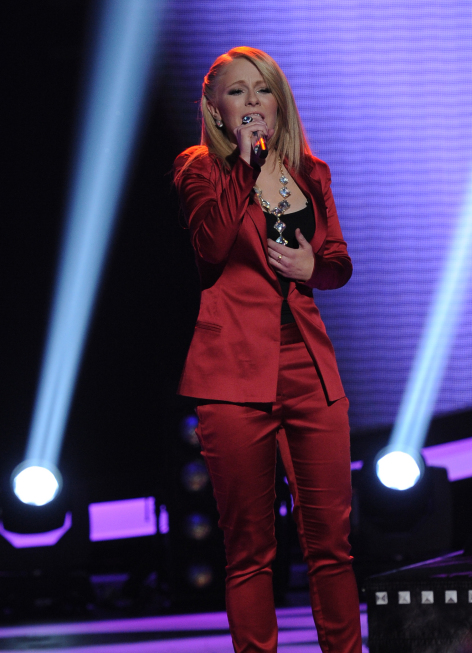 Year in and year out, the American Idol judges' panel claims the current crop of contestants is the best. Top 13. Of. All. Time. While it's most certainly up for debate whether or not season 11 is made up of the most talented singers — season 7 would raise Phillip a David Cook while season 8 would raise Joshua an Adam Lambert — it seems after last night that we're certainly looking at the smartest Top 13. Of. All. Time. While the remaining six contestants all presented viewers with perfectly enjoyable, tap-your-knee renditions of Queen's greatest hits, they also picked (with the exception of our dear magical pixie Hollie) more obscure songs for their personal choice number.
Jennifer Lopez might have thought this was a risky endeavor, but, then again, so is showing up to a televised pop culture event without Kelly and Michelle to wear House of Dereon alongside you. Or officially passing the People's Most Beautiful torch to Beyoncé via one of MC Hammer's old pairs of pajamas. Or going anywhere without your trusty sidekick R2D2. I can't stop. So… many… jokes about J. Lo's outfit. Help us, Tommy Hilfiger, you're our only hope!
But we can't say Jennifer was wrong to label the song choices risky Wednesday night. But we can say they were as smart as Hollie desperately pleading with a sympathetic audience to save her. If these past few weeks have proved anything, it's that American Idol is an unpredictable beast. But these past few years have proved it's also the biggest media outlet on which to showcase your talent and musical style. For our Top 6, Idol is not so much about winning anymore — it's about attracting a record label that will suit your musical needs and desires. Sure, Phillip, Elise, and Joshua could win performing lazy covers of crowd-pleasers like "Against All Odds," "I Have Nothing," and "Hallelujah," but what can you lose by showing viewers and record labels who you really are?
NEXT: Phillip Phillips: Master of The (Kidney) StoneFor example, take Phillip Phillips. During his first number — an aggressive rendition of "Fat-Bottomed Girls" that left his face so cherry-red, I thought he would pop, much like many girls hearing the words "Phillip," "cherry," and "pop" in the same sentence — I feared he might be walking into Jason Castro territory. After all, why not sabotage yourself on a series in which sensitive rockers have struggled following their respective victories? (I still love you though, David Cook and Kris Allen. And I still love to quickly change your iTunes version of "Treat Her Like a Lady" when I fear the stranger on the subway next to me is peering over my shoulder, Lee DeWyze.) But lest you think his choice to sing Dave Matthews was an attempt to mock his own reputation, just listen to his rendition of the aptly titled "The Stone." It will kick you right in the kidney. The song's lyrics even seem to atone to more lazy performances like "Fat-Bottomed Girls": "Oh, I've been praying / For some way to show them / I'm not what they see."
But the best part about Phillip is that — during most of his performances, like "Movin' Out," "U Got It Bad," and "Still Rainin'" — Phillip is what the audience sees. As Randy told the contestant in a rare moment of poetic lucidity, "Die, sink, or swim, Phil Phillips will always be Phil Phillips." We're talking about a guy who so refuses to change, he won't even wear a primary color. This isn't a contestant who will unwisely sing "Smells Like Teen Spirit" or "Proud to be an American" in an attempt to get votes — this is a singer who knows exactly who he is: A former pawn shop worker who can carry a tune as well as he can carry a large stuffed turkey. And nothing could be more attractive to a record company than an attractive singer who can attract a legion of fans through an already patented brand of music.
For Joshua Ledet, that brand of music is a little more unclear. Though the vocal powerhouse has become a judges' favorite via his gospel take on hits, he's realized he could find better success and marketability channeling the likes of Bruno Mars. It's a smart segue, and an effective one — though Tim Urban, David Radford, Taylor Hicks, and Fantasia tried before him, not one Idol contestant had delivered a semi-decent version of "Crazy Little Thing Called Love" until Joshua stuck his retro-soul stamp on the song.
Smart as he may be, though, Idol's judges have been rash in their judgments, doing the contestant little service leading up to the Top 5. Let me break it down for you: Twelve standing ovations. Twelve. Just how many solos have we seen from Joshua since the semifinals? Eleven, including Wednesday night's "Ready For Love," which, interesting a song choice it may be, hardly made me ready to get on my feet. Look, many of them were deserved, but the judges have been giving away standing ovations like a 2007 hipster gives away Juno quotes about China giving away babies like free iPods, Homeskillet. Not only does that turn off cynical Idol viewers looking for reasons to conspiracy theorize that Joshua is the target of judge favoritism (J. Lo literally telling Joshua that he's her favorite doesn't help), but it also makes it difficult for viewers to distinguish when we should really be blown away by Joshua. If every performance is special enough to receive a standing ovation, then, really, no performance is special enough to receive a standing ovation. You may want to give him "four checks" after every song, but, Randy, you've got to make sure you give him a balance of critiques.
NEXT: Boldly go where no one wants to ever go. Elise Testone might have evolved enough over the course of the competition to realize her strength resides in bohemian rock, but the contestant has yet to reign in her vocal style, just like she has yet to reign in her personal style. Singing in front of a ridiculous backdrop featuring the alphabet — the letters of which Randy furiously collected so he could later ask Joshua to sing them — Elise did rock out on "I Want It All," finding her niche with a groovy beat and a tambourine. Or perhaps she simply connected with the title of the song, since it's what she says every time she walks into a jewelry store.
But though her choice of Jimi Hendrix's "Bold As Love" was refreshingly, well, bold, her execution of the song just made us wonder how the singer got Badger from Breaking Bad to accompany her on guitar. We needed the distraction hearing the performance — otherwise, we'd be forced to listen to the sound of Hendrix rolling in his grave. Honestly, "Bold As Love" is a difficult song to tackle, but Elise pounced on it like she was at WrestleMania. She beat out all of the song's simplicity, turning it into a vanity number with as many runs as a Taco Bell bathroom. (SORRY!)
Surprisingly, though, on Wednesday night I wasn't running from Hollie Cavanagh, who all but sealed a slot in the Top 5 thanks to a little help from her friends the producers (pimp spot!) and a crafty choice of song. First off was "Save Me" from Queen, one of those songs that can either work for you — literally demanding Idol's voting fanbase to dial your number — or against you, placing you in the ranks of previous Idols with unfortunate cast-off songs. (Sorry, Charles Grigsby. Indeed, "You Can't Win.") Though I can't be the only one uncomfortable with watching Hollie sing the lyric "I'm naked and I'm far from home," which I'm pretty sure is the slogan for Four Loko.
NEXT: Hollie climbs?But as soon as Hollie was finished icily suggesting that Emily Thorne should stop dating her son Daniel, she changed into a fresh new wardrobe with a fresh new outlook to match. Typically, I hate contestants that sing the "I Believe I Can Fly" for the Twitter generation, but "The Climb" suited Hollie's tone, helping us viewers remember the singer who expertly covered "The Power of Love" back during Top 11 week. Still, Hollie is hardly powerful enough to reach Idol's confetti-filled summit, but this could help her climb the list of Idol's power players.
Especially when Jessica Sanchez seems to be inviting Hollie to fill her teen-friendly slot in the competition. Ever since the contestant flirted with elimination two weeks back, she has yet to show us the return of that perky performer who somehow sucked in the maturity of a 50-something diva and channeled it into jaw-dropping performances like "I Will Always Love You." (As my trusty Idol companion and mother said, "I feel like she got whipped and has no spirit in her heart.") Despite the fact that Queen's music somehow seemed to suit Jessica's voice best — she sang circles around the rest of the Top 6 during the beginning group number — the contestant couldn't quite deliver the proper drama needed to perform "Bohemian Rhapsody." And that's despite all the bells and whistles — the odd black-and-white footage, the backdrop that resembled a terrifying meth-induced nightmare… it all failed to even add up to the admittedly horrible, but no less entertaining, versions of the song we saw from the likes of Kellie Pickler and Constantine Maroulis (and paled in comparison to Michael Johns' Hollywood version in season 7).
Of course, she made up for her lackluster "Bohemian Rhapsody" with a version of Luther Vandross' "Dance With My Father" that had Grammy Performance written all over it. The gorgeous dress, dramatic lighting, wind machine that has gotten so much play, it might as well be named the seventh contestant — not to mention the vote-friendly family story behind her choosing the song. That said, though many might feel sympathy that Jessica's father is being deployed to Singapore, she may be in danger of real elimination Thursday night. Not only because she was forced to sing in that cursed No. 1 slot, but also because the judges were less enthusiastic than Brian May at an Ace Young concert. In fact, even though J. Lo claimed Jessica's "Dance With My Father" was the best version of the song she had ever heard, the trio failed to give the singer anything close to a standing ovation. Perhaps that's just because they're saving it for next week for when Joshua sings LFO's "Summer Girls."
And last, but most definitely not least, we have Skylar Laine, perhaps the smartest contestant of all. Who doesn't reach for the pre-sale button knowing the contestant has a song under her noose-covered belt called "Diamond-Studded Pistol"? What religious Colton Dixon fan doesn't shift their votes to Skylar after hearing she has a God-inspired tattoo? Who doesn't turn up their televisions hearing her bursting version of "The Show Must Go On," which came refreshingly devoid of the emotional histrionics reserved for most big Idol numbers? And who doesn't have a hard time believing that "Tattoos on This Town" is actually a Jason Aldean song, and not a Skylar Laine original? Any other year, Skylar would be considered a favorite to win the whole shebang, but, with Joshua clinching the judge support, the young country star in the making might have to settle for being Idol's dark horse. Still, I have a feeling this dark horse could ride straight into the finale, diamond-studded pistol in hand.
Readers, who do you think is the smartest Idol left? Was it not-so-smart for Hollie to accidentally call Skylar "thick-boned?" Was it nice to see Brian May and Roger Taylor back on Idol, especially when they're not yelling at Ace Young? Did you wish Jimmy Iovine was around Wednesday to wear hats and coach contestants into choosing the wrong song? Why did Randy choose to talk when the pin on his jacket, "Yo," could have pretty much done all the work for him? Was it not adorable watching Julianne Hough's Phil Phillips crush be revealed — and then seeing her mouth "Oh s**t!" realizing cameras were filming her embarrassment? Can Ryan rock a pompadour? Is there any answer to that question besides "No"?
Follow Kate on Twitter @HWKateWard
[Photo Credit: FOX]
More:
Ryan Seacrest Re-Ups with American Idol: Why We're Thanking Our Lucky Stars
American Idol Recap: Wasted Opportunity