'American Idol' Recap: Top 10 Chosen With Surprising Elimination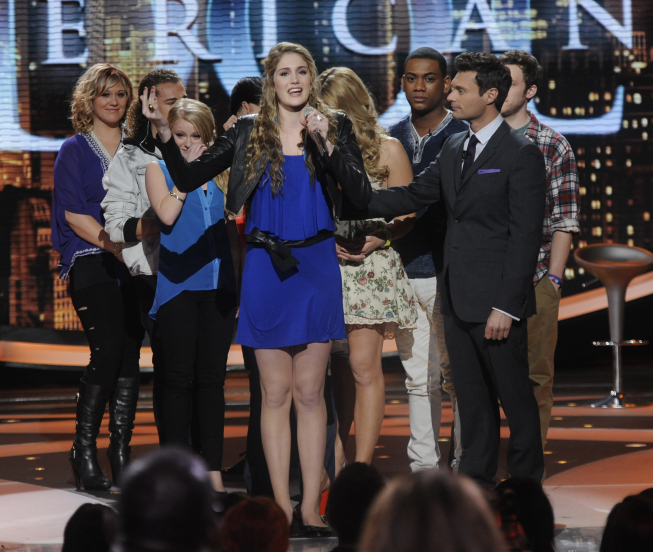 It's true that on American Idol, anything can happen. And the latest episode not only determined the top 10 singers, but the set of performers joining the Idol tour this summer. One young woman lost her shot at the illustrious summer vacation.
This week's elimination round found Elise Testone, Erika Van Pelt, and Shannon Magrane in the bottom three. Two of these ladies don't deserve to be there, but they sat in suspense nonetheless. Finally Ryan Seacrest announced that both Elise and Erika were safe, which meant the last person we'd expect to be eliminated, Shannon, was sent home.
She did get the chance to sing her swan song for the judges on the off chance they decided to use their save on her, but alas they're holding that priveledge for another day. Still, the elimination seems a little out of left field. It's not to say that Shannon didn't have her share of issues – she often went off key and off base in her live performances, but it didn't seem likely that America would ditch an adorable, All-American young woman. They would most likely keep her around until they used up all her potential, but while girls who had gained less traction stayed on, the issues with Shannon's voice became a little more clear.
It's not that the girl can't sing or that she's bad at it; she's got a very sweet voice and it's obvious when she sings that she's got some serious potential. It just seems that Idol's audience isn't willing to wait for her to realize it. Her voice certainly has a quality of inexperience, though her pipes are well beyond her years. I would have thought that audiences would have had more trouble understanding Erika Van Pelt, but perhaps Shannon was too straight forward to nab a real section of the audience.
The real shock was that a few folks like Heejun Han narrowly escaped the bottom three, and in my opinion (as much as I love him) Heejun deserved a low spot. It's times like these that we must remember Idol is a popularity contest: the best singer may not always win and at this point, we should accept it. Still, Shannon's elimination over folks like Heejun is mind boggling.
Do you think Shannon deserved to go home? Or would you have sent someone else?