'American Idol' Recap: If You're Not Voting For These Ladies, You F**ked Up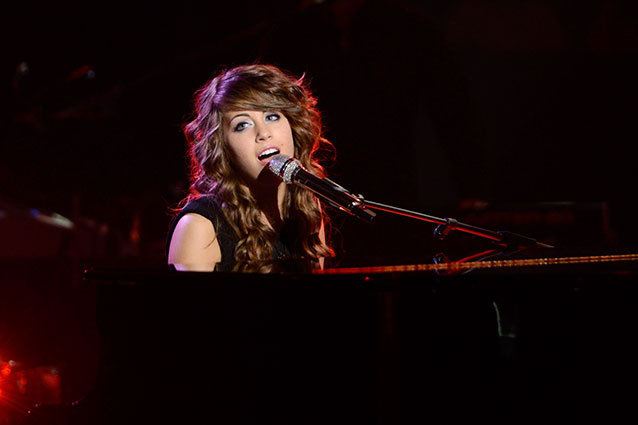 I should probably start crocheting little potholders and scarves and baby booties that say "the girls on Season 12 of American Idol are uh-mazing" because I seem to reiterate my case week after week. But hey, friends. The ladies of Season 12 are amazing.
Case and point, Miss Angie Miller (who until recently was going by the less-cutesy Angela Miller). She bravely took on Season 11's piano man Colton Dixon's song, "Never Gone" and between her return to the grand piano and her ability to make it all her own, Angie got right back into that sweet spot that shocked everyone during the girls' Hollywood solo night. She's vulnerable and passionate on stage; it's impossible to not connect with her every word. Keith says she's a true artist and nothing could be truer. If you're the type of Idol viewer who votes and you haven't voted for Angie, you are doing something wrong. She. is. incredible.
RELATED: Can We  Trust the 'American Idol' Judges?
On the flip side of Angie's beautiful performance is the return of Zoanette Johnson, who won over a few fans with her unconventional rendition of "Circle of Life" last week. She chose "What's Love Got to Do With It," a song that would be the kiss of death for almost any contestant as it's impossible to do it with the fervor of Tina Turner and without sounding dated. And while Zoanette is always a little off (that's her thing, after all) this performance was nothing short of terrible. She's got a voice on her, but it's not trained at all. After seeing what a lovely person she is with the other contestants, I want to like her, but she's not polished enough for this competition. I truly believe if she let someone (that's right, if she allowed someone) to act as her vocal coach, she might be able to rein it in and become something special and perhaps that's why the judges have kept her around, but there are simply too many phenomenal singers to wait for one of the women to play catch-up.
On the good side is Breanna Steer who takes on "Flaws and All" by Beyonce, and while she delivers a flawless performance, she sounds a little too much like a Beyonce impersonator instead of Breanna, the hot new singer we can't wait to hear more from. Of course, Randy's on her case about "moments" (WHERE R THE MOMENTS, GRL?), but it's more than that. She's yet to differentiate herself from the artists she's covering, and there are too many good singers for us to not understand her perspective at this point in the competition.
As for the girl Nicki Minaj has referred to as our baby Beyonce, Aubrey Cleland, she misstepped a tad this week as well, singing "Big Girls Don't Cry" by Fergie. She's got a strong, sweet voice. She's gorgeous. She's got great style. But she never, ever moves around the stage or commands the space. It's clear that she's young and a little unaware of what to do when she's up there. (Season 11's Hollie Cavanaugh part deux, anyone?) But, for this point in the competition, she's great and clearly has vocal talent above many of her peers (especially when you lump in the guys).
RELATED: 'Idol' Has A Big Problem
Call me crazy, but I don't get Janelle Arthur. She sings "If I Can Dream" by Elvis, yet another dated song that's not helping her to feel like a genuine singer with any real perspective. It feels like a high class karaoke contest and not someone who I could see compelling anyone to buy a ticket to a show or an album on iTunes. To make matters worse, the girl isn't even flawless; she goes off pitch multiple times during the Elvis tune and yet the judge simply sing her praises at the end. Well, I'm sorry, I'm not buying into Nicki's little living marshmallow that she wants to eat.
Another woman making me feel crazy is Tenna Tores, whose tone during "Lost" by Faith Hill is far too shrill for my tastes. She does have the ability to draw viewers in, but I cannot get into the quality of her voice. Perhaps there's something going missing between the stage in Vegas and my perception on the other side of the television, but it's simply not working. All I could think about was when the song would end and how much her friends must have paid her to wear a dress that made it look like she has huge orange breasts with oversized blue triangle nipples. The judges generally love her though, so maybe she'll make it through and I'll understand why they find her so compelling.
Last minute favorite Amber Holcolm is starting to worry me. Much like her last performance of "My Funny Valentine" this week's "I Beleive in You and Me" by Whitney Houston was impossibly dated. Underneath that, Amber has a fantastic voice and her effortless rendition of a Whitney song is not something to be ignored. She's clearly got amazing talent, but she needs guidance. Hopefully, voters agree with Randy, who gives her his first "in it to win it!" of the competition, and they vote for her to continue on. Maybe Jimmy Iovine can mentor some sense into her.
RELATED: 'American Idol' Finds a Frontrunner?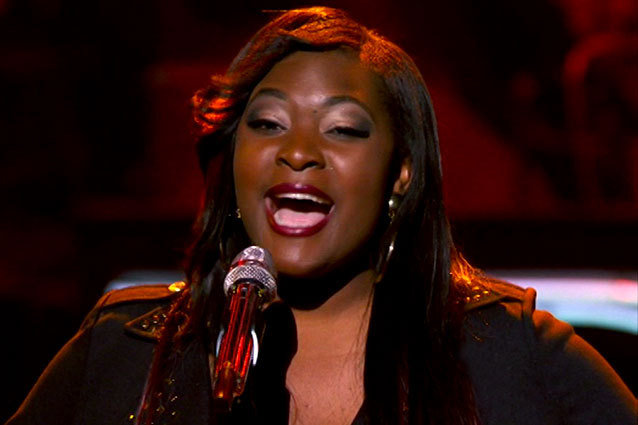 And if Angie Miller is my number one, Kree Harrison is my 1.5, and this is coming from a life-long country music hater. Kree sings "Stronger" by Faith Hill (who is the accidental sponsor of our first live show, apparently) and where Janelle is good at playing "sweetheart," Kree swells with a sense of genuine sweetness (oh, and she's an incredible singer too). Her voice is stronger and she feels like someone who truly feels what she is singing, whereas Janelle feels like someone who knows what she should be doing to be perceived well. And it's this genuine nature (one might suppose) that enraptures Nicki enough to nickname Kree her "wife." Hey girl, just go with it. (It means they like you, they really like you.)
Following Kree, as if by some cruel twist, is little Adriana Latonio from Anchorage, Alaska. Sorry, people of Alaska, but this year is not going to be your year to make it to the top 10. Adriana's performance of "Stand Up" by Destiny's Child is dated, pageant-like, and she lets the song completely wrestle her. She clearly knows that the judges liked her big notes two weeks ago, so she's brought them back in full effect here, but there's nothing engaging about it. She's a classic victim of "well, I've got the voice, so I should win" syndrome. The thing about getting people to buy records and find any reason to engage with artists is that sheer vocal ability isn't enough. You have to be the total package, or you may as well waltz on home.
RELATED: Ryan Seacrest Defends 'Idol' Judge Nicki Minaj
And that's where my other favorite (yes, I can have three; Ryan Seacrest's voiceover said so) comes in: Candice Glover (above), you are MY GIRL. Not only did she sing John Legend's wonderful tune "Ordinary People" but she absolutely killed it. She's fantastic. Tender. Beautiful. Genuine. Basically, I love her and she is perfect. I am a little worried because Randy invokes the concept of the wild card, saying he's going to need it for her. Does that mean voters aren't engaging with this fantastic, talented singer? What more do they want? A solid gold Seacrest riding one of Daenerys' dragons? Candice is a total package, folks. Let's not waste this opportunity to reward her for it.
Of course, Wednesday night will deliver the boys, who will undoubtedly appeal to all the lusty moms out there and their boy crazy daughters. Thursday will come and we'll see far too many talented ladies go home while the guys undeservedly rake in the votes to overtake them. I'm not generally and advocate of forging ballots, but Seacrest, is there something you can do to make sure America doesn't screw the pooch on this one?
Follow Kelsea on Twitter @KelseaStahler
[Photo Credit: Michael Becker/FOX; FOX]
---
From Our Partners:


Seal Is Dating the Pink Power Ranger: Report (Vh1)


60 Celebrity Bikini Bodies: Guess Who! (Celebuzz)