'American Idol' Recap: The Girls May Have Reason To Worry After All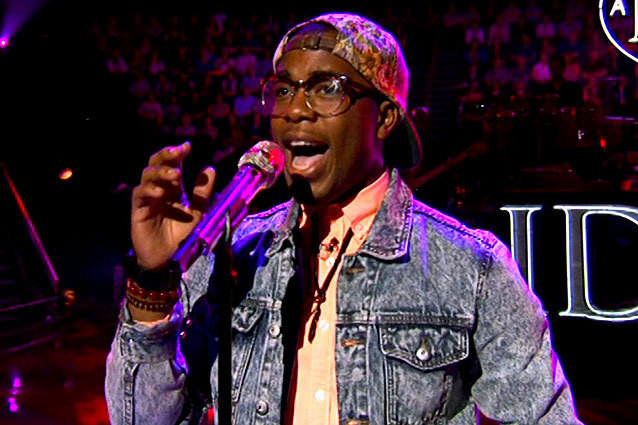 Apparently the guys were listening. The Top 10 men on Season 12 of American Idol stepped up their game in a big way after witnessing the women's incredible set of performances. Of course, for many of our guys that simply means they gave a better performance than the last time, but that they still fall far below the bar of excellence set by the ladies on Tuesday night. But for a few others, that bar is not only within their reach, but within their grasp.
I would like to preemptively declare that no matter how high my praise is in the remainder of this recap, I still want a woman to be the last one standing in that confetti shower at the end of the season. Still, the second half of the guys' Top 10 was a set of potential winners, from Burnell Taylor to Devin Velez to (reluctantly) Curtis Finch, Jr. But before we get to the goods, we've got to wade through the rest.
RELATED: 'Idol' Recap: The Girls Are Killing It
Someone I hope isn't anywhere near that confetti downpour (sorry, kiddo) is young Elijah Liu, who's giving us more of the teen sensation schtick. This time around, he chose a better song, "Stay" by Rihanna, and he sounds much more comfortable. Still, there's nothing about it that doesn't feel like some lucky, cute kid who wound up with his face on the screen. He's nothing special among the others. Nicki says she could see his face on cups and blankets, but Randy is bored. Mariah is too, but says producers can spark him up a bit if he makes it through. I'm sorry, that's what a mall contest is for, not a national talent competition like American Idol.
And trucking right along in that category is Cortez Shaw, the sexy guy who can never seem to hit the right spot. This time he sings Bruno Mars' "Locked Out of Heaven," and it's a good song choice, but he's simply hitting the vanilla Bruno Mars nail on the head. His vocals aren't perfect and he needs to do something to make it feel like he's an artist and not just a guy who can sing really good covers of a bland pop artist. The best compliment the judges could scare up was that his dancing was "dope." Take that as you will.
Next is poor little Charlie Askew, who's truly overstayed his welcome on this show. He tries on "Mama" by Genesis, and it's pretty terrible. I like him, I really do, but his vocal is strained. He's not marketable. He's lost his weird little touch and traded it in for an aggressive, angry, disjointed performance. Nicki is distraught at the loss of her weird little "baby" and while the rest of the judges deliver honest commentary, sweet little Charlie starts to crumble. It takes all Ryan's cheery strength to keep Charlie in good enough spirits to continue his show for the cameras just a little bit longer. While artists certainly need to be sensitive, there's an element of endurance in this competition and it's not possible when the slightest moment of honest cripples you. Sorry, Charlie. Your time is up.
But as inappropriate for this competition as Charlie is, at least he's not as boring as Nicki Boddington. Nick chooses "I Just Want You To Know Who I Am" by the Goo Goo Dolls, which is apparently one of Nicki's favorite songs. Yes, it's a perfect song choice for him and he's comfortable at the piano. The vocals were a bit spotty, but he connected. The only problem is that there's no way to sing this Goo Goo Dolls song without feeling dated. It's something the judges all pick up on: technically he's good, but can he garner enough attention to get votes? Probably not.
RELATED: Can We Trust the 'Idol' Judges?
The reward for getting through this pile of so-so singers is the engrossing Burnell Taylor. He reprises his original song from his first audition and it is fantastic. I'm going to go ahead and say it: I LOVE HIM. He's so sweet. So perfect. So solid. His song is straightforward, yet emotionally satisfying and truthful. This guy is an artist. He's got his own sound, his own look, his own style. His whole personality, his whole being is on that stage, it's something that other talented singers on this show lack. Burnell is the entire package, even up to the part where he comes with that unique special something we never could have anticipated. Burnell is magical.
Paul Jolley also has a special brand of magic, but nothing quite like Burnell's. Paul's magical talent is making us love him even when his performances are honestly rather flat. He sings "I'm Just a Fool For You" by Christina Aguilera and it's simply not that impressive. He's flat or straining throughout it and it's clear that he's pushing his voice unnecessarily. He wants to be the male Taylor Swift, and I don't think that's out of his reach, but every time he gets on stage, he's doing anything but what he says he's out to accomplish. It's clear he doesn't know himself, and the judges are appropriately muddled on the subject. But he's incredibly handsome and charismatic, and that never seems to hinder Idol finalists.
The charming continues with Lazaro Arbos, whose story has had us smitten since Day One has finally brought his performance up to the right level. He sings "You Know How I Feel" and it's the most natural he's ever seemed onstage. He's having fun, his vocals are strong, and for once I'm not thinking about how I should like it more because he's disadvantaged. But his stutter was far from anyone's mind during his best performance ever. I still feel like he's not able to get over that hump where all of his performances sound old fashioned, but at least he's finally bridged the gap between almost good and pretty great. Still, he's not necessarily right for Idol. Now more than ever, it's important that the acts on Idol actually fit into the music industry instead of just being singers who've got significant vocal tools. That's the edge that the show has: the ability to find stars that fit into the current music scene while its competitors simply focus on the judges. Lazaro is likely not going to help Idol keep that reputation.
Next is Curtis Finch, Jr. who brazenly chooses "I Believe I Can Fly" by R. Kelly. Yes, Curtis' voice is powerful and malleable and he's got uncanny control over it, but his choice to sing this song that's since become such an overused ballad is his personality in a nutshell: he's a self-absorbed showboat. And if his selfish behavior during Hollywood week hadn't solidified that notion in my brain, this audacious performance would certainly raise some questions. The judges give him a standing ovation, but the thing is Curtis cannot hold a candle to Joshua Ledet, Idol's standing O king. Yes, this is technically a good performance, and yes, he's got a good voice, but his lack of genuine gratitude is lacking. Curtis is wearing the face of someone who's grateful for what he's been given, but it feels false. He seems like someone who thinks he belongs there, as if it's owed to him, and while he preaches forgiveness we've already seen that he'll take down a fellow singer if they get in his way.
RELATED: Seacrest Defends 'Idol' Judge Nicki Minaj
Yes, he's earned a spot for now with his talent, but we like our artists up close and personal now, can he really get away with his faux-personality for long? I hope not, especially with people like Devin Velez and Vincent Powell in the competition.
Devin defies all odds with his rendition of a Perry Como song, "It's Impossible." He freshens up the old standard by singing part of it in Spanish like he did last week, and he's smoothed out the kinks of his later performance. The judges love him, and not just because he's got an adorable little bowtie. This guy's got it. Finally, we have the most confounding performance of the night.
Vincent takes the stage with Boyz II Men's "The End of the Road" and really connects to the song. He's got a few hiccups, but his overall performance oozes with authenticity. This song could be death, because like "I Believe I Can Fly" it could be a little too familiar, but Vincent connects so heartily to the song that it feels like it's completely his own and that these lyrics are coming straight from his heart. He's got an incredible range, he's got incredible stage presence, and he's an incredibly genuine person. It's the way he holds himself that exudes confidence with a layer of gratitude (unlike Curtis, who exudes confidence with a layer of this thing called gratitude that he read about once and he heard makes people like you). The judges all think his performance is off, though at least Mariah has the ability to point out that a bad performance for Vincent is still heads and tails above everyone else.
If I have my way, Vincent, Devin, Burnell, and Lazaro will stick around. Of course, Curtis will stay, but I'll have no part of that. Thursday night will reveal out Top 10 (five boys and five girls) and the real competition will begin. Of course the real reveal will be how close the judges' opinions are reflected by audience votes. Something tells me this set may be the most surprising we've ever seen.
Follow Kelsea on Twitter @KelseaStahler
[Photo Credit: Fox]
---
From Our Partners:


Seal Is Dating the Pink Power Ranger: Report (Vh1)


60 Celebrity Bikini Bodies: Guess Who! (Celebuzz)