'American Idol' Recap: Amber Holcomb Brings Nicki Minaj to Tears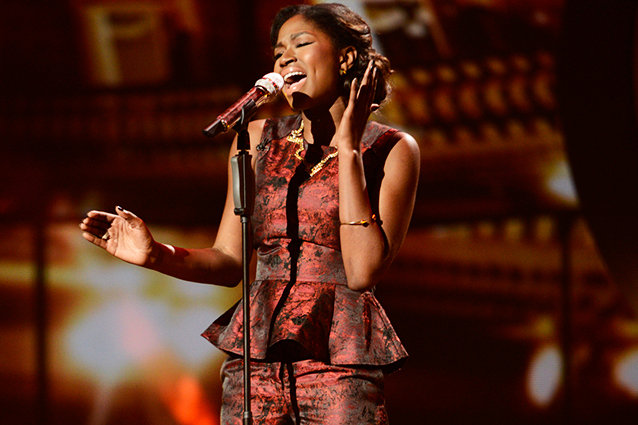 When I turned on American Idol Wednesday night, I fully expected to tune in and instantly worry that perhaps for the first time ever, the show was slipping and showing us a word unbeknownst to Idol purists: a re-run. And that's because after last week's big "twist" it was revealed that the Top 4 contestants would come back to the stage and get something of a mulligan for last week's missteps. That meant somewhat of a rehashing of last week's events and that bottom two contestants Candice Glover and Amber Holcomb were definitely safe for another week, and with Candice it was a huge relief. How she got there is still a mystery. With Amber, as talented as she is, the placement in the bottom two was less of a surprise. And that's why her incredible performance this week was so remarkable: In the eleventh hour, Amber finally showed us why she's here.
For all the hat tricks Idol pulled this week, what with Harry Connick, Jr. palling around with and mentoring the ladies to the weird Disneyland at Dark sideshow performance at the end of the episode, Amber's sudden redemption was the most dramatic moment of the night. And be honest, folks, who doesn't like an underdog story? One in which the girl who couldn't get a vote suddenly arrested all of our attention? No one. No one doesn't like to see that. Could it change Amber's shot at the competition? The chances are slim considering how set in their opinions voters tend to be at this point in the competition, but who knows? Maybe this twist will shake up the votes after all.
Amber certainly deserves that little sliver of hope. After her first performance of "Just Give Me a Reason" by Pink, fitting of the "Songs from 2013" theme, it was almost certain that Amber was through. She took the gift of a theme that would force her into a current-sounding box and with her pipes, it had to be a slam dunk. But she wasn't connected to the song, she was in her own head, and the song was a flop. Even Randy agreed. It didn't work.
But when she took on the "Standards" theme with a reprisal of "My Funny Valentine," she pulled out her game-changer. Despite not knowing the meaning of the song (something Connick took some time to help her understand), Amber eventually learned what the lyrics meant and brought all of that heart, emotion, and her inner being to the performance. Where her personality had been stifled and lacking for weeks, it shined in this performance, and while watching her dad get teary made us get all weepy, it was Amber's tears that worked their emotional magic on Nicki Minaj. Both women teared up, Nicki seemed to think it had something to go with the fact that Amber thinks she's the next girl to get cut. The sad truth is that despite this comeback, Amber could very well be correct in her fears and both hers and Nicki's tears may make a second appearance Thursday night.
Then there was Candice, who had a few hiccups with her choices last week, but still remains an absolutely amazing singer and absolutely, one hundred percent herself. For her first song, she chose to get a little risky and sing "If I Was Your Man" by Bruno Mars without changing the lyrics to work for her own gender. Connick was a little wary, but seemed to think she could pull it off, and she absolutely did. It became clear (as if it wasn't clear enough already) that Candice can sing absolutely anything and make it feel like the greatest, most Candice-esque song in the world. It didn't even matter that she is a woman, she's got the gift of carrying every word of that song like gospel.
And it only got better when she sang her standard, "You've Changed." This was the point of the show when I started echoing Mariah Carey and Nicki. There are simply no words for the wonderful moments of television, music, and performance exhibited by Candice during her song. It was absolute perfection. It stirred my heart. And if voters elect to put her the bottom two again, my wrath will be unmeasurable. Candice isn't in it to win it, she's just the best singer in the competition.
It's unfortunate then, that the Internet seems to think that Angie Miller has already won the competition because the judges love her so much. While the judges love Angie, they love Candice more. If we were going to look back through critiques, I guarantee Angie has had worse judging weeks than Candice. So why then, is Angie the frontrunner? She's cute, she's sweet, she's a good singer. Alright. What else? Her strange bossa nova version of "Diamonds" by Rihanna was great in theory, but in practice it doesn't really work. It's flat, it's not dynamic the way the original is, and there's no one moment of emotional clarity. It simply lies there, lifeless, and Angie seems wildly out of place without an emotional anchor to tie herself to.
But it didn't get much better when Angie picked her standard, "Someone to Watch Over Me." The song is incredible and if you haven't listened to Etta James' version in your lifetime, get it together and do it already. Angie attempts to make it her own; she plays with the tempo and worst of all, she brings along a band with big, sweeping music that washes over the beautiful simplicity and intimacy of the song. It was cheesy (borderline second-hand embarrassing). It was too much. And worst of all: it wasn't the Angie we bought into. She may hate hearing it, but we like the Angie who plays incredibly heart-wrenching songs on her piano. We're not about some PBS special diva in a silky dress.
Still, she's not the one in the worst shape this week. My beloved Kree Harrison fell down a few more pegs. First, she performed Carrie Underwood's "See You Again," which was sweet enough and showed off her vocal ability. She still had that uncomfortable twinge she's been accused of in recent weeks, but perhaps that was because she was sitting on a stool with Cute Idol Guitarist Man instead of being able to move around like usual. But that performance wasn't really the problem.
Her second song, "Stormy Weather," was not only a poor performance, it actually seemed to start a riot among the judges (and Connick). After an extensive mentoring session in which Connick tried to convince Kree not to use runs and vocal embellishments, Kree almost seemed to rebel against his advice. Suddenly, she's doing runs on every phrase, and perhaps Mariah, Keith, and myself were all swayed by Connick's critiques, but her clear rebellion was as noticeable as her ridiculously high heels. And it simply didn't work. Despite his spat with Randy on the subject, this time, Connick was right. Kree should have just sung the song straight (or Kree's natural version of "straight"), without all these fabricated runs that don't show off her voice or her natural ability. At a most crucial moment, Kree just took about three steps back while Candice and Amber took two giant leaps forward.
Who do you think is going home?
Follow Kelsea on Twitter @KelseaStahler
More:
'American Idol' Recap: Angie Miller Rises to the Top
New 'Idol' Judges Already? Ratings Are Low, But Don't Blame Mariah
'American Idol' Made Me Love Keith Urban
---
From Our Partners:


Miley Goes Braless for Magazine Cover (Celebuzz)


33 Child Stars: Where Are They Now? (Celebuzz)