'American Idol' Recap: Wasted Opportunity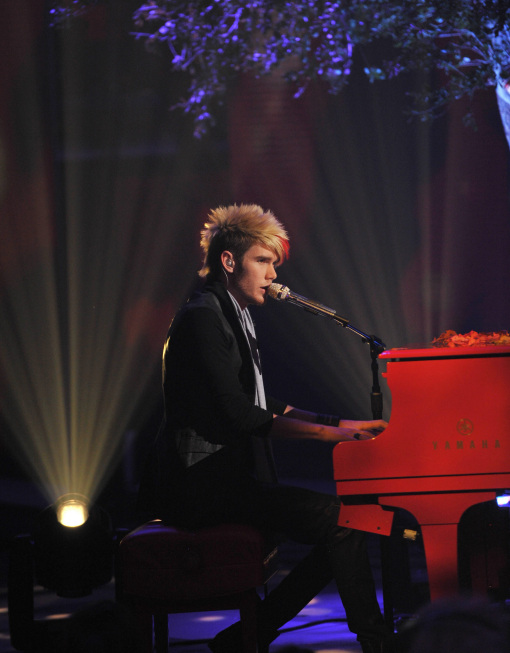 Look, I don't necessarily blame America. Colton Dixon was hardly at his best Wednesday night, delivering a cover of Lady Gaga's "Bad Romance" that was more bad than romantic, and a version of "September" that wouldn't encourage any new fans to fall.
And I can't blame Hollie's fans, even though they have inexplicably decided to keep her in the competition over the talented and radio-ready Colton, whose first bad performance this season was the night before his elimination. Yes, Hollie is adorable, and yes, she enjoyed her best performance in weeks Wednesday night with Adele's (sigh) "Rolling In the Deep." But she's a contestant that hardly deserves to be rolling with the Top 6 homies. (Sorry, that was way harsh, Tai.)
I can also blame the show itself. After all, it's only following his ouster that you realize how disadvantaged Colton has been in this competition. Despite the fact that he regularly turned in solid performances, he's only enjoyed the pimp slot once, during Billy Joel week. (And not giving the piano man the pimp slot when he plays "Piano Man" is as sacrilegious as claiming From Justin To Kelly isn't worth the $10 theater ticket. Wait, is that just me?) Elise, on the other hand, has been gifted the final performance slot a whopping three times. (That's quite a lot for a contestant who said Thursday she feels "discredited," disadvantaged, and picked on by the judges during the competition.) And Colton has hardly had the support of Randy & Co., who didn't give the singer a standing ovation until he sang his swan song. Not for his heartfelt "Broken Heart." Not for his melodic "Piano Man." And not for his reinvented "Time After Time." It's tough to swallow when you remember that Joshua received a standing ovation for a milquetoast version of a corny American Idol victory song.
But without a Judges' Save, we have to cope — and Idol must too. After all, though the elimination might have been deliciously dramatic, the season just lost one of its most consistent performers, second only to increasingly promising Skylar. (And one of its smartest performers — the well-spoken Colton boasted the best parting words of the season, telling the judges he will listen to their Wednesday night critiques and "when I'm making a record.") Now, instead of being able to dip into its eccentric prop closet for a crowd-pleasing Colton performance, Idol will have to make do with Hollie and Elise, two consistent bottom three dwellers whose staying power is so confounding, you might as well call them Syesha Mercado.
Still, Idol must not mind the contestants' presence, despite the judges' deservedly harsh critiques of both contestants. After all, why didn't the reality show follow through with its patented post-Judges' Save double elimination? That way, if we had to say goodbye to Colton, we could at least have enjoyed the silver lining of Hollie's ouster as well. So I can say that America got it wrong, that America has an infuriating tendency to keep cute but undeserving contestants singing straight into the finale. (Ahem, Lauren Alaina.) But Idol had its chance to at least bump the wooden Hollie — but inexplicably decided she was worth another shot. It's disappointing, but perhaps a visit from the cautionary tale that is Idol's favorite drunk uncle, Taylor Hicks, will encourage voters to actually send season 11's best and brightest straight into the Top 5 next week. That would certainly make me proud.
Angry about the shocking elimination, fellow Idol fans? Excited to welcome back Kris Allen — even if he was forced to play on Mark Jenson and Family's spinning platform? Did you, like me, find Ryan Seacrest's brief, but touching, tribute to Dick Clark Wednesday far more moving than Thursday's longer, more produced segment? Is Elise really "discredited" by the judges? And, finally, was LMFAO's performance of "Sorry for Party Rocking" one of Stefon's meth-infused nightmares?
More:
Elise Testone backstage at Idol: 'I'm not being rude.'
American Idol Recap: What's Now Is Then