'American Idol' Results: Burnell Taylor and Janelle Arthur Bottom Out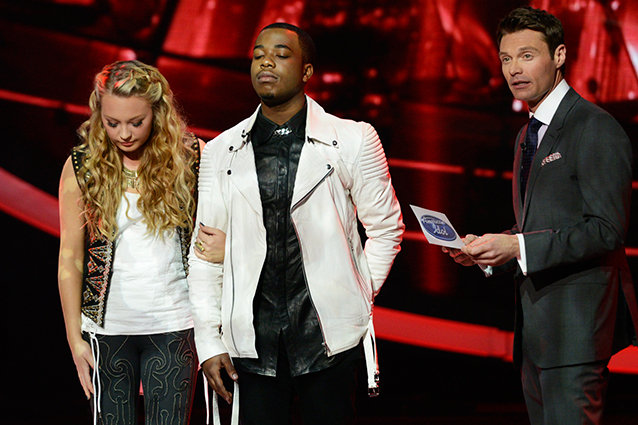 Lazaro Arbos isn't going anywhere just yet. Despite not quite measuring up to his fellow American Idol finalists, the singer managed to not only avoid the dreaded bottom 2 one again, he actually ranked in the top 3 of the Fox reality hit's seven remaining contestants. Instead, it was a visibly emotional Burnell Taylor who had to sing for his life. The 19-year-old didn't earn the unanimous decision he needed for the judges to enact their save, though, and will have to head back to Louisiana.
Idol has spent much of Season 12 toying with the format of its results show. The Top 7 edition saw a return to the ranking experiment producers tested out during Top 10 week, with the added bonus of the judges' top three contestants displayed for all of America on the giant Idol studio screen — much to Nicki Minaj's surprise. Keith Urban, Randy Jackson, and Nicki all chose different variations of Kree Harrison, Angie Miller, and Amber Holcomb for their Top 3 this week — and so did Jimmy Iovine — while Mariah Carey swapped in Candice Glover for Angie.
RELATED: 'American Idol' Results: And Then There Were Two (Boys)
America thought differently, though, voting Kree, Angie, and Lazaro (in no particular order) at the top. Candice and Amber followed behind, leaving Janelle Arthur and Burnell at the bottom. He must've known he'd be going home, especially after Nicki started talking about him as if he was already leaving and she'd already decided not to use the save.
Burnell gave it an admirable try anyway, touchingly singing India.Arie's "Ready for Love" to his fellow contestants, including BFF Candice his and newly revealed crush, Amber. Appropriately, he made Mariah cry during his audition, and the legendary singer almost broke down as he sang for his life. He capped off the song by giving the object of his showmantic affections a kiss as the camera cut away. Hey, they won't be reunited until the finale, so he had to make a move before he goes!
Jimmy Iovine was surprised at how terrible the song choices were this week, especially since rock and roll isn't that big of a departure from R&B and country, the preferred genres of the finalists. But perhaps if the contestants were able to get a little more creative with their song selection — if the theme weeks got a little more creative, for example — maybe he'd be happier with the creativity the remaining singers will likely exhibit.
What did you think of the results? Were you surprised Lazaro ranked so high? Should Burnell have gone home?
Follow @hijean on Twitter
[Photo Credit: George Holz/FOX]
---
From Our Partners


Hayden Panetierre Bikinis in Miami (Celebuzz)


Every Jurassic Park Dinosaur Ranked From Best to Worst (Vulture)