'American Idol' Results: And Then There Were Two (Boys)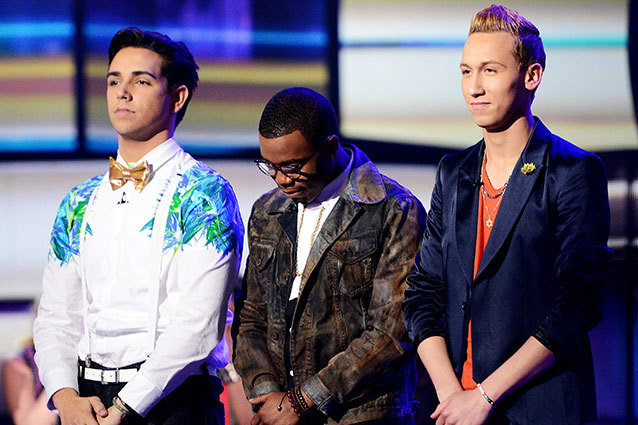 After making us wait 43 minutes of airtime to get even a whiff of results, American Idol delivered the most predictable cast-off: Devin Velez. Sure, it was nice to see Colton Dixon, Katharine McPhee, and dreamy judge Keith Urban perform, but not at the cost of seeing results on a results show. But eventually, the Chicago native was eliminated and failed to earn the judges' covetted save after being placed in the bottom three for the third time. 
Joining Velez in the hot seat were Burnell Taylor and Lazaro Arbos, whose charm seems to be waning with voters after his terrible performance last week and the subsequent lie about how much time he'd had to learn it. Burnell was immediately deemed safe, and he ran to celebrate with the top five ladies, one of whom is definitely taking home the title this season. 
RELATED: Burnell Taylor Says a Girl Will Win 'Idol'
And while we've all hoped a girl could have a real shot at the title this season, it's practically a cake walk for the young women in Season 12. While Devin and Lazaro aren't quite up to the task, Burnell is a wealth of talent and artistry whose potential means nothing as long as these five shiny ladies are onstage to win our affection. We wanted to see a lady win, but not at the cost of an interesting season. 
RELATED: Can a Girl Win 'American Idol'?
Of course, while the girls' domination is starting to get a wee bit boring, at least the voters' minds are starting to change in the case of Lazaro, who has shown his talent is no longer strong enough for this competition. If Devin can't hold a candle to these ladies (and he can't), how can anyone think Lazaro can? He's a sweet kid and I wish him well, but if he's safe next week while Burnell walks the plank, I will be one angry Idol fan. 
Follow Kelsea on Twitter @KelseaStahler
[Photo Credit: Getty Images]
---
You Might Also Like:


Topanga's Revealing Lingerie Shoot: Hello '90s!


13 Most WTF Fan Tributes