'American Idol' Results: Did Voters Eliminate The Right Singer?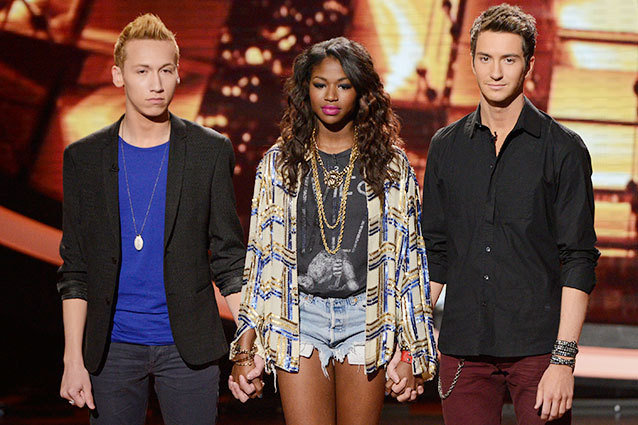 Paul Jolley isn't so jolly tonight. After being placed in the bottom three with Amber Holcomb and Devin Velez, Jolley was sent home with the least number of votes and no Save from the judges on American Idol's Top 9 results show. 
RELATED: 'American Idol' Recap: Lazaro In Trouble?
Jolley, while a sweet guy, was clearly deserving of his spot in the bottom three. If this was a show seeking Broadway stars, he'd probably still be around, but Idol is a place for pop singers and a current, contemporary hit maker Jolley is not. Besides, with the level of talent this season, there was simply no way Jolley was ever going to keep up.
And with the easy acceptance of Jolley's elimination comes something of a headscratcher. Amber Holcomb, who's got the voice of a future Whitney Houston, was also in the bottom three. She's got incredible talent and skill, she just needs a little help modernizing her style. She doesn't belong in the bottom three. Jimmy Iovine would reprimand all of us if he cared what we thought. 
RELATED: What Did Nicki Minaj Say When 'Idol' Bleeped Her?
There's one glaring reason someone like Amber got stuck in the bottom three and his name is Lazaro Arbos. After telling the judges that he was nervous on stage because he'd only had a day to learn the song, telling Hollywood.com that mean Internet comments took his confidence, and the judges blamed Jimmy's menacing presence, Jimmy defended himself on the results show, revealing that the taped segment with Lazaro singing the same Beatles tune he attempted on Wednesday night was filmed almost a week prior and pointing out that he's made even the biggest artists in the business nervous. Lazaro is out of excuses for not delivering top notch performances. 
But it seems voters can't separate his tearful story from his talent. So, he lives to see another performance day. I truly hope he turns into a singing butterfly and proves me wrong, but it seems he is no longer strong enough to keep up on the show. And with that in mind, even Paul Jolley didn't deserve to go home on Thursday.
Follow Kelsea on Twitter @KelseaStahler
[Photo Credit: Michael Becker/Fox]
---
You Might Also Like:


Topanga's Revealing Lingerie Shoot: Hello '90s!


25 Stars Before They Were Famous