'American Idol' Results: Ryan Seacrest Reveals the Big Twist & The Bottom Two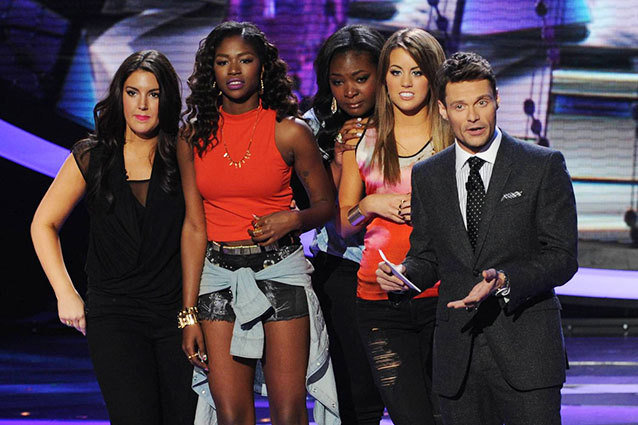 All week, American Idol has been teasing us with some collassal, unbelievable twist that we'll just have to tune in and hear from Ryan Seacrest's birdlike lips to believe. Then, the end of Thursday's episode arrived and so did the twist so incredible that Idol made us tune in because there's absolutely no way our little pea brains could have guessed it: The way they're dealing with the extra week of programming (thanks to the fact that the judges never used the Save) is by not eliminating anyone this week. Rivetting. Revolutionary. Absolutely not something we totally could have guessed a week ago. 
Granted, they did still give us some form of results: the bottom two and the top two. And in some twist that defies all logic, Kree Harrison survived one of her worst sets of performances on the show and nabbed a spot in the top two alongside the hashtag pow-level singer, Angie Miller. That means in the bottom two, we find Amber Holcomb, who continues to make song choices that confuse viewers, and Candice Glover, who does not belong there in the least. While it's a relief to know that Candice is in no way going home, it does mean we're going to have yet another week of "Who Chose the Best Song?" when all we want is to know who's getting that confetti shower.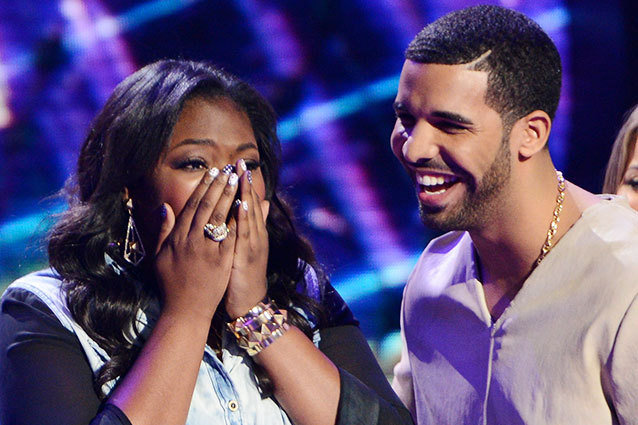 The episode did give us a few other reasons to tune in (like the impossibly adorable moment when Nicki Minaj called her friend Drake in to surprise Candice on stage), but mostly it had us shaking our heads and asking questions like: Why was Lee DeWyze performing? Why was he dressed like Marcus Mumford? And is he aware that he stole the chorus of his song from Phillip Phillips? Does Stefano Langone really need glasses or is the latest edition to the Urban Outfitters Fake Glasses for suckers club? Did Ryan Seacrest think that "whoops, I disappeared" joke worked? Did he know that line about polishing Tom Bergeron's Emmys sounded like a euphamism? And finally: Why the hell was voting last night? Were they a bunch of first time viewers who think that Candice's only performances were that of Drake's "Find Your Love" and that BeeGees song? 
With next week acting as somewhat of a do-over, we'd better see something that manages to keep us awake during that two-hour broadcast (and I'm not referring to stoking more jokey romance rumors between Jimmy Iovine and Nicki). And of course, Candice had better not find herself in the bottom two again, America. 
Follow Kelsea on Twitter @KelseaStahler
More:
'American Idol' Recap: Angie Miller Rises to the Top
New 'Idol' Judges Already? Ratings Are Low, But Don't Blame Mariah
'American Idol' Made Me Love Keith Urban
---
From Our Partners


50 Worst Celeb Mugshot Fails (vh1)


33 Child Stars: Where Are They Now? (Celebuzz)