'American Idol' Season 11 Premiere Recap: Savannah Auditions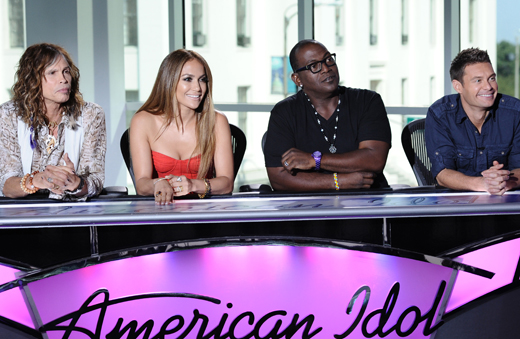 S11E1: American Idol fans are well-trained. We know we get these first three weeks to goof around and make fun of all these people who've made absolutely no impression on us. It's a mindless, carefree time. That being said, the Idol producers still try their darndest to weave in some sort of narrative in a process that inherently has none. We just accept it and go along, letting the multitudes of faces we won't start remembering until at least week five wash over us – except for one contestant I think could go all the way. In light of that, I'll try my best to make sense of the contestants from Savannah, Georgia. There were 10,000 people waiting to audition, but we only witnessed a small fraction – which is probably for the best. Now, in traditional Idol fashion, let's cut to the Florence and The Machine soundtrack and pump up the hope because it's time to review the more memorable contestants.
First up, we find a slew of 15, 16 and 17 year olds with serious chops as the producers remind us that these young contestants were 5 and 6 when Idol first came on, making most of us feel about 100 years old. We get two shoe-ins followed by a montage of other successes who we have no hope of remembering. In that case, we'll only regale with you details of the folks who merited their own segments.
"You like you're 12." –Jennifer Lopez
David Leathers, Jr.
17 years old
This little brat fancies himself a baller, saying his nickname at school is "Mr. Steal Your Girl." However, it turns out he's actually pretty fantastic. In fact, he was in a contest with Season 10 winner, Scotty McCreery, a few years back and they placed first and second. He sings "Remember the Rain" and he may act like a little douche, but he sings like an angel. JLo asks him to sing Michael Jackson and he sounds perfect. Clearly, all three judges send him to Hollywood.
"You nailed it; it was like 'Thank You God.'" –Steven Tyler
Gabby Carubba
16 years old
Gabby is a dancer and she's been an Idol fan since we was a little girl. Being that she's a dancer, she pulls something rather unconventional and asks if she can hug Nigel Lithgoe, who's always sitting off to the side. Her only other goal is for Steven to make his "love it" face. She sings "Sunday Morning" by Maroon 5, and she gets her wish. She has a sweet, little jazzy voice, but she'll need to stretch that voice should she get through to the finals. In the end, she gets a "yes."
But we can't spend the whole morning with perfect singer after perfect singer. The buck had to stop somewhere. And it came to a screeching (or should I say warbling) start with Jessica Whitely.
"Can I sing you another song?" –Jessica Whitely
"No." –Steven
Jessica Whitely
19 years old
This poor girl is the first to get her own video montage and background story without having the pipes to back it up. She claims to be the choice singer for her high school's pep rallies and football games. And it would seem her classmates are cruel. She attempts to sing "Endless Song" but she sounds like an injured frog that can't hold a note or keep its head from bobbing off of its shoulders. They even play the original version of the song against her terrible version and I would almost feel bad for how much fun the producers has at her expense, but then she goes and makes it all worth it. When Randy finally tells her it's a big fat "no," she tells him that she'll be back for the Texas auditions. That won't be unwelcome, ugly or unpleasant at all. Let's hope they've invested in some serious security for that round.
"Will you work for half of Ryan's pay?" –Randy
Sean Kraisman
26 years old
Apparently, there are plenty of people every year who think they are just like Ryan Seacrest, but this year one contestant managed to outdo them all. He claims to look just like Ryan, and while the physical resemblance is only slight (not to mention he should have bigger dreams than being a dead ringer for the Idol host) he manages to do a creepily accurate impression of Seacrest. It's just too bad that when he starts singing, he sounds like a terrible, over-confident karaoke singer. Maybe he should try to get hired for company picnics and kids birthday parties and forget that whole singing thing. Besides, he probably only tried out for the contest to show off his Seacrest impression anyway.
"Nerves of steel this girl." –Randy
Shannon Magrane
15 years old
This little lady wasn't amazing – yet. The 6 ft tall volleyball player and daughter of the former Cardinals pitcher Joe Magrane (who pitched in the 1987 World Series, long before she was a glimmer in his eye), has got the raw materials, but she seriously needs to train them. Still, she belted Etta James' "Something's Got a Hold on Me," which is admittedly a really tough song, as her mother, dad and sisters stood in a circle around her. It was a bit unconventional, but she seemed to be fine, even with the audience and the judges gave her a big ol' yes.
"I live in a tent in the woods." –Amy Brumfield
Amy Brumfield
24 years old
Thank God this girl can actually sing, because with the eccentric back story about her and her boyfriend living in a tent, for a minute I was worried that she was going to suck and that they were just cruel enough to use her story for its unique appeal. But her rendition of Alicia Key's "Superwoman" was delightful and powerful. She got a yes, but not before asking if she could camp behind the Idol mansion.
"I always get worried when they say they sound like Brad Paisley or Chris Daughtry." –JLo
"That's when you know they don't." –Randy
Joshua Davis
23 years old
After declaring his surefire success, he crashes into everything on the way in and screams like he's running from a band of hungry cannibals to "get out the stress." When he finally starts singing "I'm Yours" by Jason Mraz, it is confirmed: not only is he obnoxious, he's awful. He sounds like a sugar high 6 year old rough-housing with two other kids his age while trying to also sing a song. Randy's face says it all – he makes a clown face and jazz hands, bobbing back and forth like a demented Jack in the Box. JLo is so sweet – she calls him sweet and cute but tells him it's not what they're going for. He won't take no for an answer, but they finally get rid of him. The really sad thing is that all of his friends were there, and not one of them saw fit to be honest with him instead of letting him make a fool of himself.
What's your name, Sparkles?" –Steven
Stephanie Renee
15 years old
This next girl hopes to be a Carrie Underwood protégé. She's so obsessed with winning American Idol she's made homemade t-shirts – and we see proof in her handmade Idol scrapbook. She attempts "Inside Your Heaven" by Underwood, and she's not the worst, but she needs voice lessons. She's got an issue with singing through her nose, they try to teach her to open her mouth and sing fully. Randy rightly says "not yet," but the other two are won over by how cute she is. Ultimately, she ends up with a "yes."
As you can see, there is absolutely no discernable arc in this large, middle section, so we find Steven obsessed with his own hat. Then again, I would be playing with a hat that ridiculous too. And when Steven's hat can't entertain us, Idol is always willing to create drama where there is none. That's where a brother and sister from last year come in.
"Come on Colton, make us feel stupid for last year." –JLo
Schyler Dixon, 16 years old
Colton Dixon, 19 years old
Schyler and Colton auditioned last year, but didn't make it past Hollywood week, though honestly, I don't remember them. Schyler's back for more, but they create nonexistent sibling tension by insisting she brings her brother in so he can audition too. Schyler sings "Falling to Pieces" in a pleasant, raspy and jazzy voice –she's definitely an in. Colton 's performance of "Permanent" by David Cook is sharp in a few places, but they begged him to sing. They have to say "yes." You can't force someone to sing and then crush them. Both siblings go through, but they try everything to create a little rivalry – even having Steven only hug Colton and tell Schyler, "I'll hug you when you win."
"Goosies!" –JLo
Lauren Zinc
25 years old
Lauren is the first of the do-gooder contestants. She's the director of a program for adults with disabilities. She teaches them how to sing and makes all of us tear up with her story of how beautiful it is. Damn you Idol; you're such an emotional bully. Finally, she sings "Country Strong" and she's off key at times, but she's got such a strong voice with a little growl to it. Plus, she's gorgeous. Obviously, she gets a "yes."
Apparently the second day of auditions is really, really hot as evidenced by the montages of sweaty people pouring water on themselves. That awkwardness aside, the auditions are starting to get even more awkward.
"I'm from West Africa" –Mawena Kodjo
"Well that doesn't seem convenient." –Ryan
Mawuena Kodjo
25 years old
We knew from the second they started playing "Rhinestone Cowboy" in the background that this guy was going to be a bad egg. The poor guy sings a Rascal Flatts song, but he practically slashes it to pieces. The judges tried to be nice and tell him at least he tried, even if he was terrible. But he won't accept it, so Randy dares him to find people in the outside world who think he deserves a golden ticket. So he and Ryan really do it. Really. They find four little girls and their grandpa and they say like him, but it's still not enough. Cut to a snapshot of a senile grandpa, his four granddaughters posing with a delusional Idol contestant.
"Gitchie Gitchie kumaya-ya." –Steven
Ashlee Altise
23 years old
This girl is a bit of a nut, but she can sing, even though she spend most of her intro time distracting us with her invention: the joy hop. She does a little dance on the stage before singing "Come Together" wonderfully. She's a ham, and completely crazy, but she's got a full voice, so I'm interesting in seeing what she's like on real stage.
"It's a dream. You either make it or you don't" –Contestant's wife
WT Thompson
25 years old from
This guy had a steady job at a Federal Prison and he quit his job to audition for Idol. The kicker? His wife is six months pregnant. They start by showing us him telling his family he didn't get it, but we jump back in time and see Steven give him a no while Randy and JLo send him through. He probably shouldn't have quit his job to be on this show, but maybe they can polish him up enough to get him through at least a few rounds.
Then, we find an overwhelming trend at the auditions. There are dozens of women who are in love with Steven. He's giving kisses left and right, even to one girl's grandma. It's all fun and games – nothing that would upset his new fiancé – until one person kicks up the crazy.
"Best note you hit was when you grabbed my ass." –Steven
Erica Novak
28 years old
This woman is just plain nuts. She says things like, "If I was allowed, I would kiss his feet or anything else for that matter." When she sees him, she starts crying. Randy insists Steven hugs her, but she oversteps her boundaries and grabs his ass, prompting Steven to say, "You better sing good." And she was terrible.
The grab-ass continues as she hugs Randy, but thankfully she leaves, happy that she met her dream lover. Luckily, the creepiness ends there.
"I'm Britney." –Brittany Kerr
"I say yes." –Steven
Brittany Kerr
23 years old
This girl looks like a barbie, so naturally when she sang "Spoiled" by Joss Stone and did alright, but needed work on her ability to project, JLo said "not now" and Steven and Randy send her on through. How did I know that would happen?
Before delivering us the big winner of the Savannah auditions, the producers gave us a real time filler: a montage of the good ones from the day in American Idol sepia tone. Just in case we're that spacey that we already forgot what we just saw.
"You're super special." –JLo
Phillip Phillips, Jr.
20 years old
First of all, yes his dad is also named Phillip Phillips. Now that we've got that out of the way, I think we may have found my favorite contestant – and on the first day! Imagine that. He's adorable, he works in his father's pawn shop (naturally, the Sanford and Son theme song is relevant), and he's been performing in local venues to prepare for this. I think I'm in Idol love. He then sings one of my favorite songs, Stevie Wonder's "Superstition." He's growly and jazzy like Casey Abrams, but he can away with it, and will likely take it really far because he's hot. Plus he plays guitar, and sings again with a country blues version of "Thriller." DAYUM. Let's just give him the title now, because I think he could actually win this.
Yes, I'm just crazy enough to make a claim like that this early. And if it blows up in my face, so be it. Who was your favorite contestant of the night? Did anyone make it who you thought should have gone home? Let me know in the comments or on Twitter. @KelseaStahler