'American Idol' Top 10: Angie Miller and Candice Glover on their Stressful Results Show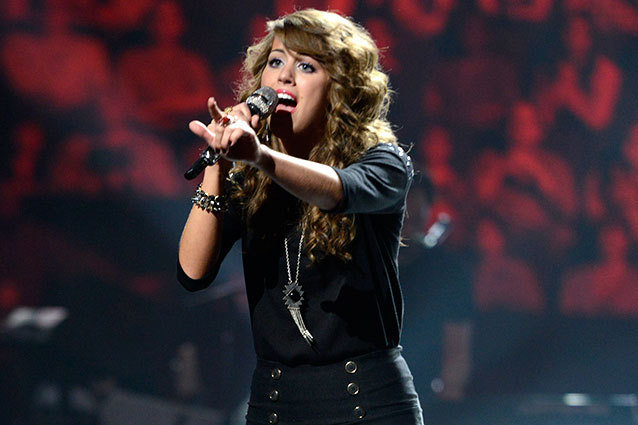 It's the first week of American Idol, so the top 10 finalists don't hate each other yet. In fact, they're all just so happy to be here! No, really: Literally every single one of them told Hollywood.com something to that effect — some in those exact words — when we interviewed the Season 12 finalists at the Top 10 party after the show's live taping.
"People keep asking me how I feel, and it's so hard to come up with a word that describes how amazing it is," standout Angie Miller tells Hollywood.com on the red (well, actually blue) carpet after she was announced as a finalist.
There weren't any real surprises in the top 10, which, in case you weren't paying attention, consists of Miller, along with Lazaro Arbos, Janelle Arthur, Curtis Finch Jr., Candice Glover, Kree Harrison, Amber Holcomb, Paul Jolley, Burnell Taylor, and Devin Velez. Well, except for the contestants themselves — no matter how confident they were in their abilities, they were all still pretty shocked that they actually made it through.
RELATED: 'American Idol' Top 10 Revealed
If any of the girls were a lock, it was likely Glover, who even had the coveted final slot in the ladies' semifinal show. "I actually didn't [think I was a shoo in]," she tells Hollywood.com. "Everybody else was like 'Girl, you're in the pimp spot. You know you're good.' But I get extremely nervous, so I was totally out of it backstage. I didn't know if they put me last to make an example of how bad I am! My mind plays with me a lot so I really didn't know how to feel."
Finch knew his show BFF would make it, though. "That's my baby," he said of his friend. "She is an incredible gift. She sings like nobody's business, and so I'm here enjoying all of this with her. She's incredible. I love her."
Even being the first person called didn't really provide much relief. Jolley was the very first finalist announced, but he tells Hollywood.com it was a little more nerve-racking not having anyone to commiserate with. "I'm a supportive guy, so usually I'm the one saying 'It's going to be okay, guys.' Being the first guy out there, I was like, 'Oh no, what do I do? There's no one else here to support!'"
RELATED: 'Idol' and the Great Experiment Gone Wrong
Arthur, who was the first girl called, says knowing her results first really helped her out in the nerve department. "I was so glad I didn't have to sit there and think 'What is going on? Is it going to be me next?' I was really dreading that, and luckily I just got it over with."
This is the first time Idol announced the results to the sequestered group of contestants, which Holcomb says made for some interesting backstage time for the girls while the boys were being announced. "We were all backstage trying to figure out whose music it was," she says, although they didn't find out which five guys made the cut until they actually got onstage.
Although we're already familiar with some personalities, many of the contestants didn't get much screentime until recent weeks. Velez says he did start to worry when he wasn't being shown. "I was actually a little scared," he admits. But he's pretty confident about his abilities, especially since he hasn't really gotten any negative comments from the judges in the live rounds so far.
RELATED: 'Idol' Top 10 Boys Step It Up
"I think that gives me an advantage," Velez says. "I also think that I'm the only person singing in Spanish, that's a big edge for me. I don't want it to become predictable or cliché. I think it's definitely a strength. I've done it twice already and it's worked both times, but I think if I do it too much it's like 'Nah dude, you're going to become a Spanish singer,' and I don't want that. But I want people to understand I can do both. It might come again later, but definitely for the next few rounds, no."
Though plenty of the newly minted finalists opted for soaring ballads to show off their voices, Holcomb tells Hollywood.com that she purposefully kept things upbeat. "They [told me I could] do the first song I you did, but I was like 'No, I don't want to do that.' I want to show America something else; I don't want to put them to sleep. I didn't want to go out there and just stand still!"
Follow Jean on Twitter @hijean
[PHOTO CREDIT: Michael Becker/FOX]
---
From Our Partners:


Kim Kardashian's Maternity Style: So Wrong? (Vh1)


60 Celebrity Bikini Bodies: Guess Who! (Celebuzz)