'American Idol' Results: And The Season 12 Winner Is…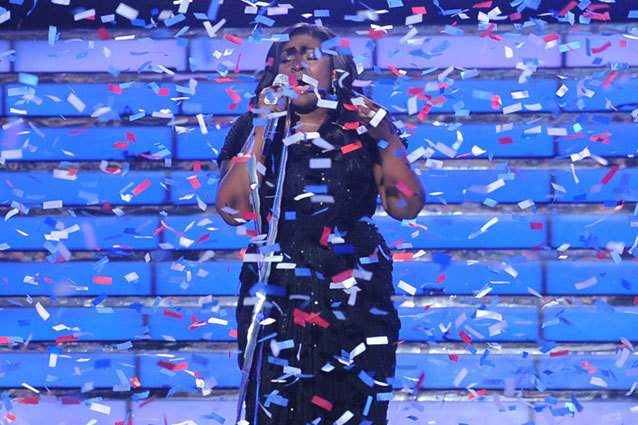 American Idol Season 12 has finally come to a close and with that comes the crowning of a new champion. We already knew it would be a lady, breaking Idol's cute-boys-with-guitars streak. Candice Glover and Kree Harrison ended the night with a lovely duet, before Candice was crowned this season's winner.
For the first time in what feels like eons, the final moments of the Idol broadcast were excruciating. Every second Ryan Seacrest held in that secret like a greedy soap opera butler was the longest second of our lives. Watching Kree and Candice hold each other like sisters, knowing that no matter whose name was called both girls would be smiling just as robustly. When Candice's name was called, it was a result so perfect it was almost as if Nigel Lythgoe wrote it himself.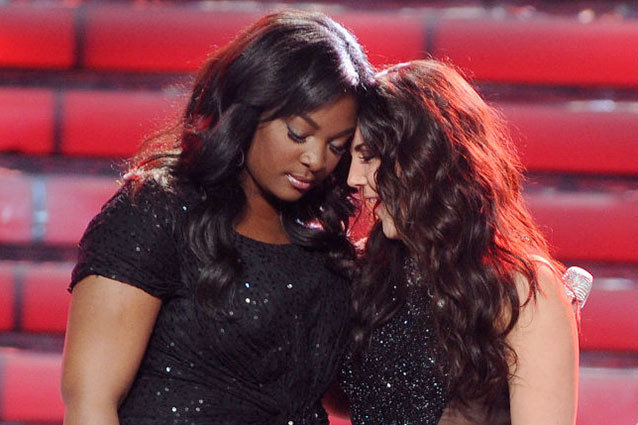 After two auditions for Idol and one hurtful rejection during Season 11's Vegas week, it was Candice's time. She'd acheived the confidence that was standing between us and her incredible talent. She'd blown us away week after week. She'd earned it.
For all the sweet, talented Kree is, Candice is simple and phenomenon. Watching her perform alongside former unfairly rejected contestant and current superstar Jennifer Hudson was a sign: this was Candice's night. The incredible duet was like proof that we've moved past the point where someone as incredible as Hudson can be deprived of her sparkling finale shower. Idol finale moved past its cute boy stage, so it only makes sense that it would move onto an era in which the rightful winner is given her due praise.
As Candice sang "I Am Beautiful" while her tears flowed freely and her fellow contestants surrounded her with love and support, it was almost as if we hadn't lost the Idol we know and love. It was almost as if nothing had changed. The judges, and their constant revolutions and switcheroos, didn't matter. Jimmy Iovine's forced "crush" on Nicki Minaj didn't matter. What mattered was Candice and her final, beautiful, sweet moment, three years in the making. 
You deserve it, girl. 
Follow Kelsea on Twitter @KelseaStahler
More:
Has Candice Glover Already Won?
Kree and Candice on Their Finals Singles
'American Idol' Top 2 Results Are Actually Shocking
---
From Our Partners:


Zoe Saldana Strips Down For Magazine (Celebuzz)


33 Child Stars: Where Are They Now? (Celebuzz)