'American Idol' Season Premiere Recap: I Heart NY & the New Judges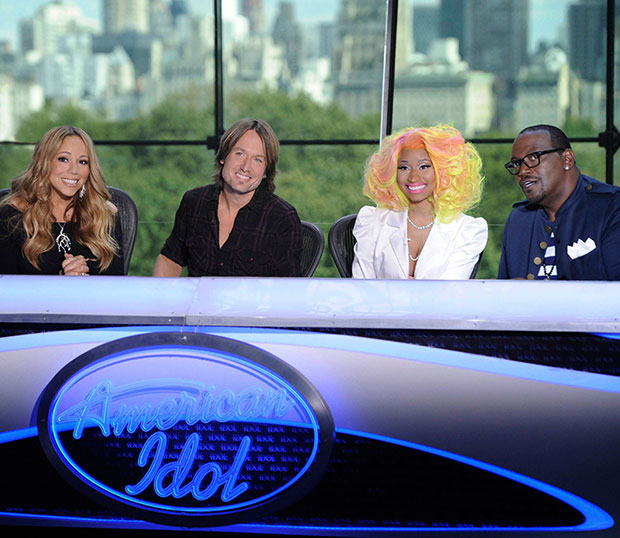 American Idol auditions are no longer a double-sided trainwreck. Despite my greatest fears that the addition of Nicki Minaj and Mariah Carey's combative relationship behind the judging table might spin Idol resolutely into the sideshow pile, eschewing all the credit Phil Phillips' success laid out for the series, I was wrong. Nicki and Mariah's energy gave the panel the edge it's needed for years and the result is more satisfying than any of us could ever have imagined.
Gushing words aside, this is the first of many audition episodes, so of course it's still going to be a hot steaming pile o'crazy, filled with borderline offensive graphic treatments, cartoonish sound effects, and the usual set of delusional contestants pumped up by the producers calling them up to the big audition room. They're shaking things up, but they're not stupid. What has changed is that the judges are more responsible this year, there were fewer God-awful singers and more average ones who'll actually benefit from constructive criticism, and most importantly: not a single one of them described a performance as "pitchy." I won't say the life of this meaningless word is over (after all, Randy's still perched at the judges' table), but it could be losing its steam. Finally.
Nicki and Mariah, however, are full of hot air. Before the first New York audition even begins, they're at each other's throats, in a playful way… we think. Our first contestant, who remains nameless because he never actually sings a song, attempts to overshadow the infighting by stomping along to "We Will Rock You" before dancing around like a grown man who's just tried vodka for the first time. No one is amused (including me), but it does the trick: it instigates Mariah/Nicki drama, prompting Ms. Minaj to mouth with her neon lips: "She's a bitch, she's a bitch, she's a bitch." My dear, the thing about neon lipstick is that we can read your lips. Every time. But then again, something tells me you knew that.
And we're off. Mariah is set to play wise stage marm to Nicki's precocious little girl. (Sorry, Nicki, not catching Mariah's Mean Girls reference set you back a bit.) It takes a little adjusting, but by the end of the episode the little tiffs turn out to add just the right about of flavor and a healthy dose of Nicki's famed terror shot faces.
The first girl to bring out the side of Mariah sure to broil Nicki nice and good is Tessa Torres, a 28 year old "professional model" from Queens who once attended "Camp Mariah" and who's carrying pictures from the time she got to sing for the diva. This drives Nicki bananas, but in her defense, it's got to be frustrating to watch a grown woman fawn all over your co-judge. In Mariah's defense, she's Mariah-freaking-Carey. Of course a girl who modeled her vocals after the pop legend is going to fawn upon meeting her. It's unfortunate that Tessa didn't obtain Mariah's pipes through some sort of osmosis when she met her back at camp, but she's decent. Every single one of the judges is impressed, but of course Mariah is "proud," and Tessa, Mariah-ite, makes it through to Hollywood.
As we gloss over a series of good singers without names, including a handsome man with a voice not unlike John Legend's and an unfortunate choice of headwear. (Is that a scarf tied in a knot on the side of your head? What possible purpose could that serve? Maybe a drink koozie that keeps your hands free?) Instead, we're forced to focus on poor little James Bae, a 15 year old kid from Long Island whose dreams are about as the ability to spin gold from straw. He's convinced he's the next Justin Bieber, attempting to sing "One Less Lonely Girl" for the judges and nailing like two whole Bieber dance moves. Faced with the first instance of this classic heartbreaking encounter, Nicki confronts it with kindness, telling him she likes him (before giggling a bit at his confusion of the words "collide" and "collaboration.) But ultimately, the judges do their best to offer James solid advice. Mariah tells him DJing could fulfill his passion for music without relying on singing. Randy tells him about his defunct dream of becoming a race car driver. And Nicki gives him a whole lotta love, and even a little kiss. Somehow, we make it out of James' audition without feeling like horrible people, and it happened this season and not during the two with the living Sally Sweetheart Doll that is Jennifer Lopez.
But then we get some of the goods. The good goods. Christina "Isabelle" recently lost 50 pounds and is using her newfound confidence to audition. (I'm still trying to figure out if her name is in parentheses because it's a fake last name or her proposed one-word stage name because she's tried Christina and realized The Voice already has one of those, but I'll let it go for now because she was good.) The 21-year-old opened her mouth, and out came the first memorable voice we'll hear this season. Mark it down. She sings "Summertime" with a little mix of jazz and country and she's a gorgeous girl studying music at the renowned Berklee College of Music. We'll be seeing a lot more of her.
The next kid, Evan Ruggiero from New Jersey, is the challenge. He's an amazing survivor with a heartbreaking story about surviving cancer and losing his leg as a result, but when it comes time to sing, the kid's just not up to par (though not without enthusiasm). He's attempting to go folky and even rock, but his voice is all Broadway and he's turned away. Keith Urban, who is also a judge with a voice (which we hadn't really noticed until this point), steps in to tell Evan he needs more work and some direction, which is, shocker: really relevant and constructive advice. What is going on? They're letting a prime sad story walk out because he's not up to snuff? No more Chris Medinas? Wait, Seacrest's not even wearing a jacket, is this really Idol?
The weirdness just gets weirder when Idol implements its big change this audition season: the nominated/surprise audition. Days before the audition (because take it from me, Randy would not make it to Staten Island and back to the auditions in Columbus Circle in under three hours) Randy treks out to Staten Island to personally deliver an audition number to 19-year-old Jessica Kartalis who was nominated by her mom. It's like a bogus Idol fast pass while everyone else is waiting in day-long lines starting as early as 5 AM. What's more is that it seems they took Jessica's mom's nomination at face value. Did they check her out before bringing her a ticket in front of her whole family? If so, the producers are a wee bit cruel. The poor girl's guitar is out of tune, throwing her off a bit, but it's clear that she isn't quite ready. Nicki gets her sass out and tells Jessica, "Maybe don't come in and expect Idol to do it all for you." I'm sorry, did you miss the part where the poor girl didn't even drag herself to this audition?