'American Idol' Voters, Invoking The Sympathy Vote For Lazaro is Cruel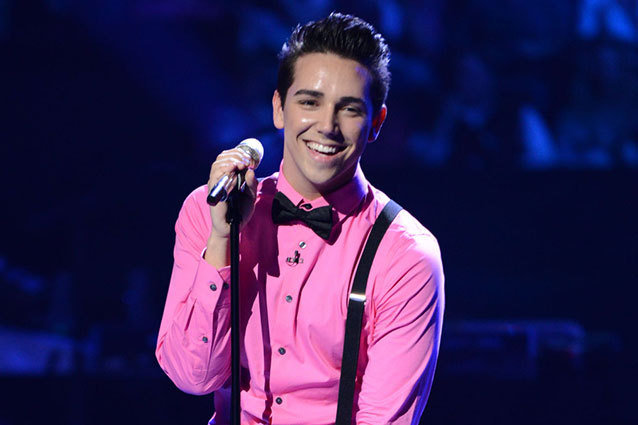 It's a tale as old as time: American Idol finds a singer who has overcome terrible odds. They touch our hearts when, despite everything, they are able to sing as sweetly as a tiny baby bird. We get the chance to vote for the person with the touching story, and voila: they make it into the Top 10 (and often beyond). It happened to Danny Gokey, whose heartwrenching backstory of losing his wife mere weeks before his audition helped carry him to third place in Season 8. It also worked for James Durbin in Season 10, when his Tourette's and Aspergers Syndrome diagnosis came to light in addition to having lost his father at a young age, and endeared him to his most stalwart fans. But this phenomenon has never been more at odds with the point of the competition than it has with Season 12's Lazaro Arbos.
He broke down on Wednesday's show and, after witnessing what the pressure of the competition is doing to Lazaro — who was just voted into the Top 8 — it's time to turn a question on voters: Is invoking the sympathy vote really sympathetic? Or is it actually cruel?
RELATED: Lazaro Arbos Says The Internet Made Him Cry
With the image of sweet Lazaro dewy with nervousness as tears fall down his cheeks, struggling to form words — his stutter only aggravated by the pressure of having to answer Ryan Seacrest's questions about the harshest judging he's recieved all season — still fresh in our minds, the needle is dipping away from sympathetic towards cruelty. When voters cast their ballots for Lazaro because they admire his perserverance and the miraculous way in which his life-altering stutter disappears when he sings, they are actually doing the sweet young man a disservice. 
That's because, despite all the wonderful things about the Cuban-born singer, the cracks are really starting to show in his performances. He's simply not on the same level, vocally, as the other contestants — and the judges, critics, and blogs have started to point out. The worst, of course, was his March 20 performance of "My Life" which was out of tune and out of sync. Afterwards, Lazaro received harsh words from the judges, including Randy Jackson who came right out and said "This was your worst performance on the show."
RELATED: Was Lazaro's Performance His Worst Yet?
Add to that the fact that on Thursday night, Jimmy Iovine cleared up claims that Lazaro was made nervous by his presence. "Of course I made him nervous, I've made a lot of people nervous," says the mega producer, who's made the likes of Bruce Springsteen and Lady Gaga nervous, too. What's more, is that Lazaro's second excuse about only having a day to learn his Beatles song was also refuted by Iovine. It's never been more clear that as wonderful as it is that Lazaro has overcome his stutter, he is not ready for the music industry, and throwing him into that fire only serves to put him through more heartbreak than he deserves.
This competition is tough for even the most confident singers. Music is one of the most coveted and cutthroat industries out there — just look at Iovine's candid moment that opened Thursday night's show, in which he almost fired his sound engineer for a mistake. Idol may paint a picture of the industry as a ship of dreams, but that musical Titanic hit an iceberg a few years back, and it's a vicious game to make sure you're one of the survivors. It was just a few weeks ago that the heated arguments between Idol winner Kelly Clarkson and mega record exec Clive Davis came to light, and her albums were some of the safest bets a label could take. Any artist who hopes to make it has to be able to withstand not only criticism, but also rejection, and absolutely the presence of people whose very nature makes them quiver. 
Lazaro also told Hollywood.com that the reason his performance wasn't up to par on Wednesday night was that he'd seen some scathing commentary on the Internet. "I think that when you become known, there's a lot of people that talk bad, and I think that we have been letting those bad comments get to us," he says. And yes, of course, those comments will hurt, especially when a major Idol commentator is calling his victory a result of the "courage card" and famed Idol-hating site Vote For the Worst has named Lazaro its Season 12 pick, but that doesn't really hold up as an excuse for a bad performance.
RELATED: 'Idol' Voters Eliminated The Wrong Singer
There is not a single singer, rapper, actor, performer, or mega celebrity with no discernable talents who can escape some form of Internet criticism. It's the world we live in. Everyone, including the people writing those criticisms on the Internet, opens themselves up to the cruelty of the World Wide Web when they step into the lime light, and Lazaro is on a TV show whose main purpose is to have America judge singers on their ability to sing. Internet criticism is a required piece of that puzzle; it expands the discussion and facilitates the ability to make an educated decision when voting. (Even if some people ignore it and vote with their gut.)
It is true that Lazaro's success on the show has been wonderful for helping a wider audience understand the stuttering community. Because of him, the Stuttering Foundation (and Lazaro's former workplace) received a $10,000 donation in his name, and the foundation has thanked him for helping give courage to others with the same impediment. These are wonderful byproducts of Lazaro's success, but there comes a point at which those byproducts outweigh his abilities. We have reached that point, and the result is that we've got a very sensitive, sweet young man thrust into the public eye where his inability to match his competitors will continue to be the narrative until voters stop pushing him through the competition.
Every time an incredible singer like Amber Holcomb is in the bottom three instead of Lazaro, he will receive a firestorm of Internet ire. Every time Iovine is blamed for his downfall, he will recieve Iovine's classic no-bulls**t retorts. Every time his performance is actually awful, the judges (or at least Jackson and Nicki Minaj) are going to tell him that. We've witnessed the way in which the pressures of being a mediocre singer in a pack of incredible ones is getting to him. Voting to keep him on the show in praise of his courage is only testing the resolve we all love so much to its very limits, and in the end sweet, brave Lazaro will likely be the victim of that compassion. 
Follow Kelsea on Twitter @KelseaStahler
Additional reporting by Jean Bentley
[Photo Credit: Michael Becker/Fox]
---
You Might Also Like:


Topanga's Revealing Lingerie Shoot: Hello '90s!


25 Stars Before They Were Famous