'American Idol' Top 10 Revealed With Kree Harrison, Angie Miller In The Lead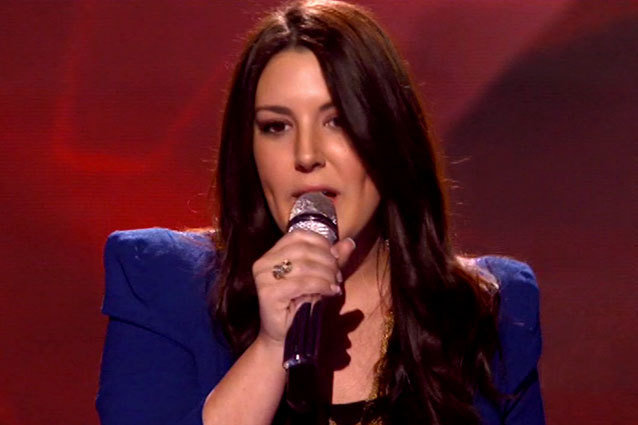 Shocker: It's still a girls game on American Idol. After a quick trip back to Los Angeles, the judges, Ryan Seacrest, and the Top 20 nestled into the Idol auditorium to find out who'd be staying on as part of the Top 10 finalists. Fan favorites like Kree Harrison, Angie Miller, Burnell Taylor, and Lazaro Arbos were easy fits, but as the night wore on, disappointment hit more than a few times.
Of course, most of those time were when we realized that likeable singers like Paul Jolley nabbed spots that could have gone to strong lady singers like castoff Aubrey Cleland were there not a strict five-spot-per-gender rule. Of course, if the past teaches us anything, it's that voters probably would have kept a few too many of the ho-hum dudes and sent home girls who deserved to stay. Still, it was an exciting night on Idol.
RELATED: 'Idol' And The Great Experiment Gone Wrong
We got to see what it looks like behind Idol's famous video screen door. We got to see the singers' genuine reactions before the judges or the audience, thanks to Ryan delivering the news to them backstage, before anyone else could hear. We got to witness the adorable moment when Keith Urban let Nicki Minaj lean on him as they walked to their seats because Nicki wore impossibly high heels. We got to see Mariah Carey's incomparable breasts peeking out from behind a mesh v-shape in her patent leather ball gown. We got to witness the cross-promotion of Carey's new single and the movie she sang it for, Oz the Great and Powerful. But unfortunately, we still didn't get to see much of Randy Jackson's prized shoes, which is a shame because Seacrest once told me that Randy has a new pair for every single episode of the show.
RELATED: 'Idol' Recap: Top 10 Guys Step It Up
As the finalists were announced, they each got to perform a victory song followed by feedback, but not criticism, from their favorite judges. I know the point is that we're not supposed to judge, but if you're like me, the wheels in your brain were turning, you were judging each and every performance, and you've already got a ranking system in your head. Here's mine:
10. Paul Jolley singing "Alone" by Heart: While he was much better than he was on Wednesday night, he's still not the strongest of the bunch. But man, is he handsome.
9. Lazaro Arbos singing "Like a Bridge Over Troubled Water" by Simon and Garfunkel: It was a good emotional reprisal of his audition song considering he's overcome adversity and made it to the final 10. It's very sweet, and very much in his comfort zone, but he will need to step it up to make it past the other fantastic singers.
8. Devin Velez singing "The Power of One (Change The World)" by Isreal Houghton: Nicki clearly didn't like that he shied away from a ballad, but he's found a way to be a little more relevant with this upbeat song. His ballads are fantastic, but he's got to be able to do upbeat to be a mainstream artist. And he gets a few bonus points for his adorable blue-eye-shadow-laden mama hitting on Ryan.
7. Curtis Finch singing "So High" by John Legend: Let's just make peace with the fact that Curtis rubs me the wrong way. That feeling won't go away, so I'm going to do my best to get past that long enough to write about his performance: I love this song, I love the effortless way in which John Legend sings it. Curtis' vocal acrobatics prove he's got a serious skill, but I'm not a fan of the way he pushes this smooth song. That's why he's so far down on this list, but still, I can admit he's talented.
RELATED: Can We Trust the 'Idol' Judges?
6. Amber Holcomb singing "I'm Every Woman" by Chaka Khan: This is where I start to get a bit confused because I love, love, love everyone I've ranked from sixth to first. I love them all. While Amber has an issue with sounding current, it's hard to deny she's got an incredible voice. And she's not even trying. At all. It's almost infuriating. Her voice is so good, and the girl never even breaks a sweat.
5. Janelle Arthur singing "Home" by Dierks Bentley: Janelle has never been my cup of tea, but her emotional connection really brought it home on Thursday night. She finally chose a current song and it makes her feel like she really could be a singer with a hit single on the radio right now. And with tears in her pretty little eyes, she's a delight to watch. America loves themselves a sweet, little blonde country singer.
4. Candice Glover singing "I'm Goin' Down" by Rose Royce: I love this girl. She's so, so good. I like her rendition of this song better than Mary J. Blige's cover, because it just pours out of her so naturally. She's just strutting around that stage letting her incredible voice just flow, and after watching her go home too soon last season, it's hard not to cheer her on a time like this.
3. Angie Miller singing "I Was Here" by Beyonce: She's adorable and misty as she takes the stage in her sparkly pants. Despite being outside of her usual style. Beyonce's ballad turned out to be a great choice. I like that she didn't try to Beyonce-ify her performance. She just tried to make it as Angie as possible. It wasn't a super clean performance, but the emotional connection was so great it almost doesn't matter. She's so marketable, so genuine. She belongs up there.
2. Burnell Taylor singing "Ready for Love" by India.Arie: I want a woman to win this year. I really, truly do. But if a man has to take the crown, it had better be Burnell. He. is. amazing. The intricate things he does with his voice are beautiful and his personality comes through every time he sings. He has every piece it takes to be considered the complete package. He's going to seriously test my feminist resolve this season.
1. Kree Harrison singing "Evidence" by Susan Tedeschi: This girl rocks. Hard. She's flawless and connected, just like she always has been. If we're picking horses, this girl is the one to beat.
Now that gender is no longer a factor in who stays and who goes, let's hope voters can see the great disparity between the incredibly talented women and the fairly talented men on this show.
Follow Kelsea on Twitter @KelseaStahler
[Photo Credit: Fox]
---
From Our Partners:


Kim Kardashian's Maternity Style: So Wrong? (Vh1)


60 Celebrity Bikini Bodies: Guess Who! (Celebuzz)