Grim 'Idol' Moment Makes Charlie Askew The Victim of An Experiment Gone Wrong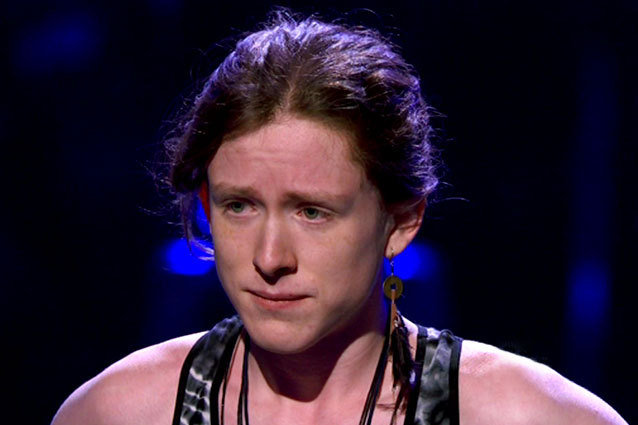 "Dare to be different." It's a favorite phrase of high school counselors, Ryan Murphy's televisual version of a glee club, and now, American Idol. 
This season, more than any recent season, has put the focus on finding folks who don't necessarily fit the Idol mold. From appointing avant garde rapper/singer Nicki Minaj as one of the judges to pushing through contestants like early attnetion-grabber Kez Ban, the confounding presence that is Miss Zoanette Johnson, Top 20 guys contestant in drag JDA, and the loveable little weirdo Charlie Askew. We've lost some faces along the way (Kez went out in a blaze of something sort of like glory and JDA sweetly accepted his fate and went quietly on home), and now all that's left of Idol's great acceptance experiment are unconventional contestants Zoanette and Charlie. The problem is, they aren't cut out to be pushed this far through the competition, and an incredible uncomfortable moment during Wednesday night's show moment never made that more clear.
RELATED: 'Idol' Recap: Top 10 Guys Step It Up
After Charlie delivered his emotional, messy performance of "Mama" by Genesis, the judges were completely honest with him: It was awful. But the story behind Charlie's weirdness, that the judges so loved, is that he's a self-professed socially awkward guy. While it's nothing medical — his parents call it "Charlie Askew Syndrome" — Charlie simply approaches the world and social situations differently than many of his peers. He's sensitive, and many of his feelings lay unexpressed under his outer layer of oversized suits and irresistible quirk.
When he took the stage on Wednesday night with a darker take on his usual act, it didn't work. Charlie had seen his peers step up their stage game, and he'd done the same, going for a "sexier" sleeveless look and a 1970s drug pirate feather earring. The result was the complete obliteration of the sweet, awkward singer the judges had pushed through the competition. "The only reason I smile so much is because I feel like I have to," he said to heartbreaking effect as Seacrest attempted to save the poor kid from the horrible moment by telling him, "Now give us a real smile." (Also known as the only thing someone who doesn't want to smile hates to hear.) It begs the question: Why did the judges allow an emotionally troubled contestant to get this far?
RELATED: Can We Trust The 'Idol' Judges?
And the answer is simple: They were trying to prove that this year would be different. It's the same thing that drove the producers to put so much focus on girls this season. Idol's results haven't changed for six seasons. We always wound up with a twangy cute boy in a confetti downpour, but (as the likes of Lee DeWyze have proven) that doesn't work anymore. (Phillip Phillips' Olympics hit, "Home," excepted, of course.) But Idol had to change it up or continue to be swallowed up by the ubiquitousness of the reality singing show. As a sort of experiment to test the limits of American Idol fans' stalwart tastes (see: cute, Southern boys with guitars), this season introduced Charlie and Zoanette, proving to audiences (and the music industry) that the series places artistry and strangeness above the pageantry of the usual Idol finalist. But if the judges have learned anything from the experiment, it's that it's risky to try to force a square peg in. 
While Charlie is undoubtedly talented and unique and could probably turn that into a career in music given the right tools, Idol (whether we like it or not) is not that tool. Idol is a place for pop, country, and R&B stars — people whose style can slide right into the current musical lexicon. With its penchant for public humiliation, it doesn't have the ability to shape and foster the development of a talent like Charlie, who's yet to build the self-confidence and strength of fellow weirdo Zoanette. Keeping Charlie around as an experiment may appear, on the surface, to be kind and understanding, but in the end it's actually quite cruel.
That much was clear as the young man stood next to Ryan Seacrest, his eyes welling up with tears. His genuine disappointment and hurt was so palapable that even seeing Charlie's disappointment rebroadcast in the image above brings back the feeling of overwhelming sadness. When it comes to the contestants, this season seemed to forget one very important thing: These contestants are people. And Idol will always be a series that promotes the shiniest, most streamlined contestants who are primed for the mainstream, not edgy singers in need of refinement.
RELATED: 'Idol' Has a Big Problem
Yes, JDA was refreshing even if he wasn't right for the competition, Nicki's different judging style is the wakeup call the show needed, and the overall attitude of trying to be different is wonderful. However, there needs to be parameters: Be different, Idol, but don't forget that ultimately, you need to appeal to a wide audience. You are a series that only finds singers who appeal to a broad set of consumers, and that isn't going to change. When Idol forgets that immovable boundary, it's the little people, like sweet Charlie Askew, who get hurt. 
Follow Kelsea on Twitter @KelseaStahler
[Photo Credit: Fox]
---
From Our Partners:


Seal Is Dating the Pink Power Ranger: Report (Vh1)


60 Celebrity Bikini Bodies: Guess Who! (Celebuzz)