'American Idol' Top Nine Recap: Best Episode Ever?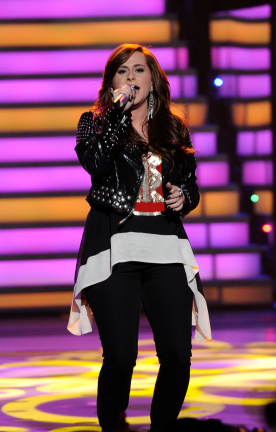 March 28's "Songs from the Singers' Idols" episode of American Idol was so enthralling, we can forgive Ryan Seacrest's awkward Hunger Games riffs at the episode's onset. The judges couldn't stop giving standing ovations (five in total) and it took every fiber of my being to not stand up in the middle of my apartment after some of these songs.
I've said this time and again, but this season's set of singers is just unfair. And then there's Heejun. There are nine singers left and if it were up to me, I'd crown five of these folks the 2012 American Idol this second. But alas, there can only be one and there are eight more potentially heated weeks to go before the finale. 
The Top Nine not only earned spots in the Idol mansion, but they made it to an even bigger milestone: the week in which the great Stevie Nicks provides mentorship. And Nicks follows up Diddy's turn as a candid, outspoken, brutally honest mentor with her own brand of comedy and genuine interest in each and every one of these contestants. Of course, Phillip Phillips got her special attention for resembling Lindsey Buckingham circa 1975. Translation: Stevie Nicks thinks he's a cutie. But from Nicks' emotional moment with Hollie Cavanaugh, to harmonizing with Elise Testone, to her constant jabs at her longtime friend and producer Jimmy Iovine, the best episode yet was presided over by the best guest mentor yet. 
And whether it was the inspiration of a legend like Nicks shaping their performances or energy drinks secretly slipped into their water supply, the Top Nine turned in some seriously phenomenal performances. And to top it off, they were all able to choose songs by their personal idols, meaning they knew these songs inside and out. Every note means something, every word has been sung in front of a mirror with a hairbrush a thousand times. How is a voter supposed to choose? 
The Best of the Best
By this point, we've come to expect greatness from Phillip Phillips, Jessica Sanchez, Joshua Ledet, Skylar Laine and Colton Dixon. March 29 found each of them getting nice and cozy in their sweet spots, delivering performances that actually made me squeal in amazement. These singers, in case you hadn't guessed already, are the five contestants that deserve to win this whole competition right now. The problem is, there's five of them. 
Skylar Laine broke out of her comfy, solid routine to get a little more boisterous and lot more sultry with Miranda Lambert's "Gunpowder & Lead." She riled herself up into that tizzy we experienced during her Top 24 performance, giving us a little reminder of why we liked her so much back then. She's a little firecracker and she works the stage like a teen sensation country crooner performing for a sold out stadium. 
Colton Dixon continued on his alt-rocker path to greatness, giving a tearful rendition of "his favorite worship song of all time" "Everything" by Lifehouse. Say what you will about his genre (or his hair, which Nicks told him to hang onto for dear life), but Dixon has got it down pat. There were some pitch issues that none of the judges seemed to notice, in fact Steven Tyler even told him he had "perfect pitch," but as a total package, Dixon's performance proved one very important thing: this guy can and will sell records. 
Phillip Phillips has remained a favorite throughout the competition. At the outset, his official Idol Twitter page even had the greatest number of followers, whatever that means. As the competition has progressed, he continues to dig his feet in, refusing to make wardrobe changes and put down his beloved guitar. Usually, that sort of stubbornness plays out badly for Idol contestants, but Phillips defies the stereotype. The more he dresses down and hangs onto to his bluesy, gritty, gutteral sound, the better he gets. This week, his choice of Johnny Lang's "Look Out My Window" couldn't have been any more perfect. Whether or not he's left standing, we'll see more of Phillips. He's the rare Idol picture of an artist's artist. 
Jessica Sanchez and Joshua Ledet are our soulful powerhouses. They're head and shoulders above everyone else, regardless of genre. You just don't encounter voices like these. Sanchez' choice of Beyonce as her mentor had me cheering; the R&B diva is the perfect example of how to turn a giant force of a voice into a pop music powerhouse. And while the slow arrangement of "Sweet Dream" killed the song's momentum for me, despite what the judges said about it being "beautiful," Sanchez has music flowing through her. She doesn't make conscious decisions onstage. She just is, and she is nothing short of phenomenal. 
Ledet, too, is simply phenomenal. What he has on Sanchez is an emotional connection. Sanchez sings beautifully, but perhaps its her maturity that hasn't quite caught up with her. When Ledet sings, his tone and lyrics work their way into our souls. He's not tugging on heartstrings, he's rocking us to our very cores. It's almost impossible to say one singer stands above everyone in this fantastic competition, but Ledet does, albeit by a very small margin.
The Comeback Kids
Elise Testone and DeAndre Brackensick have been hovering on the lower brackets of the finalist set, and with her weak performance during Billy Joel week, Hollie Cavanaugh's potential dropped immensely. But what a difference a week makes. 
Testone earned the best performance slot of the night: the finale. Yet, week after week, she's continued to confuse us. Who is she? What's her genre? What's her thing? She's been all over the place, and her ability to ham it up for the camera was practically nonexistent. She's been the vegetable we're supposed to love, but just can bring ourselves to enjoy. Perhaps its the magic of being the last performer of the night, or Testone finally found her sweet spot, but her rendition of Led Zeppelin's "A Whole Lotta Love" was the ultimate comeback. Robert Plant created a sound that no singer should ever attempt to recreate, and Testone didn't do that. She Elise-d it. But it might not be enough. Is this really who she is? Is she the rocker chick leading a brash band? If this sweet spot is where she belongs, her chances could be on the rise, but weeks of indecisive performances are hard to undo.
Brackensick also upped the ante, finally picking a song that highlights his fantastic falsetto. Eric Benet's "Sometimes I Cry" is right up there with the sweet spot Brackensick hit when he sang "Woman's Work" by Maxwell. His passionate, flawless rendition of the R&B song was exactly what he needed to stay a bit long in the competition. Unfortunately, he still has an issue with truly connecting, though he certainly tried this week. Perhaps his 17 year-old mentality is just a bit too green to truly connect to the weight of the songs he's singing, but unless he figures out a way around that, we'll be saying goodbye very soon. 
Cavanaugh finally broke away from her usual schtick: the little pixie girl with a big voice. She always moved around the stage like a small child carrying a heavy box; her voice is fantastic, but she was constantly trying to wrangle it. When she took on "Jesus Take The Wheel" by Idol winner Carrie Underwood, she appeared to have significantly more control over the song and herself. And as emotional as she was able to get thanks to Nicks' candidness during the mentoring session, Cavanaugh still lacks the put-together element that others like Sanchez and even Laine possess. She's got the chops, but she lacks the polish. 
And Then There's Heejun
The topic of Heejun Han is a bittersweet one. I rooted for him all through Hollywood Week and Las Vegas groups. He's the sweet, funny kid who kept us entertained while the other drama queens had mental breakdowns over singing a Blu Cantrell song. And, his voice has a velvety, beautiful tone that draws us in. Unfortunately, every time that voice draws us in, it doesn't deliver on its promise. It's a nice one, and Han's performances consistently feel right technically. He hits the right notes, he sounds pretty, and he appears to connect to the song, but he's not a performer. He's a good singer. That's it. There's a disconnect between Han and the audience and among his fellow singers, who are all performing as if they're drawing energy from the Earth's core, his simple, sweet performances just aren't cutting it. 
Are you done with Heejun? Can he compare to singers like Jessica and Joshua? Did Elise and DeAndre do enough to stick around? Let us know in the comments or get at me on Twitter
@KelseaStahler
.
More:
Idol: Is Colton Dixon TV's Tim Tebow?